If there's one thing to put you in the festive spirit, it's strolling through a Christmas market.
Twinkling lights, the smell of cinnamon in the air, Christmas songs weaving through the crowds, and maybe a few glasses of mulled wine* are just some of the delights to be found at a Christmas market.
Add a woollen scarf and a hot date on your arm for good measure, and you have a night worthy of a Taylor Swift music video.
We need your consent to load this Instagram contentWe use Instagram to manage extra content that can set cookies on your device and collect data about your activity. Please review their details and accept them to load the content.Manage Preferences
If you want to experience it yourself, however, you probably won't find it in Dublin. The city has long been missing a standalone Christmas market, and an indoor event – Mistletown, due to be held in the fruit and veg market on Dublin's Mary Street this December – has been cancelled due to rising Covid-19 numbers.
All the more reason to plan a short staycation to Galway City, where the Christmas market in Eyre Square has just launched, bringing even more colour to the already vibrant city. I was invited to attend the opening night of the market, and brought my boyfriend along for the rom-com vibes.
We stayed at the Galmont Hotel and Spa, an elegant hotel no more than 10 minutes' walk from Eyre Square and home to Spirit One Spa, a destination in its own right. We stayed in a double room with a stunning view of the sea, a plush goose-feather bed and a flatscreen television, ideal for a getaway in the city.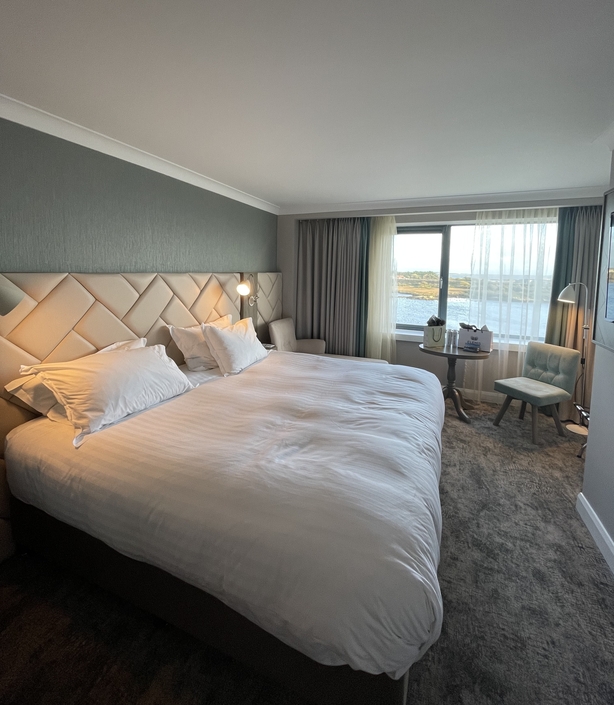 After a speedy costume change, we stopped at Coopers Bar & Lounge, the cosy bar just off the lobby, where we mingled with other journalists and sipped cocktails* until it was time to make the short trip to the market.
If at this point we weren't in the Christmas spirit, walking onto Eyre Square did it: the bustling square was aglow with fairy lights, illuminated nativity scenes and a towering ferris wheel, while throngs of people snaked their way through the wooden stalls.
Everything from olive wood kitchenware and ceramic dishes, to snuggly wool scarves and vintage clothes were on offer, not to mention the food: we bagged some homemade Italian cannoli as a pre-dinner snack, but I'm still thinking about the smell of the mini cinnamon doughnuts seemingly everyone was queuing for.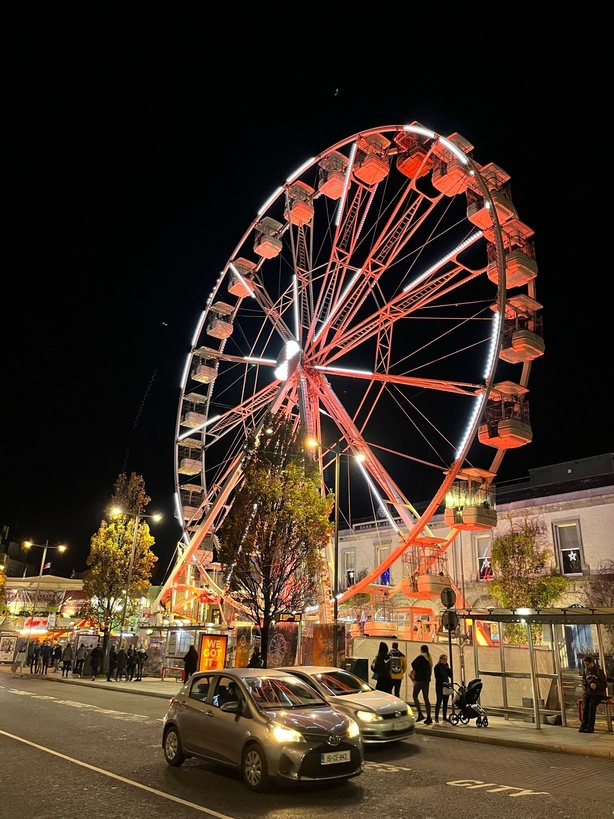 Next was a ride on the ferris wheel, which was the perfect way to get a bird's eye view of the market. If you brought a date, this would be your cue to kiss, by the way...
By the time dinner arrived, we were ready for a Christmas feast, and we weren't disappointed. We were treated to an indulgent three-course meal in the Galmont's exceptional restaurant Marina's.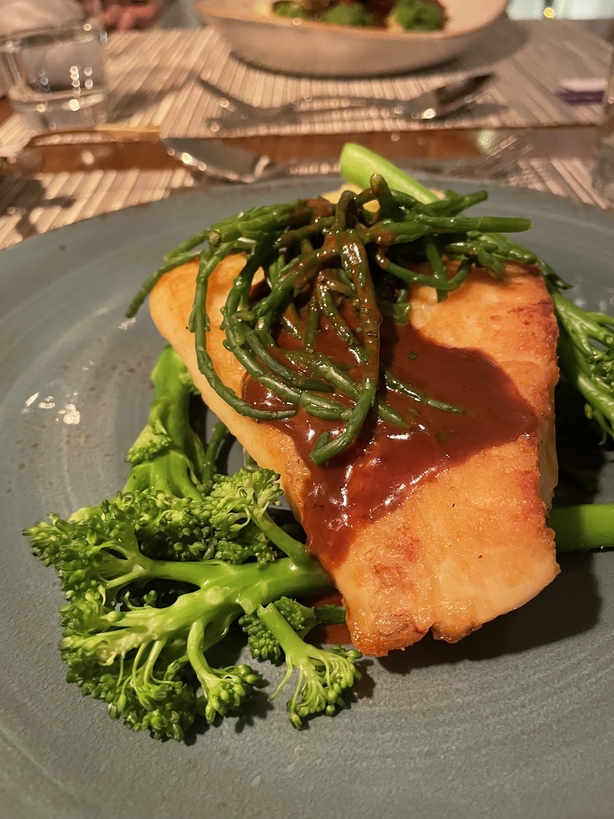 My boyfriend and I both went for the smoked salmon with Atlantic crab and chorizo bonbon with fennel and kohlrabi slaw, which was fresh and clean with a satisfying crunch to the slaw. I chose the pan-seared wild halibut with samphire and potato fondant, while my boyfriend chose the Thornhill duck breast, served butter-soft on a bed of custardy polenta.
For dessert, we both chose the butter fried Christmas pudding, a decadent dish I'd go back to Galway for alone. Served with cinnamon custard and a roast barley ice cream, it was rich and comforting, Christmas on a plate.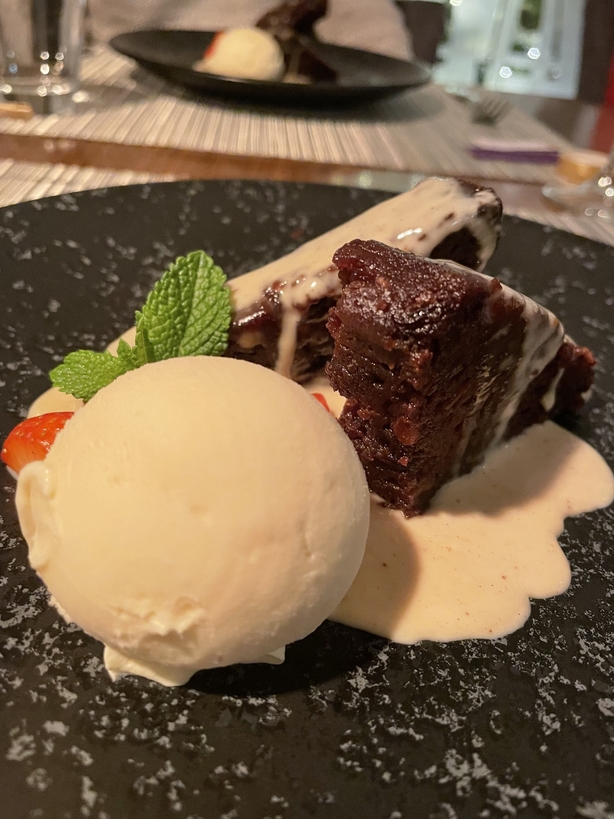 A few Christmas crackers, glasses of wine* and after-dinner nibbles (the ginger marshmallows get special commendation) and we were happy, sleepy and full to the brim. In the words of my stuffed companion, "it's like practice for Christmas".
The next morning we managed to fit in a breakfast of waffles, which are cooked to order and arrive crisp on the outside and fluffy on the inside. Keeping in line with Covid restrictions, the breakfast counter was well-section off with individually packaged servings of fruit and yogurt to avoid touch points.
We rounded out our whistle-stop trip to the city with a visit to Spirit One Spa, where we each enjoyed a 55-minute full body massage. I asked for a firm massage, and left feeling like a well-kneaded hunk of marzipan, which is to say, very satisfied.
It wouldn't be trip to Galway without a ramble about the medieval streets, which only look more charming in the grey and the rain.
We need your consent to load this Instagram contentWe use Instagram to manage extra content that can set cookies on your device and collect data about your activity. Please review their details and accept them to load the content.Manage Preferences
A cosy lunch of raclette-filled crepes in Java's Creperie transported us to the French Alps for an hour, while a wander around Kindf_olk, a chic men's lifestyle shop left me coveting their range of stylish raincoats.
And as if I hadn't regressed far enough into childhood on the ferris wheel, I nearly fell over myself heading into the Hazel Mountain Chocolate shop, where they serve their award-winning bean-to-bar chocolate in a variety of sumptuous hot chocolates. I went for the gingerbread walnut version, while my boyfriend got the chocolate orange – both with cream and marshmallows, obviously.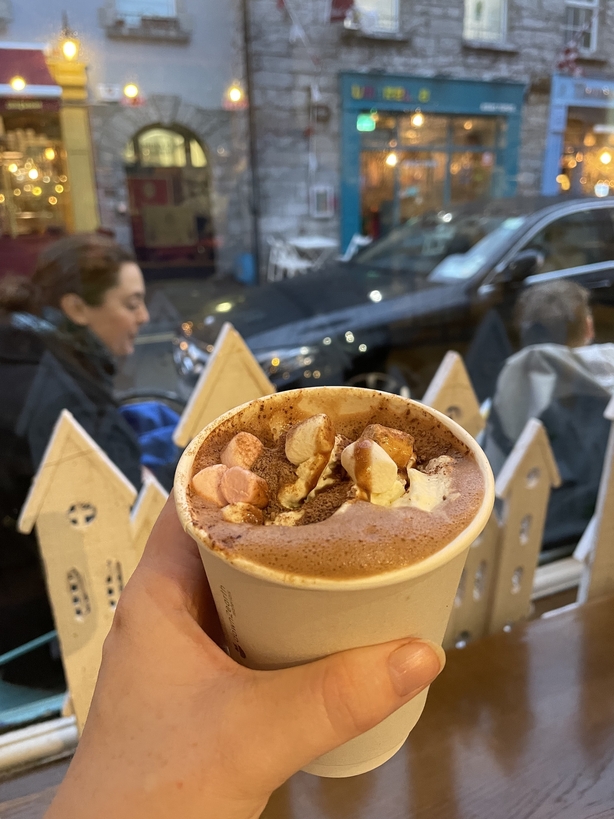 The verdict:
The Galway Christmas market puts Dublin to shame. A thriving hub of producers, creators, foodies and more, it was a privilege to be there on opening night, but it'd no doubt be hopping any day of the week, and there could be no better base for a yuletide getaway to Galway than the Galmont Hotel and Spa.
The details:
We stayed in the Galmont Hotel and Spa, for one night, as invited guests for purpose of review. We stayed in a Deluxe Sea View room which costs €150 per night. Our breakfast and evening meal were also included.