Go Outside And Play isn't a traditional travel show, but rather a cinematic vlog that brings the wonder of Ireland to the screens of new age, tech-savvy, Instagrammers.
Series 1 was all about showing that you didn't need to travel across the globe to find world-class adventure spots. Season 2 – Local Adventures – was about finding new experiences in 2020, a time when even getting in a car to drive to another part of the country wasn't always possible.
For Season 3 – Famous Locations – Carl Mullan has found himself a travel companion in his new co-presenter, Karl Doyle.
Born with arthrofibrosis, which led to osteoporosis and scoliosis, Karl has been using a wheelchair for all of his life. His need for accessible routes, along with his cracking sense of humour, will bring a whole new element to the travel show as the two navigate travelling around the country's most scenic spots.
As movie buffs, the duo decided to explore locations that have appeared on both the big and small screen in productions like Game of Thrones, Braveheart and Father Ted.
We caught up with the Dublin man to find out how he landed the presenting gig, how he found travelling across the country in a wheelchair and which of the country's famous locations are worth visiting.
How did the presenting gig come about?
"I was going for an interview with RTÉ but, unfortunately, the internship didn't happen because of COVID. In the interview I was talking about the show and I was saying how much I loved it and I had the idea of getting a different perspective on it. Something that would help people with a disability like me."
"Watching the show, I loved it, but at the same time I could never go to the places because he was climbing mountains and going over these treacherous places and going on hikes. I thought that there was probably still great locations around Ireland and it would be funny to have me going to all these places and trying all these things.
"Carl really liked the idea and a year later when restrictions started to ease up he gave me a call."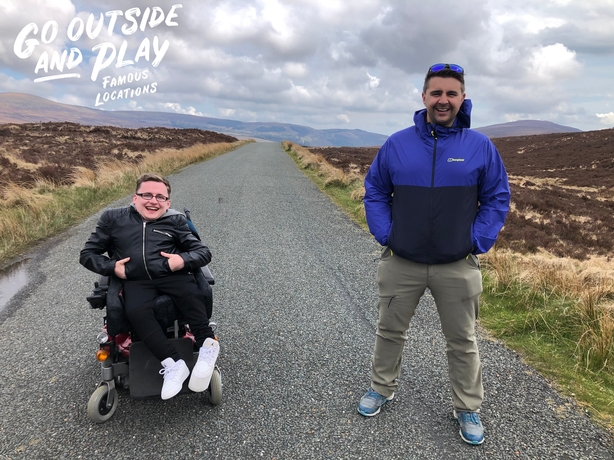 Did you have previous presenting experience?
"No, this was my first time doing any presenting. I've done the same college course that Carl did [Creative Digital Media] but that was more behind the camera and radio stuff. I wasn't too worried about being on the camera, I'm not too shy in that way. I thought it was important for me to be on camera as someone in the wheelchair so that anyone in a wheelchair watching could trust that the places we were going be accessible."
How did you plan the locations out?
"There were a couple of different themes we were thinking of but we settled on Famous Locations. We spent a couple of days checking out locations and had some Zoom meetings with the RTÉ team to talk about the places that we could go and making sure I would be able to go and do everything."
How did you find the experience of travelling around Ireland in a wheelchair?
"Doing the show, I actually found that it was better than I expected. There are a lot of gravely and bumpy roads but my electric wheelchair was able to manage it all pretty well. It was surprising, the amount of places that were accessible. Sometimes Dublin City is more difficult - you would think it would be easier with paved roads - but there were a lot of ways to get around in the small, more rural areas and scenic locations."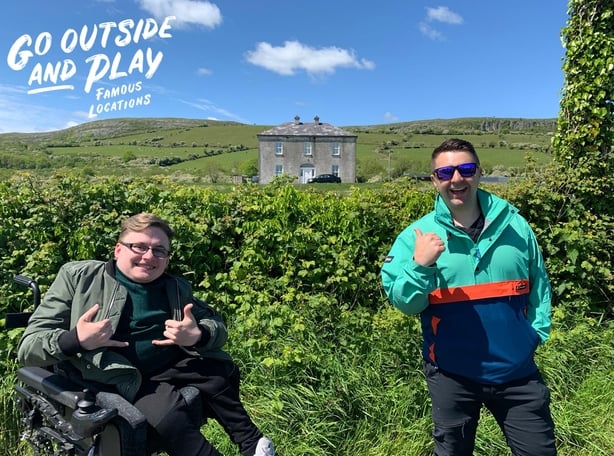 Any highlights from the trip?
"There were two spots that I was just in awe of: Game of Thrones and Father Ted but going to Inis Oírr was probably my favourite place to be. When you go there, the island is so peaceful and quiet and everyone is so relaxed."
Any challenges?
The boat over to Inis Oírr. When we were going over early in the day, the tide was low so it was a steep drop and getting the electric wheelchair over there was a worry. I could walk in my crutches down the stairs but the people who had to carry the wheelchair – I felt for them.
"Everyone who worked on the boat felt pretty confident until they felt the weight of it. My wheelchair is very heavy and has a car battery, a giant motor, lots of wheels so seeing them carry it was hard. I would recommend going on a higher tide.
"Other than that, my wheelchair got stuck sometimes in long wet grass. I would recommend, if you're going in a wheelchair to have someone there with you to help out or give you a push. Nothing journey-ending though and that's the main thing."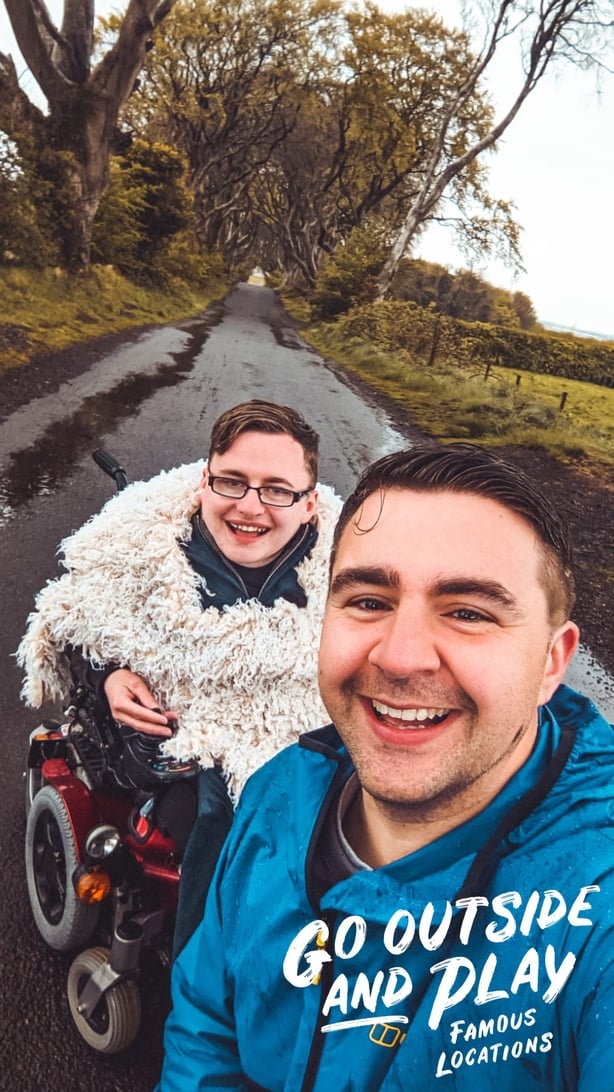 What's the big takeaway you want viewers to take from the show?
"I want to inspire other people with disabilities to try and go to these places because a lot of times you wouldn't think to do it. When I first said it to Carl, it was almost a throw away comment because I figured all these places would be too hard to get to. When you look into it, so much is achievable. I want to show that people can still go to these beautiful locations and enjoy themselves."
Watch Go Outside and Play: Famous Locations on RTÉ Player.