In 2016, Johnny "Smacks" McMahon was working behind a butcher's counter in SuperValu while Johnny B O'Brien made hurleys for his family business in Cahir. One fateful day, the two appointed themselves as MCs for their local GAA club's fundraiser - a role that whet their appetite for a career in comedy.
Fast forward to 2020, and the Tipperary boys have a hit podcast, eight number one singles, a new book ready to hit the shelves in October, and their first-ever TV show set to debut on RTÉ2.
In The 2 Johnnies Do America, the lads navigate their US podcast tour and look at the current state of 'Irishness' in America from the multigenerational Irish-Americans to recent arrivals.
"We were going on tour to America and we just thought, wouldn't it be great if somebody followed us," Johnny Smacks explains over the phone, "because we know the madness we can get up to on tour and to have it documented would be great".
"Otherwise we wouldn't remember it," jokes Johnny B.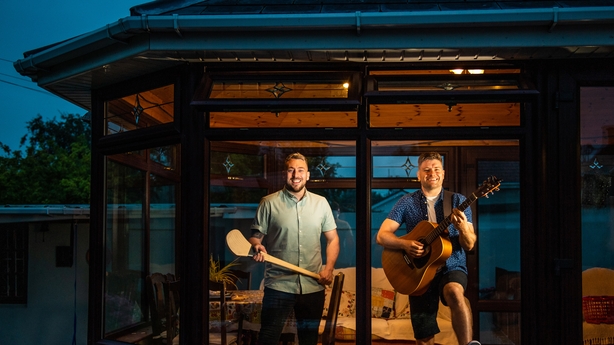 Historically, the Irish have emigrated to the States to chase the elusive 'American dream', the ideal by which equality of opportunity is available to anyone who is willing to work hard enough.
Fleeing famine, poverty, and unemployment, the US has traditionally been seen as a country of opportunity, but does that hold true in 2020?
"It's still the country of opportunity," muses Smacks. "You can still make a name for yourself over there but, in regards to Irish people travelling there... Ireland is great craic. We should all just stay here and make Ireland great. Don't mind making America great, make Ireland great."
"Irish people get on well in America because we have the gift of the gab," counters Johnny B. "You can blabber and bluff your way through because the Americans love the old chat and the Irish have it in bundles. I think if the Irish can go, they will because there's cash to be made."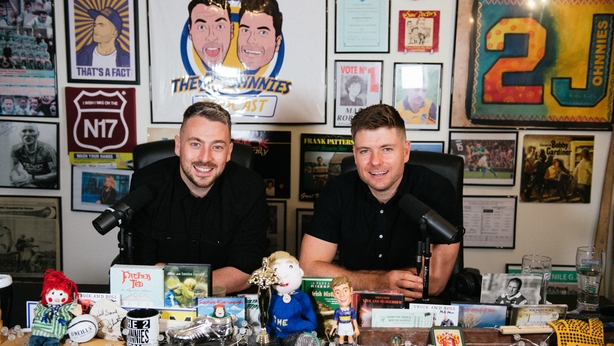 Across the series, the boys live it up in Fort Lauderdale for Spring Break, meet the characters of Venice Beach, take a trip to Compton - a place renowned for its gangs, violence, crime, and hip hop - and even try their hand at rollerskating, goat yoga and protesting.
The whole thing sounds like the adventure of a lifetime but, according to the boys, it took blood, sweat and tears to make the show. Not to mention the bruises.
"I thought working at the butcher's was hard work," laughs Smacks. "Making a TV show is right up there but I think we learned as we went along. We had a night out after LA that nearly ended in disaster for Johnny B - he got a fat lip."
"Not from shifting or anything," clarifies Johnny B. "I had a row with a gate."
"It was a learning curve," he continues, "turns out you need your face when you're making a television show," he laughs. "You can see from Miami onwards, I look like I'm doing a De Niro impression because I'm biting my lip back to try and cover it up."
"Then I fell," adds Smacks. "And it's documented on camera. We were rollerskating in Venice Beach but what you don't see on camera is that I actually had to go to the hospital and get an x-ray. They thought I had fractured my tailbone but it was just really bad bruising."
If you thought 2020 seemed like an unlikely year to release a travel show, you'd be right. Coronavirus put the entire production under threat but, luckily, the crew pulled it off by the skin of their teeth.
Travelling across the States in February and March, the lads had enough film in the can for the TV show to work before cancelling the rest of the tour and heading home for lockdown.
"On the 12th of March, we had to come home with the whole Coronavirus thing," explains Smacks.
"We were in Boston doing a show and we were getting word from home that things were getting serious. We were told that we would be OK and to power on but then, forty-five minutes later, we were told we were on the next flight."
"Boston is real working-class, nice people, everyone walking around like they're hard as nails," adds Johnny B. "They were all going around saying it was grand... and then the news comes on. Suddenly, everyone that had been saying it was grand was gone."
"There were only fifty people on the flight home," says Smacks, "and they made us sit at the back of the plane so there was enough weight to take off.
"We were worried about the Coronavirus but then we were worried about the plane," he laughs.
We need your consent to load this YouTube contentWe use YouTube to manage extra content that can set cookies on your device and collect data about your activity. Please review their details and accept them to load the content.Manage Preferences
Bumps, bruises and pandemics aside, the comedy duo are ultimately thrilled with the result of their hard work, and are proud to have added another string to their bow.
In an exceedingly short amount of time, the two have garnered a loyal legion of fans who seem to follow them across any medium - be it TV, podcasts, or books.
So, what's next for the Tipperary men?
"World domination," laughs Smacks. "We always had belief in ourselves, and belief that what we were doing was good. We thought that the content was what people liked, and what we liked.
"We see ourselves as two normal lads," he continued. "That's what we still are and that's what we'll always be because our group of friends and our families will never let us get too far ahead of ourselves. When I got home from America I was put cleaning the windows."
"Although nobody has ever called me normal," argues Johnny B.
Watch The 2 Johnnies Do America tonight, Thursday 3rd September, at 9.30pm on RTÉ2.