Whether you want to walk, cycle or drive, exploring the surf-pounded sea cliffs and long golden beaches will create memories that will last a lifetime. But, there's a lot more to the Kingdom than just scenery.
Last week on No Place Like Home, Kathryn Thomas, along with her partner in crime, toddler Ellie, visited Kerry to explore all that there is to see and do, even if the weather isn't on your side.
Up first was a trip to Dingle in West Kerry. While there are endless options of beaches and hikes in the area, there's still plenty to do if it's a little wet and wild.
The Dingle Aquarium is Ireland's largest aquarium which is home to tiger Sharks, otters, an abundance of different fish species, as well a penguin grotto. Dingle is a town that will forever be associated with the sea, and the kaleidoscope of marine life in the Oceanworld Aquarium really showcases that.
Perhaps you would like to get even closer to the sea life? Further along the coast, there is a different underwater experience.
The Waterworld Dive Centre offers you a unique scuba diving experience at the very edge of Europe in the Dingle peninsula. This is an activity that can be exhilarating and so tranquil at the same time. It certainly is one the most beautiful ways to interact with the Atlantic Ocean.
If you are looking for some exercise away from the seaside, Kerry offers some of the most beautiful walks and hikes imaginable. From exploring Killarney National Park, numerous nature trails to Wild Kerry Walking Tours, there are amazing trails for walkers of every ability. If you are staying in west Kerry, Lough Doon in the Conor Pass is a beautiful way to embrace the wild and rugged Kerry landscape.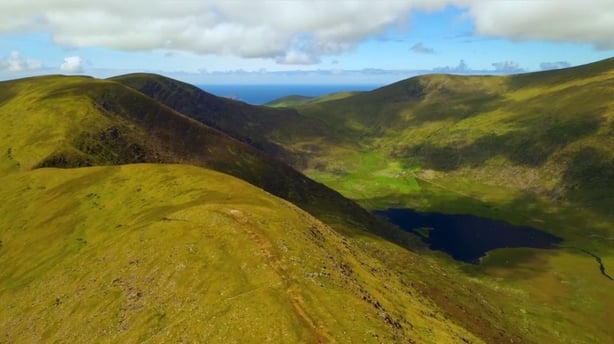 Just a short boat journey from the west coast of Kerry offers visitors the chance to step back in time. The Blasket Islands were abandoned in 1953 as the final few residents were moved to the mainland just 6km away. With day trips and self-catering accommodation available, there has never been a better time to visit this extraordinary island, where you can stroll along the green road next to the crashing waves all the way to Peig Sayers house.
In terms of exquisite natural beauty, warm welcomes and family activities, it would be hard to find a better destination than Kerry. Make a break for the Kingdom.
To experience any of the areas visited in this episode, make sure to book in advance. Many sites, museums and attractions across the country are free or charge a nominal fee, but take into account capacity restrictions during this time.
There really is 'No Place Like Home'. There has never been a better time to take a break away for Ireland's Ancient East… learn more about where to go and what to see at www.discoverireland.ie
Watch No Place Like Home with Kathryn Thomas here