We shake off some of the stresses of lockdown with a visit to The Marker Hotel in Dublin's bustling Grand Canal Square, finding tranquility and superb hospitality.
With its sophisticated menus, serene spa and city-centre location in the heart of Grand Canal Square, The Marker has long been one of Dublin's hottest spots, and its intimate rooftop bar, offering panoramic views of the city is on the drinks bucket list of many.
So how would one of the city's buzziest hotels fare under the new Covid-19 restrictions? As it turns out, brilliantly.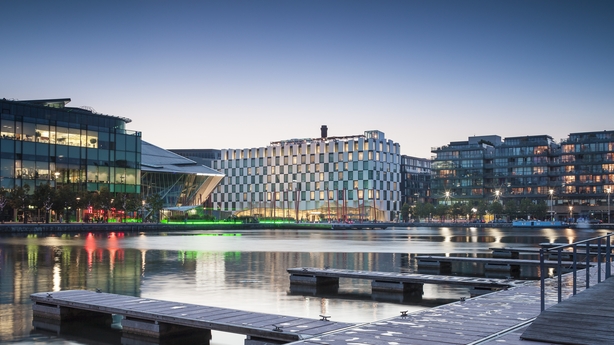 Bringing my mum along for a girlie weekend in the city, the two of us were treated to the hotel's Gourmet Package, which celebrates the many foodie delights on the menu and includes an overnight stay and breakfast the following morning.
As well as this, we were gifted two spa treatments – a massage for her, a facial for me – which made for a particularly tranquil weekend.
Walking into the hotel, a few telltale signs of the times greet you, as they should. Hand sanitiser by the door, the yellow floor markings for social distancing and clear plastic screens at reception.
Staff wore either clear plastic visors or masks, but either way their warmth and eagerness to help shone through. We were delighted by their efforts to make us feel welcome and they put us instantly at ease.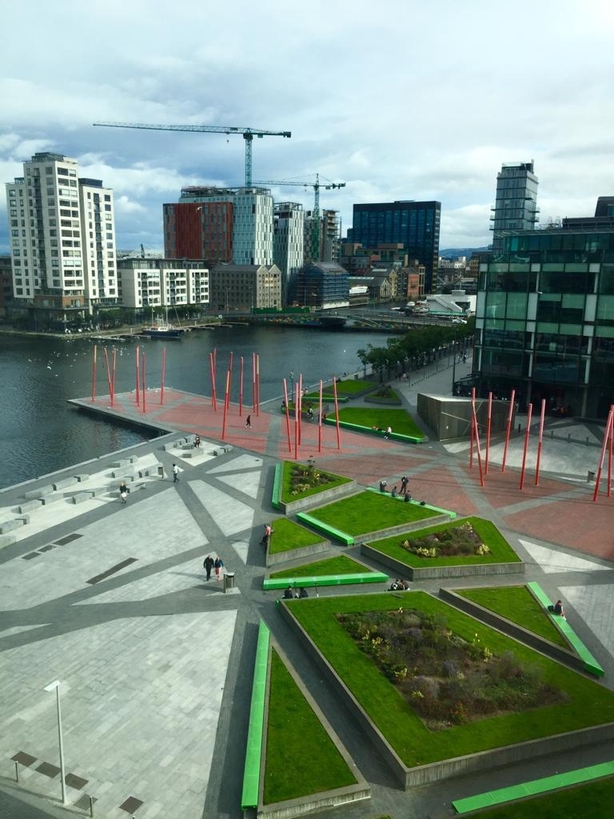 Once over the initial adjustment to the new normal, you hardly noticed the restrictions although they were very much in place to keep guests and staff safe.
Each room is sealed with a sticker showing that it has been freshly cleaned and locked shut, waiting for your arrival. Any staff that arrives at your door will stand 1m back and ask permission to come in, while housekeeping checks beforehand whether you would like turndown service.
The hotel has appointed a Covid-19 compliance officer overseeing safety measures, while cleaning has been increased, especially in areas with high-touch points. Each guest receives a packet on safety guidelines explaining all of this.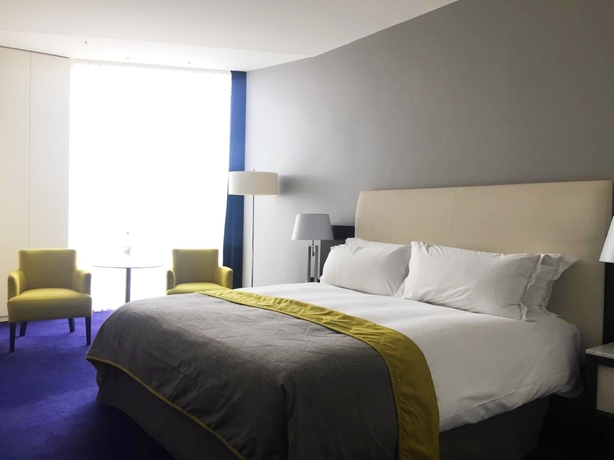 Once in our room – modern and fresh in design, with a pristine white Carrera marble bathroom, mini bar, WiFi and stunning view over Charlotte Quay – we kicked back and luxuriated in the knowledge that there was no sightseeing to do, no rushing around. Just us and the 40" flatscreen.
Dinner was a glamorous event in the Marker Bar: the Beef and Bordeaux menu, including a Chateaubriand steak, wilted spinach, grilled beef tomato and crispy garlic and rosemary potatoes, served with a bottle of Barton & Guestier Thomas Barton Reserve Bordeaux.
The steak was served on a large plate, nestled around the plump tomatoes, and softer than butter, served with a rich jus. The tomatoes and wilted spinach cut the richness nicely, while the roasted baby potatoes came golden and crisp in a mini skillet of rosemary olive oil. It was classic BBQ fare given the Queer Eye treatment.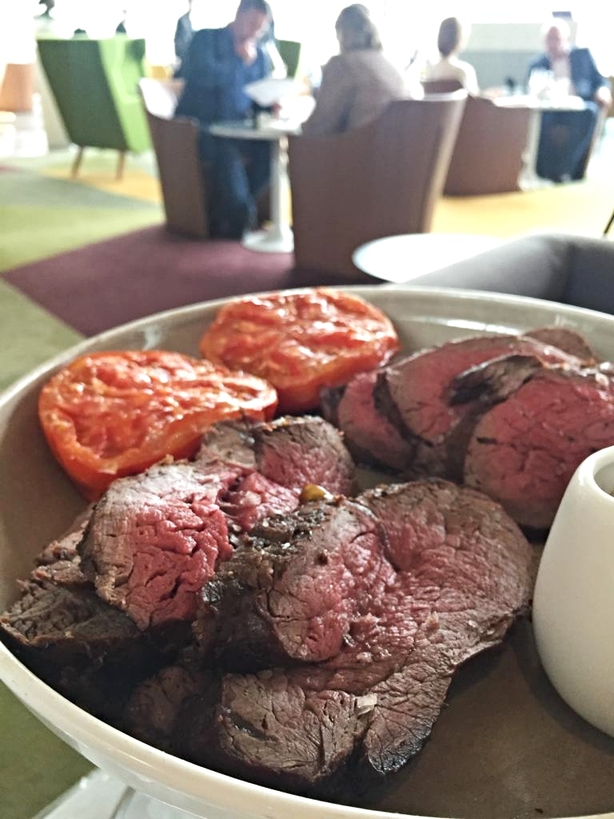 We were then gently whisked away to the rooftop bar – glass of wine still in hand – where we were treated to dessert and a cocktail and, most importantly, the famous view over the twinkling city. I chose the cherry and mascarpone trifle with slivered almonds and jewel-like cherries on top, while my mum went for the Valrhona chocolate cremeaux.
Because we were on holistay, we added some cocktails to the mix: an elderflower and cucumber martini for me – light and floral but with a serious kick – and a Marker Dream for my mum – a heady and sweet blend of gin, Chambord, elderflower and lime.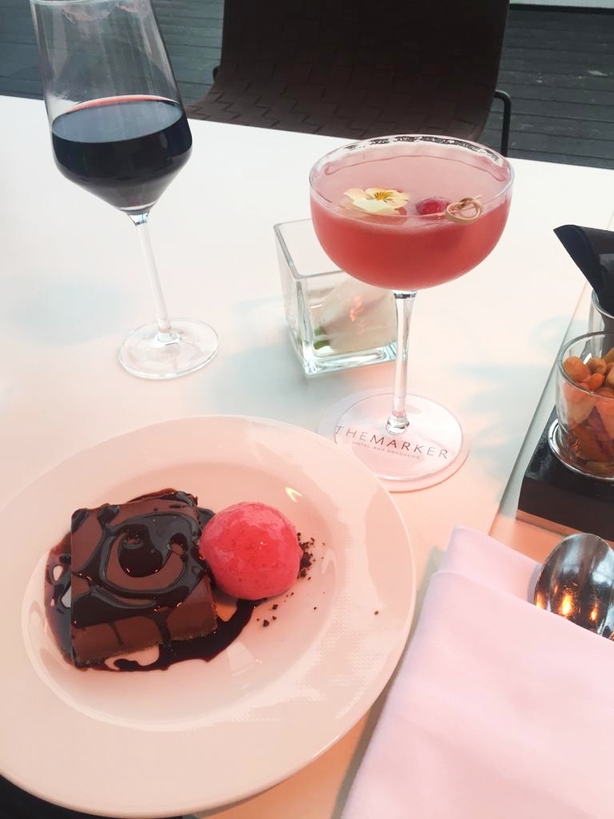 With dusk painting everything in soft shades of violet and gold, it was a reminder of how much fun, beauty and good times await us when things "get back to normal". Right now though, The Marker are doing a wonderful job of making the new normal feel comfortable.
Breakfast is served in the Brasserie from 7am each morning. The stunningly modern dining room has been named as the Best Hotel Restaurant in Dublin by RAI in both 2016 and 2018, and has won two AA rosettes. Still a little wary of being out and about, however, we opted for room service, curious about how it would feel with the guidelines in place.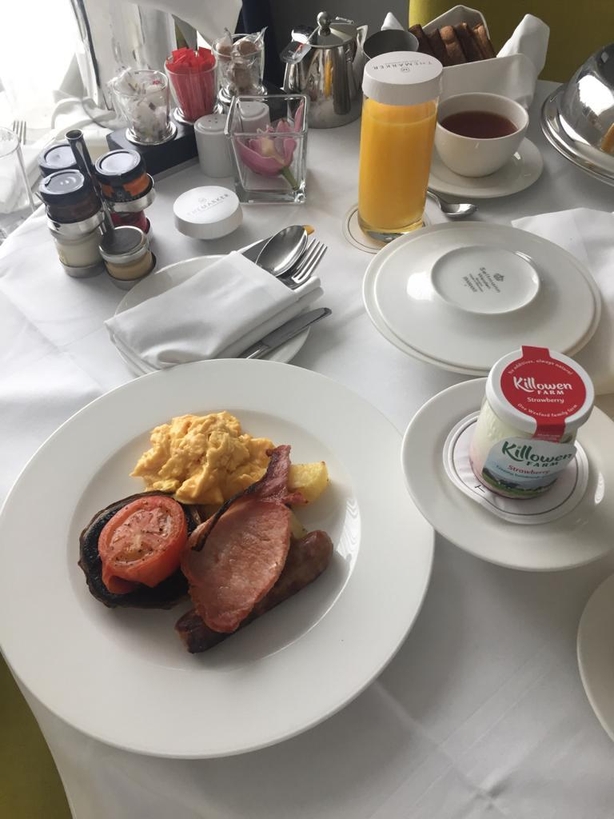 Service was impeccable, with staff checking with us before coming into the room, setting down the trolley and plating up. We went for a spread of scrambled eggs, Tommy Doherty sausages, bacon, plum tomatoes, mushrooms and potatoes, with some seasonal fruit salad, breakfast pastries and granola.
Sure, it wasn't a breakfast buffet but in the privacy of our room, it felt just as decadent.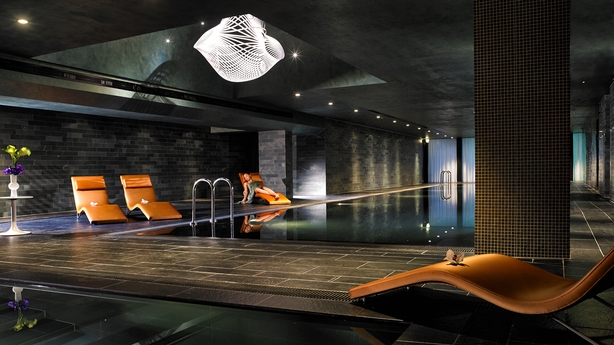 Finally, it was time for the spa. Unfortunately, we didn't make it to the pool, but if it's as tranquil and elegant as it looks, it's sure to be worth a visit. It includes a 23 metre infinity pool, generously sized Jacuzzi, sauna or eucalyptus-infused steam room and more.
I was treated to an invigorating 60-minute Skinceuticals facial, which included a 30% AHA chemical peel that cleared my acneic skin and left it glowing. My facialist Sarah uses hot steamed towels to soothe and decompress my face, and added a head massage to make sure I was totally relaxed
My mum was treated to the Ho Leaf and Rosemary Muscle Melt Massage, ideal for relieving muscle pain and aches. The 60-minute treatment uses Elemental Herbology products, which assign an element – Earth, Water, Metal, Fire, Wood – to the issue you want to relieve.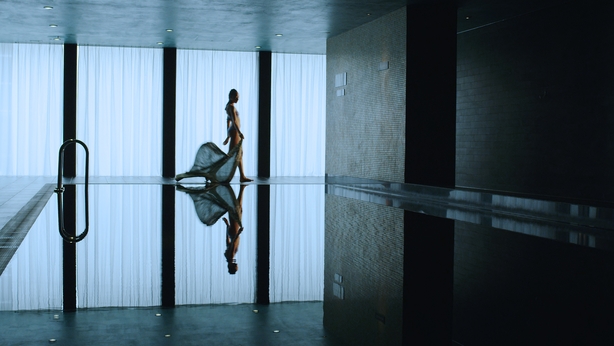 Her masseuse Silvana used warm herbal steam towels and hot stones to release tension and soothe aching muscles. My mum was totally converted and couldn't stop raving about the experience.
Verdict
Staying in a city hotel can sometimes seem redundant, but spending a night at The Marker was an experience we'd go for again and again if possible.
The warm and welcoming staff almost made us forget about the pandemic, and gave us back a sense of normalcy after months of strange adjustments and uncertainty.
A true treat, The Marker team should give lessons on how to make guests feel relaxed when everything around them is screaming "stress".
Details
We tried the Gourmet Package, which includes an overnight stay, breakfast in the morning in the double AA rosette-winning restaurant, The Brasserie, and dinner in The Marker Bar. You can choose from either the Beef and Bordeaux menu, which we had, or the Bubbleclaws menu, with lobster and a bottle of champagne.
The Skinceuticals facials cost €145 and include a range of options including a Clarifying Facial, Acne Facial or Calming Facial. The Ho Leaf and Rosemary Muscle Melt Massage costs €130, but there are a range of treatments available around the same price.
Other spas in Dublin city centre include:
The Spa at the Shelbourne Hotel
The Buff Day Spa
Jule Beauty & Therapy, Grand Canal Square
To book your stay or purchase a spa treatment visit www.themarkerhoteldublin.com or T: +353 (0) 1 687 5100.
*If you are affected by any of the issues raised in this article, you can visit Ask About Alcohol