This is a story of forest adventures, friendship and transforming butterflies. 
When booking a staycation in Ireland in these COVID-times there are new parameters to consider. Social distancing is the biggest so when we came across Mount Falcon Estate for a staycation it seemed like the perfect fit for a post lockdown family break. 
We were gifted a stay in one of the self-catering lodges as a family of four - two girls aged 6 and 2 - and 4 cocooning butterflies. 
The butterflies were a late addition to the travelling party after realising that if we left them in Dublin they would probably hatch and no-one would be there to look after them. And what a location we brought them to.
Top tip: Travelling has changed and it is well worthwhile planning your drive ahead of time. We were travelling from Dublin over to Mayo and struggled a little to find a location easily accessible along the route for a toilet stop. At the moment while food outlets are open for takeaway or drive through only - their toilets may not be.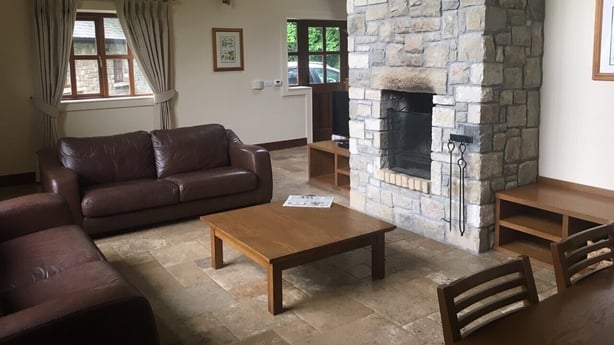 There are three-locations on site with self-catering lodges. The Courtyard, the Lakeside and the Woodlands. We were in the woodlands, amongst the trees in a little community of 12 lodges.
The best and most appealing aspect to the space is how safe it is for kids to just go outside and play. Our kids went out with their scooters, frisbee and a ball and just played on the green all day with other holidaying-kids. The parents relax on their balconies - coffee in hand. All good safe, healthy fun.
Owner Alan Maloney, partner Eibhlin and their family are amazing hosts. It's a family space and you really feel part of their family when staying on the Estate. They live there, you see them around, you chat to them and your kids play with their kids. 
Certainly, it seems like our six-year-old has made a friend for life in Alan's daughter. There were girly playdates, walks and adventures all over the 100-acre property. 
The Maloney family, who emanate from the region, developed the estate in 2006 by restoring and extending the original manor house into a 4-star hotel while simultaneously sensitively developing a selection of 3 & 4 bedroom lodges around the estate.
Since closing its doors in March due to the pandemic, the owners of the hotel have put a lot of thought into how they could open again safely - for guests and staff - but still provide a wonderful experience. 
How are hotels in Ireland adjusting to COVID-19?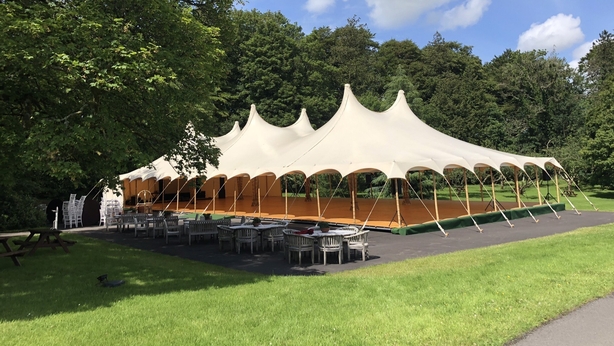 The most notable addition to the stunning grounds is the newly-erected Bamboo stretch tent. Blending perfectly into the beautiful tree-lined area adjacent to the main hotel, this al-fresco dining tent gives both hotel guests and staff the space to dine and work with peace of mind.
Head chef Tom Doyle has created an al-fresco-inspired BBQ and pizza menus to suit all tastes, with all ingredients sourced from West of Ireland producers.
On the night we dined there were beef burgers, hot dogs, dry rub smoked paprika chicken and brisket on the menu.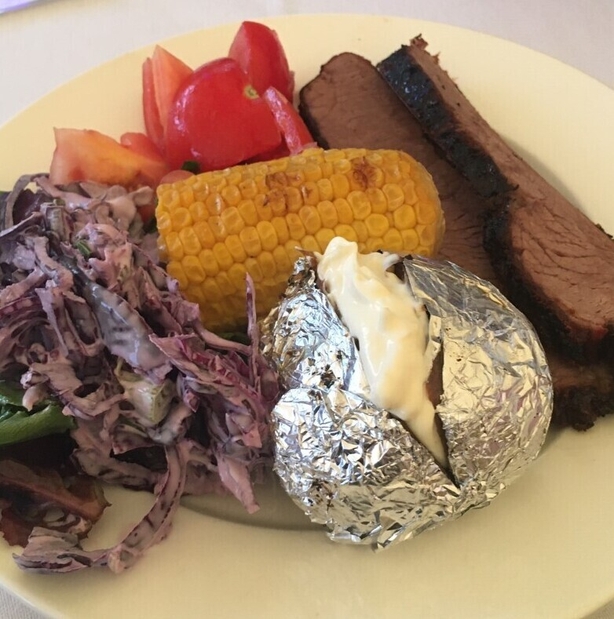 The tent means that you can have a real holiday meal experience and there is live music to keep the party going. When we dined, Buck Taylor entertained and it made for a great night. Themed DJ nights will also feature throughout the summer.
Another aspect that makes the experience feel safe is the booking system; when you book a night for dinner, you book your table for the evening so there is no turnover of tables. 
During the day you can grab a pizza, a coffee or a delicious brownie from the tent and it also doubles as an outdoor cinema screen for movie matinees with the family. It is a really great addition to the estate and will be very popular with lots of families. 
While self-catering is the theme of the lodges, the 4-star hotel is close by and guests of the lodges have the opportunity to book a healthy breakfast menu with the finest of fresh fruits, breads, and hot plate breakfast menu options in the elegant Fuller Room. Ordinarily designed to cater to weddings and events, this summer it hosts breakfast allowing for ample social distancing for guests.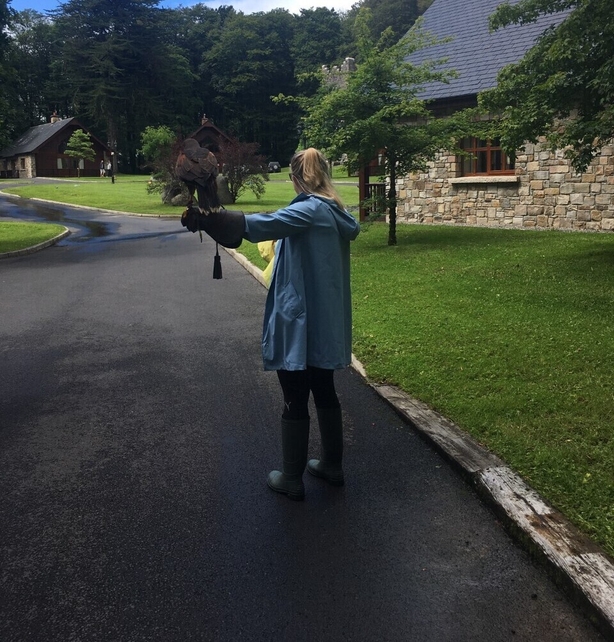 There is also a myriad of activities to keep you and the kids entertained. It really is an 'all in one' destination in that, once you arrive, you don't really need to leave. The activities on offer are healthy picnics, fishing, falconry, clay pigeon shooting, archery, golf driving range and bike hire.
We did the falconry walk while staying there and it was well worth it. Daniel took Phoenix, the harris hawk, on a walk around the grounds and it was fascinating to see. The girls loved it, even if the younger one was a little afraid of Phoenix in flight. We also got to meet the other birds on the estate in the aviaries. 
The parkland estate is a unique ecosystem hosting 197 species of trees, forty-two species of our native birdlife and a litany of fauna including red squirrels, rabbits, hares, foxes, badgers, pine martens, hedgehogs and eight of our native species of bats.
On our last night staying there, there was a magical moment of all the kids standing watching and chasing a bat which had decided to take a 10pm flight. It was a very special moment.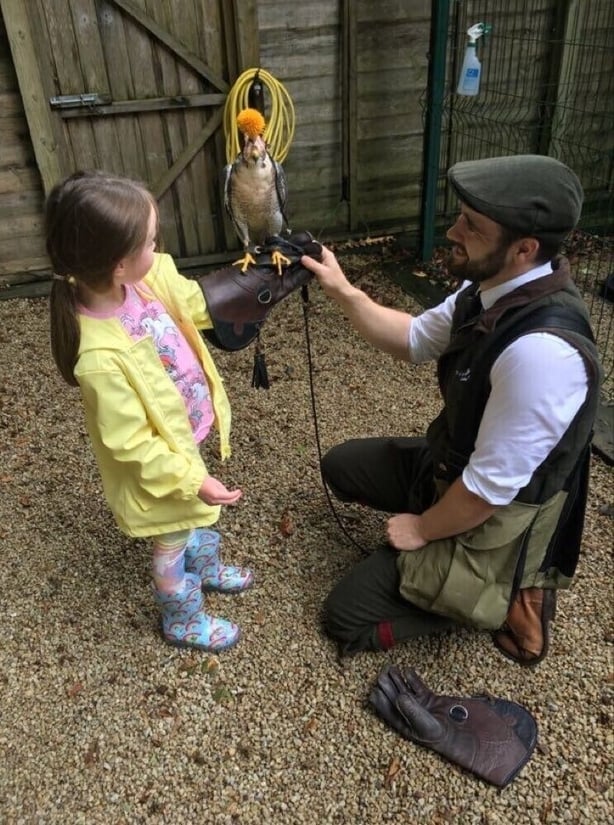 The verdict
We have done family stays in the likes of the The Conrad Hotel, Hotel Westport, Ard na Sidhe Country House and this is up there as the best we've ever experienced. Open spaces for the kids, nature, learning, fun and good times. 
The Estate has everything to offer. The lodges offer the flexibility of self-catering, while you can have a cooked breakfast in the hotel and now BBQ food and entertainment in the new tent. 
As was said by a neighbouring family - there is no need for a kids' clubs, the whole estate is the club. 
And if you were wondering what happened to the butterflies...
We need your consent to load this Instagram contentWe use Instagram to manage extra content that can set cookies on your device and collect data about your activity. Please review their details and accept them to load the content.Manage Preferences
The Details
We were gifted our stay at the Mount Falcon estate for this family review. 
Mount Falcon is located on the N26 between the towns of Foxford and Ballina, County Mayo.
Rates at the Mount Falcon Estate for the season ahead include the following: Luxury Mount Falcon Award winning Self Catering Lodges, with Check in on Friday or Saturday afternoon are offering rates of 7 night stay in our 3 bed lodge(sleeps 6) €2,100 7 night stay in our 4 bed lodge(sleeps 8) €2,400
Self catering guests at the Lodges can also avail of a breakfast menu in the Mount Falcon Hotel at a rate of €20pp for adults and €12 per child. 
For full rates of the hotel rooms and booking details check out www.mountfalcon.com Tel: 09674472 Info@mountfalcon.com 
Please note that the Leisure facilities and Spa at Mount Falcon will remain closed in the immediate future.
Other hotels in the area include:
Great National Hotel Ballina
Ballina Manor Hotel
Twin Trees Hotel & Leisure Club