The Conrad Hotel Family Room is new to town and can accommodate up to two adults and two children. It has large interconnecting King and Twin bedrooms, giving great space for all the family. The 48-inch TVs and Nespresso machines are a nice touch, especially for sleep-deprived parents.
We, as a family (two girls aged nearly 2 and nearly 6 years old), have tried out a few family-orientated stays including Westport House Hotel , Glenlo Abbey in Galway, Ard na Sidhe Country House - and we were lucky enough to be asked to try out this suite for its launch.
The Conrad is perfectly located just off St Stephen's Green. For us, when we go for a family stay, the kids are the most important thing. We had a great time at Westport House where our eldest daughter loved the Panda Kids Club and adjoining adventure center. In contrast, we stayed at a well-known Wicklow hotel over the summer and we were left feeling deflated with the overall 'family' experience.
So it was really important, for us, that if the Conrad hotel was promising 'kid-friendly' that it materialised. And to be fair they hit the nail on head.
Kids First
A lovely welcome on a Friday evening included cookies for the girls and lovely bedtime reading books with cute inscriptions in each with their names.
After we got a quick tour of the restaurant and bar we went to explore the rooms. The hotel looks great for the festive period. This year they have taken inspiration from Frozen 2 and engaged with local designer Edwin Jebb to create a unique Christmas look.
The first of the rooms - with the luxurious king bed - is a great sized room but it was next door in the inter-connecting room where all the fun was.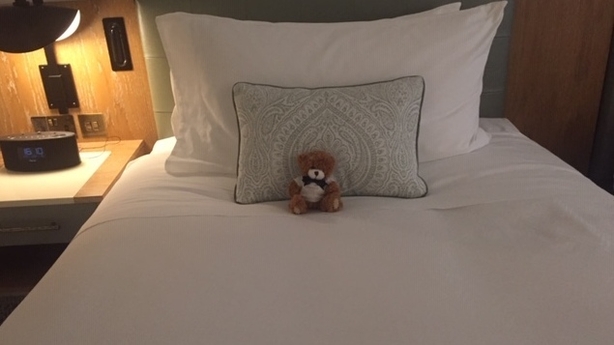 All we heard were screams of delight as the girls found Conrad bears on their beds and then... the toys. A gorgeous hamper and unicorn box held an array of toys suitable for both our girls to play with.
Instantly the jigsaws were on the floor and tables with shouts of 'we have to play twister later!!'
What a treat to be in a hotel room and play with an array of age-appropriate toys.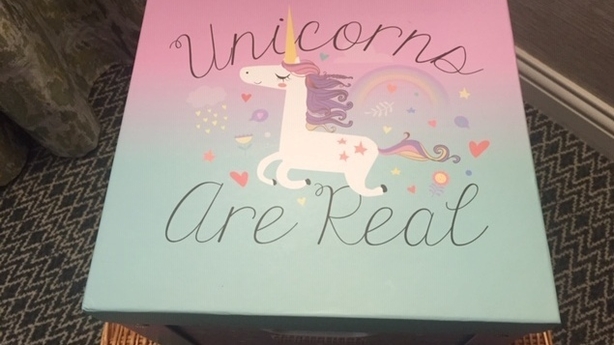 More was to come as we arrived back into the hotel after some dinner and a walk around Grafton Street to the lovely surprise of a turndown treat of cookies & milk before bed.
We didn't need it but for the smallest guests, cots are available upon request, as well as a baby bathtub. The hotel also provides an in-room "Baby kit" (upon request) with amenities such as milk for the room, bottle warmer, baby bathtub and amenities, and the famous Conrad bear.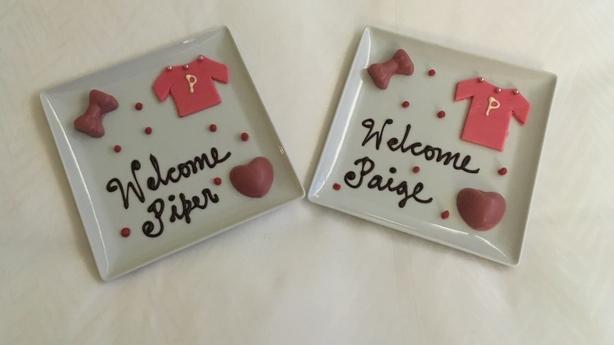 Dining
Breakfast is a very important meal when kids are concerned. So when we arrived down on Saturday morning to our first breakfast in the hotel restaurant and were greeted with the words 'anyone for a hot chocolate?' Our eldest daughter nearly lost her mind.
Hot chocolate for breakfast! Winning.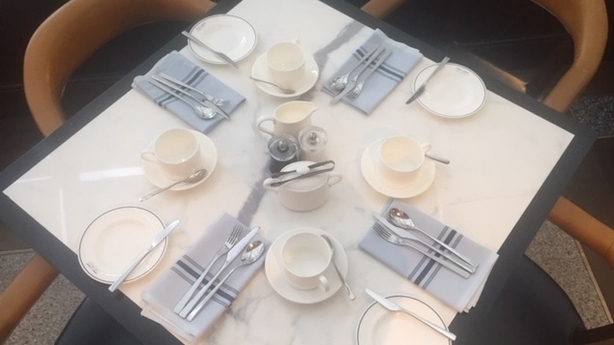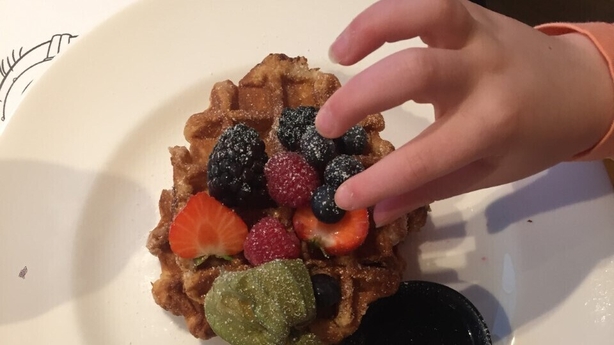 The adults had some very good coffee and enjoyed the varied buffet, while the wild youngest guzzled down two strawberry smoothies and then ran riot. It was mainly an urge to see every Christmas tree in the hotel. So off we went for a stroll, daddy with a sausage and coffee in hand.
As we legged it upstairs with the wandering child, we struck upon a golden idea. Breakfast the next day would be in the room. It was all sorts of perfect. A great selection of hot and cold buffet food meant the kids could 'graze' from when it was delivered to the room around 9am to check-out time at 12noon.
It was relaxed and chilled out, just like the whole stay.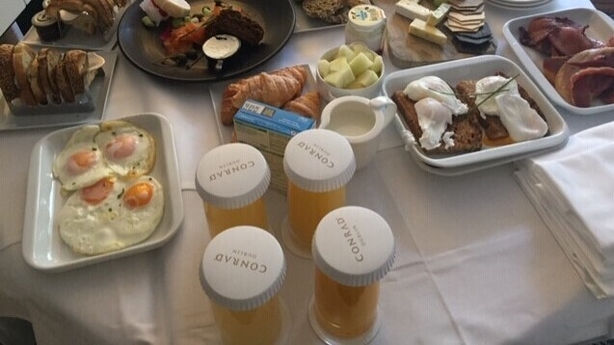 The Coburg Restaurant at the hotel has created a special children's menu to provide a mix of some all-time favourites, both savoury and sweet. The majority of the dishes are prepared in a healthy way and special attention is given to the nutritious value of
 the ingredients used. With 2-course options from €10 and 3 courses from €12 to include a glass of milk or cordial, it really offers fantastic value. There's also a complimentary 'baby bowl' comprising of mashed potatoes and vegetables.
Top tip: Parking can be a bit hectic around the hotel so if possible you should use the hassle-free on-site parking.
Verdict
Kids are first and foremost in this family stay - and that's the way it should be. You get all the trimmings of a five-star stay with a big helping of good service and attention. A great city center stay which leaves you and the kids fully satisfied.
The details
We had the pleasure of being invited to try out the new hotel suite at the Conrad. The room rate is from €571 per room per night, including breakfast, for 2 adults and 2 children under 12 years of age. To learn more visit www.conraddublin.com or call +353 1 6028900.
Throughout the month of December, they are offering overnight accommodation for two to include breakfast from €250 per room per night. They also have a few 'Tea Time' options including Christmas Themed Tea Time from €48 per person, Champagne Tea Time from €60 per person or ultimate Chauffeur & Champagne Tea Time from €120 per person, where they will collect you from Grafton Street in a top of the range BWM 7 Series town car and bring you to Lemuel's where you will enjoy Champagne Tea Time before they drop you home.