It was the moment that the impossible became possible.
On July 16, 1969, the late, great Neil Armstrong placed the first ever human foot on the surface of the moon, permanently expanding the horizons of science, and setting records for live TV ratings that will almost certainly never be broken.
To commemorate the moment, five space-inspired Airbnb rentals are now available on special offer – $11 (£8.65) per night, plus taxes, on selected dates.
Moon tourism hasn't quite blasted off yet, but these terrestrial premises might just be the nest best thing…
1. DIY Apollo 11, New Zealand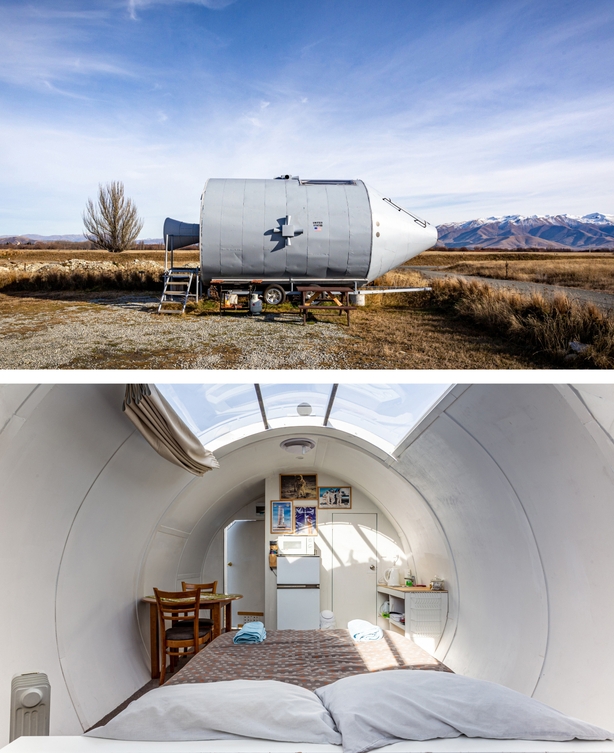 (Airbnb/PA)
Cometh the hour, cometh a New Zealand Airbnb that could not be more perfect for the anniversary if it had been built with slabs of moon rock. This cosy capsule is a lovingly rendered replica of the Apollo 11 rocket, with a perspex roof for gazing on sky and stars.
Your shuttle has a double bed and full facilities, but don't expect too many trimmings. Proprietor and DIY demi-god Peter literally banged it together in his back yard.
Book here.
2. The Highland Airship, Scotland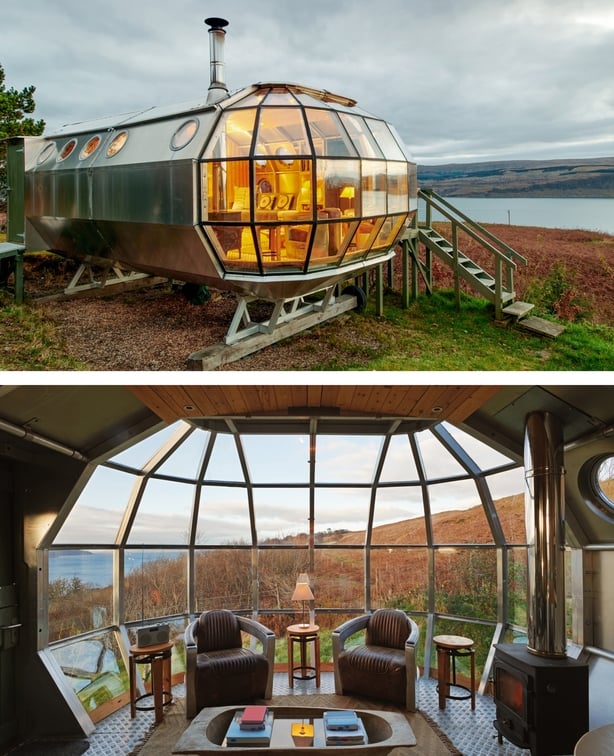 (Airbnb/PA)
At the high end of the cabin-turned-space capsule market, this aluminium-encased hideaway sits suspended several feet from the ground, and boasts bay windows that look like they've been lifted from an imperial Star Destroyer.
A kitchenette, hot shower and king-size bed will accompany you on your voyage, and given Scotland's liberal rambling laws you can roam the local wilderness at will. With stunning views over the Sound of Mull, you're not actually surrounded by inky black space, but the level of seclusion might feel the same.
Book here.
3. Stargazer's Cabin, California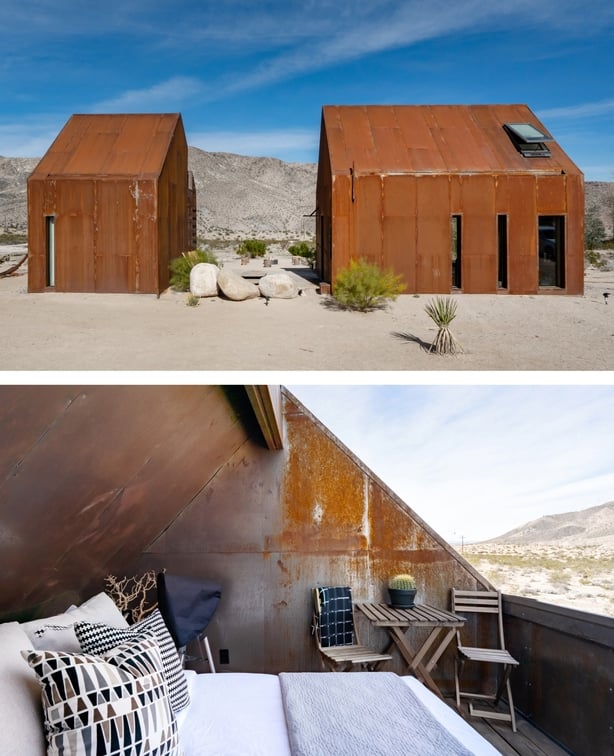 (Airbnb/PA)
A masterpiece in what we're going to call rusty-chic, you should never judge an Airbnb by its cover. This TARDIS-like lodging has crammed in all the amenities you could desire, including hammocks, Netflix and a coffee machine.
The cosmos is your constant companion in the open-ended master bedroom, reached by a ladder up the building's side, and you'll wake to mountain views and silent skies.
Book here.
4. The Pembrokeshire UFO, Wales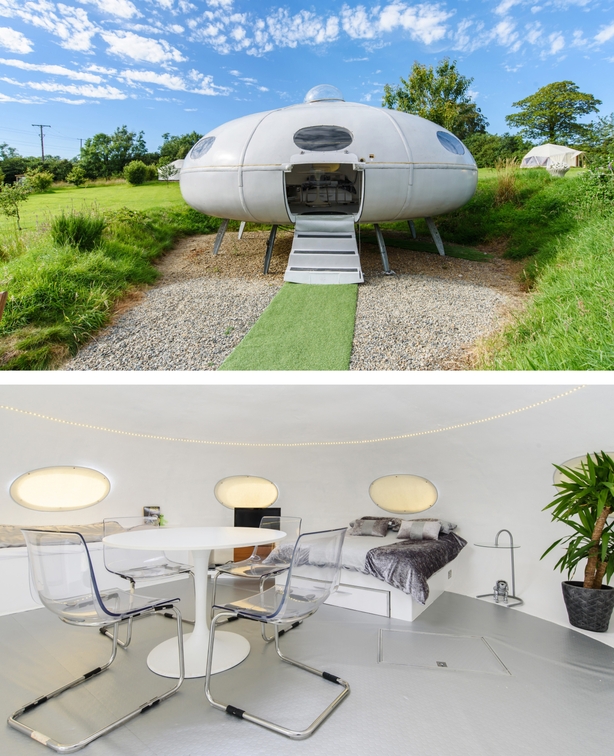 (Airbnb/PA)
Enjoy some close encounters of the comfortable kind with this sleeping pod-turned-UFO – a four-man craft complete with ornamental robots, a remote controlled escape hatch, and a monitor for retro games like Space Invaders.
A circular skylight shines down on whitewashed walls and ultra-modern furniture, ensconced in a quiet corner of the Pembrokeshire countryside. If this is what first contact looks like, we're all for it.
Book here.
5. Moon Camp, California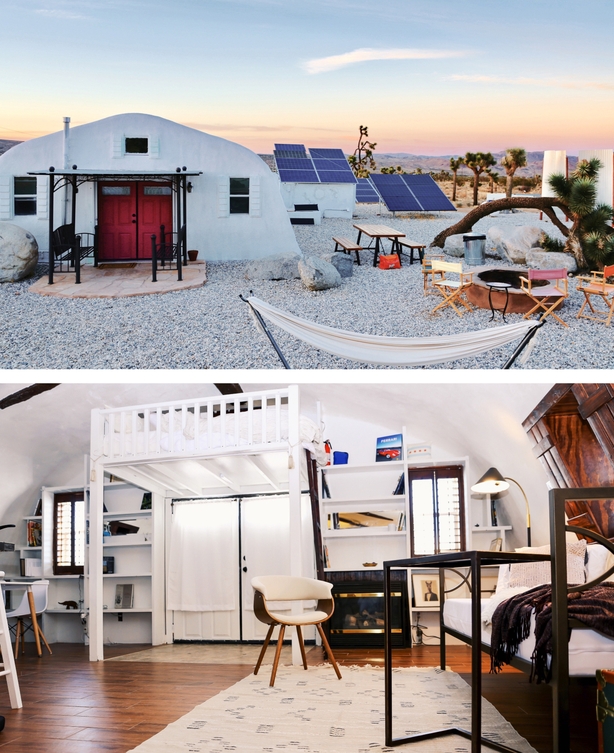 (Airbnb/PA)
Powered by solar panels, reached by dirt road, and drawing water from concrete tanks, Moon Camp is an off-the-grid property surrounded by the Californian desert.
The yard features a hammock, fire pit and telescope, and postcard-perfect views of mountainous landscape studded with Joshua trees. Thanks to the check-in lock box you could pass weeks without seeing another living soul.
It's perfect for a zombie apocalypse, or for some secluded stargazing.
Book here.
And if hotels are more of your vibe, fear not: while we don't have commercial space travel just yet, space-inspired accommodation has been popular for years.
Here are our picks for the best space-themed hotels and suites to shack up in.
The Barceló Sants Hotel, Spain
Designed to resemble a "space station", this luxurious hotel avoids the kitsch and cartoonish version of space by imagining a sleek and contemporary version of the future. With modern, luxe furniture throughout, minimalist colour schemes and striking technological details, this is space with style.
The theme continues right down to its three restaurants named Oxygen, Hydrogen, and Nitrogen, as well as in the Orbital Bar.
Silken Puerta América, Madrid, Spain
Designed by famed British-Iraqi architect Zaha Hadid, this room is one of many stunning creations by a range of architects and designers in this very impressive hotel.
The gently sloping ebony walls and curving furniture hint at Hadid's design style, but also create the sense of being millions of miles away from Earth, on a barren but beautiful alien planet. The perfect place to forget your earthly woes - for a somewhat astronomical price, to be sure.
Kameha Grand Zurich Hotel, Switzerland
An ultra-modern room with the finest of finishes, the Space Suite gives guests a truly out-of-this-world vision of life in space. Upon arrival, guests are greeted by a robotic female voice inspired by John Carpenter's 1974 classic film Dark Star.
Designed by German artist, adventurer, and aspiring astronaut Michael Najjar, the room features a floating bed and 3D printed light fixtures. Costing roughly $1,660 a night, it's on the pricier end of the spectrum, but surely unforgettable.