Immortalised in the E. M. Forster novel A Room With a View, as well as the subsequent film adaptation, Florence has captivated travelers with a taster for the finer things in life. Indeed, with some of the best food and wine in the world, and a rich legacy as the centre of the Italian Renaissance, beauty abounds in this gloomy, romantic, highly atmospheric city.
With palazzos perfectly positioned to catch the rays of a sunset, architectural marvels peaking around corners and more art than you can shake an audio guide at, this is a city that favours those with a wandering spirit. While some Italian cities can feel overwhelming in their majesty and cultural wealth - ahem, Rome, ahem - Florence feels at once inviting and accessible, as though you could possess a piece of it forever.
Call it the mystery of an eternally beguiling city, or call it the late spring gloom of a rainy day in the Palazzo Vecchio. Whatever you call it, make sure you're holding a gelato when you do.
SEE:
Uffizi Gallery
While the breadth of its treasures could never be explored in one day, a day spent in the marble halls of the Uffizi Gallery will teach you everything you need to know about Florence. Fittingly emblematic of the great Renaissance city, it is a majestic and stirring collection, yet surprisingly accessible.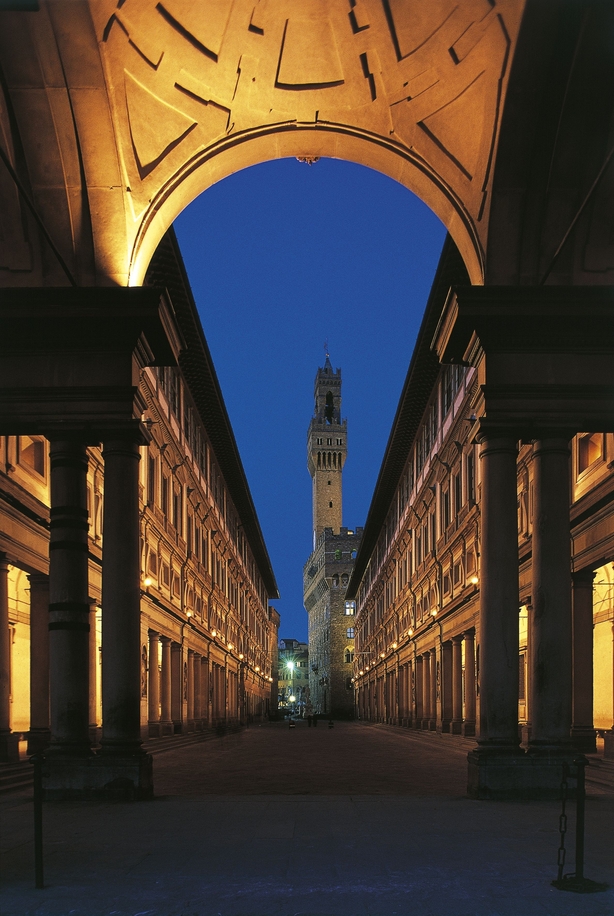 Although superficially serpentine, there is a method to this chaos, as you begin on the top floor and descend one by one. This feat of organisation speaks to its origins as judiciary offices for the most powerful figures in Florence, as commissioned by Cosimo de' Medici ("uffizi" translates as "office").
Artworks not to be missed include The Annunciation and Adoration of the Magi by Leonardo da Vinci; The Birth of Venus by Sandro Botticelli; Judith and Holofernes by Artemisia Gentileschi; and The Holy Family by Michelangelo. Don't forget to get a peek at the Ponte Vecchio, nestled practically below the gallery.
You're better off getting "skip the line" tickets if possible, which typically sell out weeks, if not months, in advance. Investing in an audio guide is a worthy expense, too - just remember to bring your passport.
Il Duomo
If the Uffizi isn't your foremost association with Florence, it's likely Florence Cathedral. Formerly known as Cattedrale di Santa Maria del Fiore, its white and green marble facade and rust-coloured Duomo towering over the city, both physically and metaphorically.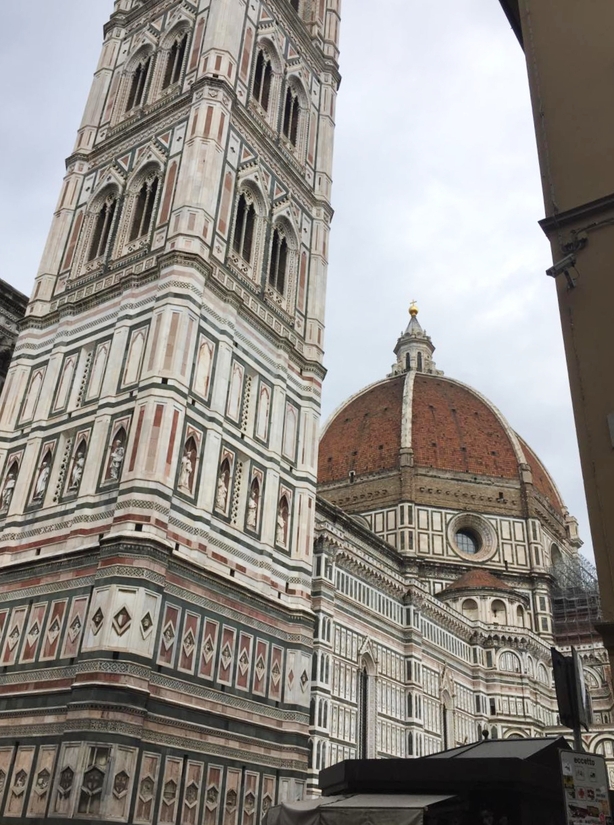 The Gothic structure is an architectural marvel for many reasons, not least for its dome: conceived in the 13th, before the necessary technology even existed, it was completed by Filippo Brunelleschi and added to the cathedral in the 15th century. However, it would take another four centuries to complete the dome, which is now the largest masonry dome in the world.
Don't miss The Gates of Paradise, an impressive set of bronze doors embossed with the scene of Abraham killing his son ironically adorning the Bapistry.
While entrance to the cathedral is free, long lines could deter those on a time limit. You can find "skip the line" tours from €44, which includes a tour of the cathedral and a climb to the top of the dome for some of the most incredible views of the city.
Palazzo Medici
In a city that heaves with monumentally significant sites, it's baffling that the Medici Palace - ancestral home to the banking family and political dynasty that helped establish Florence as the centre of the Italian Renaissance - remains comparatively unknown to the thronging tourists.
Built between 1444 and 1484, the fortress-like stone monolith was constructed as a symbol of Cosimo de Medici's mounting political power, and is designed to impress as much as it is to delight. Constructed during the time of sumptuary laws that restricted how much wealth one could show, it is a masterclass in concealing great opulence in an imposing facade.
The rooms inside act as galleries for artworks by some of the greats of Renaissance art: Michaelangelo's "kneeling" windows, frescos in riotous colours by Luca Giordano and - most notably - the vivid frescos depicting The Procession of the Magi by Benozzo Gozzoli in the Chapel, which includes likenesses inspired by many of the wealthy Florentine figures of the time, including the Medicis.
You can find numerous guided tours from €45, a worthy investment for this colossally important location.
Giardino Bardini
Like a jewel among mounds of velvet, Florence sits in a basin surrounded on all sides by lush, rolling hills. Thanks to this geographical quirk, finding a vantage point over the honey-hued stretch of the city is easy. Considerably less so? Finding the best one.
Reader, I did just that.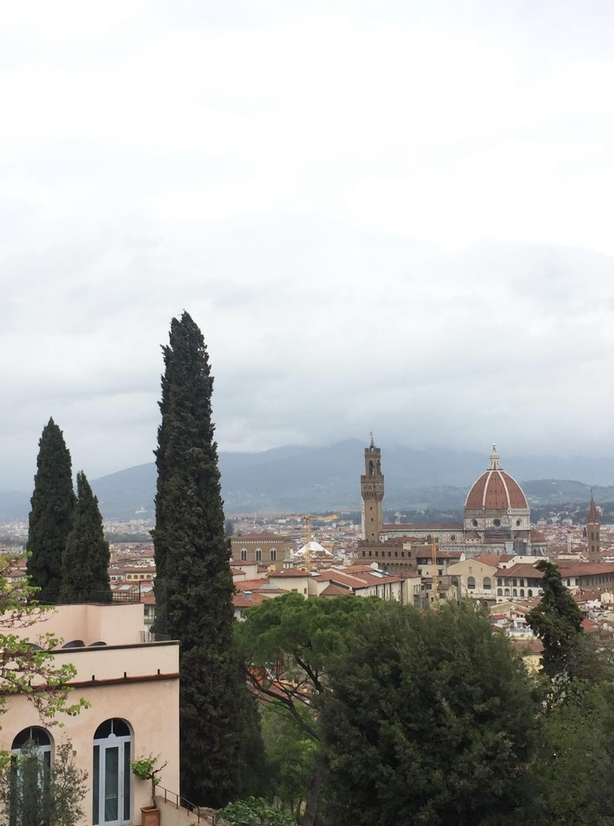 Only a short walk uphill from the Oltrarno district is Villa Bardini, a 17th century villa perched atop a steep hill and with breathtaking panoramic views of Florence. Though barely 15 minutes away from the hustle of the city, it is serenely quiet here, with birdsong as nature's soundtrack.
Just as spectacular as the view, however, are the meticulously maintained four-hectare Renaissance gardens, their artful layouts preserved as they would have been centuries ago. Lilac - what should be the official flower and scent of Florence - blooms in bursts throughout, and a central Baroque staircase ascends through classical rose gardens to the stately overlook point.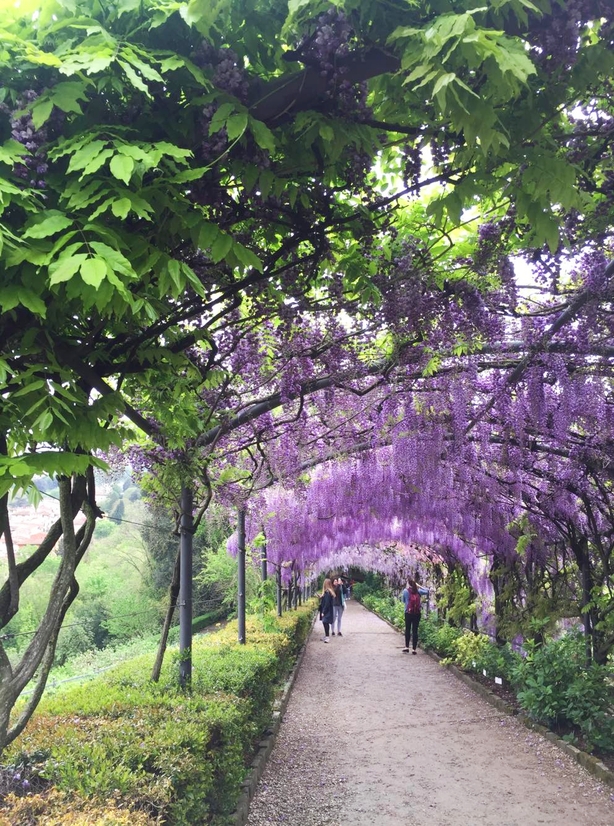 Here, you can drink in the cinematic view as well as an Aperol spritz, before setting off along the gardens' most-cherished feature: the wisteria tunnel. In spring, the delicate flowers provide a wavering purple canopy, surreal in its painterly beauty.
EAT:
Neromo, Florence
Stumbled upon in pursuit of the best pizza in Florence, Neromo's ended up being one of the best pizzas of my pizza-filled life.
Entering past the bar, you find yourself in a series of vaulted, brick-lined dining rooms, stripped of their rustic inflections by chic low-lighting and contemporary art. If the decor didn't make it clear enough, the emoji-like mascot of the restaurant will alert you to the fact that this spot lies on the more hip, younger end of the Florentine food scale.
But don't be put off by images of "edgy" food, as the focus here is clearly on simple, ambrosial ingredients. I've since heard tell of a life-changing cheesecake soufflé, but you're in Florence. Order the pizza.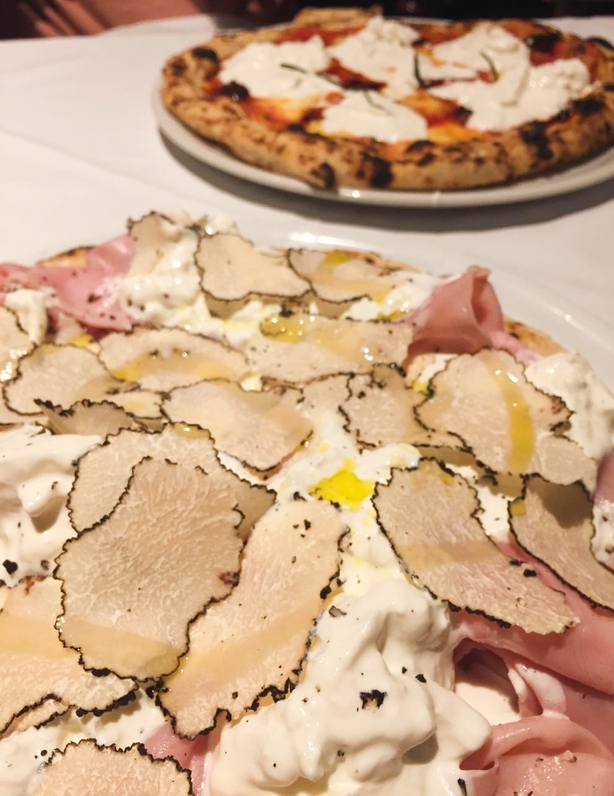 Pulled from the depths of a wood-burning oven came one layered with ribbons of cooked ham, puddles of molten burrata and more truffle shavings than I've seen in person. If you're more of a margarita person, try the version with stracciatella cheese, spicy nduja sausage and chives. Bellissimo.
Gelateria Artigianale La Strega Nocciola
"Gelato" is the Italian words for ice cream, but is made in a crucially different way: with less cream and fewer or no eggs, churned at a slower rate and served slightly less cold. With a lower fat content than ice cream, gelato is an ideal canvas for flavour, and the more dynamic the pairings, the better.
You don't need a reason to stop for gelato in Florence, but when you do I suggest you do so in the understated enclave of La Strega Nocciola. Located on the Via Ricasoli, right beside the Duomo, it's the perfect pit-stop for a sweet treat.
While all flavours tucked beneath silver lids are worth trying, some authentic tastes of Florence simply cannot be missed: "buontalenti", named for the man who may have invented gelato, Bernardo Buontalenti, and tasting almost like tangy condensed milk, and "bignolosa", vanilla hazelnut with chocolate crunch.
For something comparatively familiar - though still enthrallingly unusual - pluck for the lavender, silken and with a slight floral sweetness, or the orange marmalade, which was so fresh I could almost taste colour.
La Prosciutteria
A hallowed spot in Florence, La Prosciutteria occupies a bewildering place in the food scene. As a converted butcher's shop, this family-run franchise is not classified as a restaurant and is staunchly proud of that fact.
Modelled after the original "fiaschetteria osteria" style of eatery, where food was simple, high quality and delicious, they specialise in sharing platters piled high with local cheeses, artisanal charcuterie and ripe fruit. You can also sample small plates of oozing pasta, glasses of exquisite Chianti and Vernaccia, or the humble panini - Florence's beloved street food of choice.
The decor of vintage finds and upcycled furniture evokes everything the spot cherishes: the vaulted ceiling is charmingly flaked of paint, menus are written on gilt-edged chalkboards, legs of prosciutti and salami hang overhead and the walls are lined with invoices, letters and photographs of the family. Intimate, classic and a little camp, you'll find the essence of Florence in this hole-in-the-wall.
Trattoria La Casalinga
Seemingly centuries away from the low-lit confines of Neromo is Trattoria La Casalinga, an authentic restaurant serving up classic Tuscan cuisine. Understanding the importance of the name "trattoria" goes a way towards conveying the atmosphere of this bustle gem: a "trattoria" is less formal than a "ristorante" but more formal than an "osteria", and is the ideal meeting point for locals and tourists alike.
Service is excitingly brusque, with carafes of Chianti and plates of beef carpaccio fired out of the open kitchen staffed with as many lean young chefs as rapid-handed nonnas. Tables are dressed in simple white paper sheets and the only adornment on the walls are admittedly baffling folkish works of art and draped fabric.
The focus, of course, is on the food: rich, authentic, simply prepared and even more simply presented. The tiramisu looks ridiculously pillowy, and pastas emerge with more colour than a Titian painting. But you're here for the trattoria experience, so there's only one thing for it.
Tackle the Florentine steak, you cowards.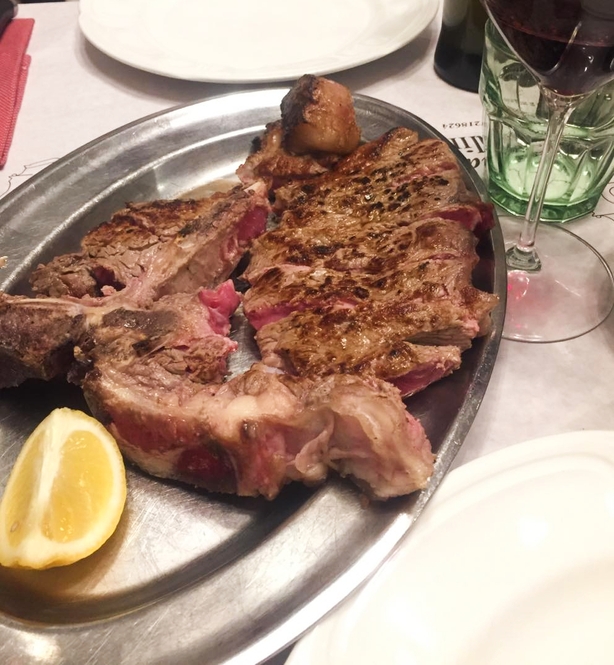 A regional specialty, it is a hefty Porterhouse cut, typically between two to three inches thick. One steak does two to three people, and should you take on the challenge, your server will show you your cut before searing it, arriving back at your table with a silver dish and serving utensils, steak roughly sliced, T-bone intact. A bit of salt and pepper and a drizzle of olive oil, and you bistecca alla Fiorentina is ready to be savoured.
SHOP:
AquaFlor Firenze
As the home to Pitti Uomo, the bi-annual menswear fashion week and arguably the chicest event in the fashion calendar, it's no wonder that style and craftsmanship abounds in the winding streets of Florence. If pulling together an exquisite three-piece suit is out of your price range, however, best to start with some of the best perfumes in the world.
Started in the quaint Medieval town of Lucca (just an hour and a half outside of Florence and a must-visit if you have the time) by master perfumer Nicola Bianchi, this Santa Croce atelier produces scents so pure, so arresting that you will stop in the street to sniff.
The building itself adds to the glamour of Florentine shopping, being the stables of a Renaissance palazzo, while the striking shelf of dark glass bottles is enough of an invitation for even the most fervent fan of Dior or Chanel scents.
Il Torchio
Workshops are a dime a dozen in Florence, and not just for aesthetic purposes: walking the streets in the morning, you'll see deliveries of paper, wood and fabrics, ready to be worked into usable, wearable art by the artisans within.
Once such workshop is Il Torchio, a hybrid shop and bookbinding atelier that puts bookshops the world over to shame. If you're the kind of person to lovingly stroke the spine of a novel, or who revels in the piquant scent of a dusty tome, this is Eden.
Here, the binders demonstrate the time-honoured tradition of bookbinding, update with modern touches. Rarely seen marvels such as handmade marbled paper and book covers crafted from wood sit alongside frames and photo albums made with Florentine leather. A textbook lesson in artistry.
Officina Profumo-Farmaceutica di Santa Maria Novella
Look, the Florentines know how to do shopping well, and it strikes me that there's a reason the largest shopping outlet - The Mall - is an hour's shuttle outside the city centre. Instead, revel in the age-old stores that have been selling their high-quality wares for centuries, such as this pharmacy.
Founded in a frescoed chapel in 1221, this is one of the oldest herbal pharmacies in existence, and business is booming as the brand has set up locations in Tokyo, London and New York. Famed for its soap, offered in a range of delectable scents from pomegranate to traditional Florentine iris, pick up a bag of their potpourri blend - crafted using flowers and herbs gathered in the Tuscan hills - to bring a bit of ancient Florence home with you.
Country: Italy
Flight time: approx 1 hr 50 min from Dublin to Rome Ciampino Airport, then a 1 hr 30 min train ride from Rome's Termini station to Santa Maria Novella in Florence.
Language: Italian
Currency: € Euro
Time Zone: GMT+1