Just like the perfect pain au chocolat, little black dress or crisp white shirt, we are all searching for the perfect itinerary for a Paris mini-break, whether we know it or not.
Few things make this struggle easier. Asking friends and families for recommendations turns into a discussion more about what they enjoy (lovely as that is) than what you're looking for; posting in travel group chats or on forums yield extremes of either run-of-the-mill classic tourist spots or esoteric, locals-only gems that are usually far away from the sights you do want to see; Instagram is a dive, a bottomless pit of #inspo that infests and obstructs your planning like the ivy that weaves through Montmartre.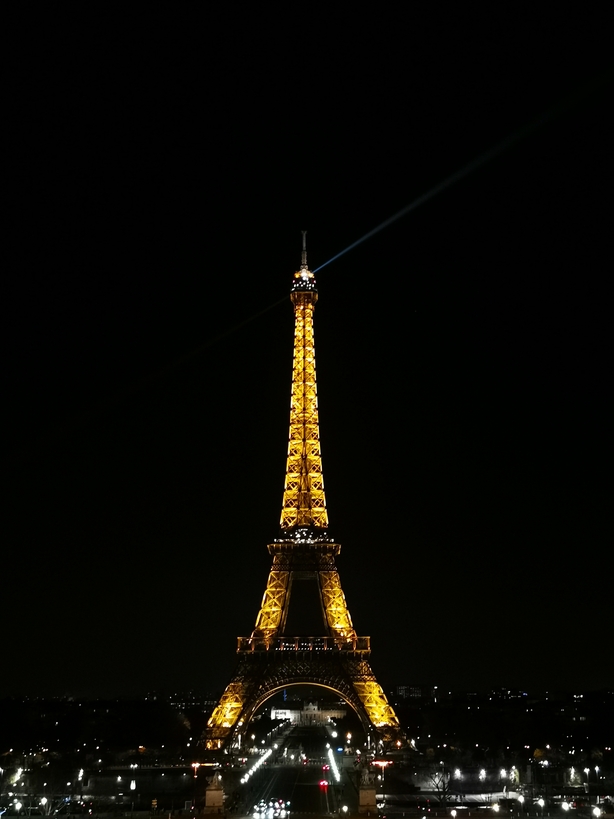 The trick is to select your neighbourhood, or arrondissement, as a base of operations, choosing one that ticks all of your travel boxes. Moi? I wanted pastries, iconic sights, pastries, unusual and impressive restaurants and bars and - yes - pastries.
If you want this plus the drama and splendor that only Paris can deliver, choose Opéra in the 9th arrondissement.
With the serpentine streets and steaming crepe stalls of Montmartre a 30-minute walk to the North, the palatial gilded confines of the Tuileries Garden 15 minutes to the south and a swath of charming bistros, patisseries and sights spilling to the sides, Opéra is as ideal a starting point as you will find in Paris.
SEE:
Palais Garnier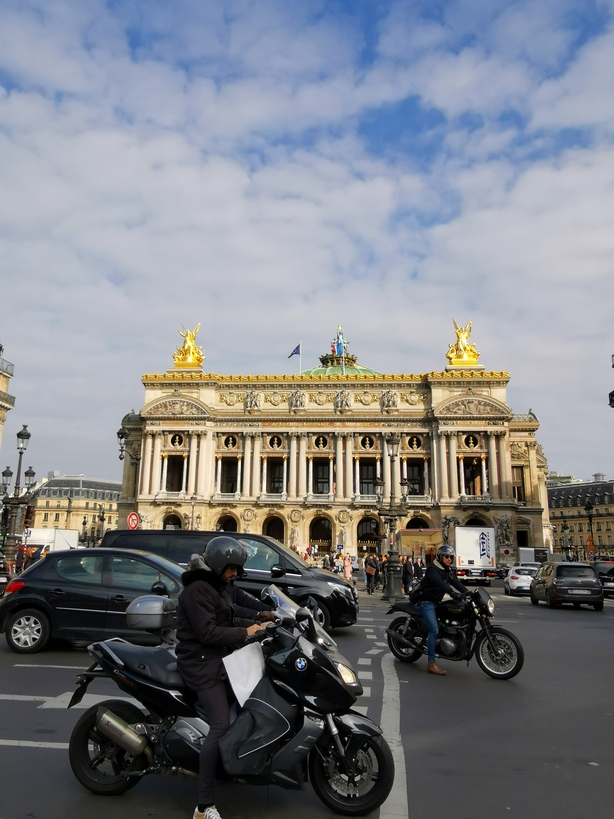 It feels fitting that the construction of the Palais Garnier - the opulent opera theatre built during the Second Empire, under directions from Emperor Napoleon III himself - came as a result of Napoleon surviving an assassination attempt.
Built as a more secure theatre than the one at the Rue Le Peletier, where the attempt took place, its palatial design illuminated with gold and crystal inside and out is the stately epicentre of one of Paris's most exclusive areas. Completed in 1875, it seems to stand as a lasting tribute to earthly delights.
It achieved immortal status itself as the setting for Gaston Leroux's 1910 novel The Phantom of the Opera, as well as the film adaptations of it. Tickets start from just €12 if visited outside exhibition times.
For more information, visit the site here.
Tuilleries Garden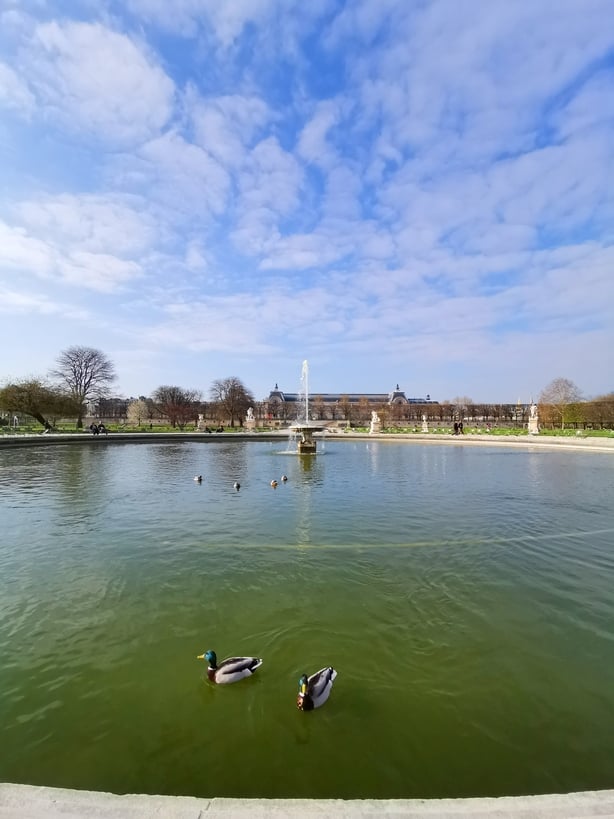 A straight walk from the Palais Garnier will bring you past Place Vendôme into the 1st arrondissement, one of the oldest areas in Paris.
Pass by the shimmering windows of Louis Vuitton and Cartier - currently covered by iron grates to protect them against the frequent Yellow Vest protests - until you hit the tall iron-and-gold gates of the Tuileries Garden. Created by Catherine de' Medici in 1564, it is a lush, verdant expanse, part public park, part museum.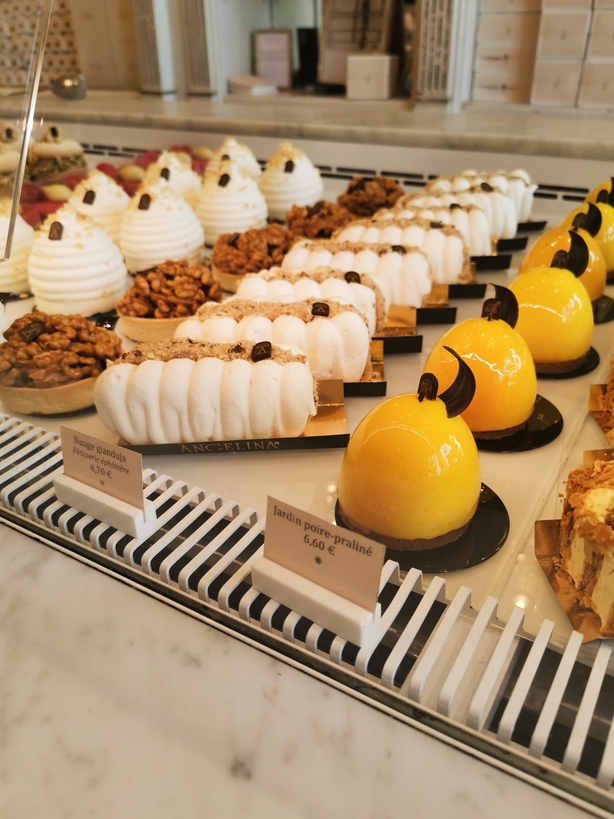 Although hedged in on all sides by architecture, sculptures, fountains and even flower beds each deserving a day's worth of your adoration, the most attractive aspect of this park is the abundance of places to lounge. Iconic as this sprawling park is, Paris is not precious about it, and you will feel as welcome sauntering around with a pastry from nearby Angelina's as any local.
The Louvre
Few things are as delightful as climbing the few steps leading from the Tuileries Garden to the street and finding yourself, suddenly, facing the iconic glass pyramid of the Louvre.
Spending a day walking its hallowed halls, containing masterpieces such as The Venus de Milo, 'Liberty Leading the People' and - of course - the 'Mona Lisa', is one for everyone's bucket list.
Standard tickets cost €15, but entry is free for EU citizens under 26 and free for all visitors of all nationalities under 26 after 6pm on a Friday. A full breakdown of prices, discounts, free ticket days and tips to skip the queues can be found here.
SHOP:
Galleries Lafayette Haussmann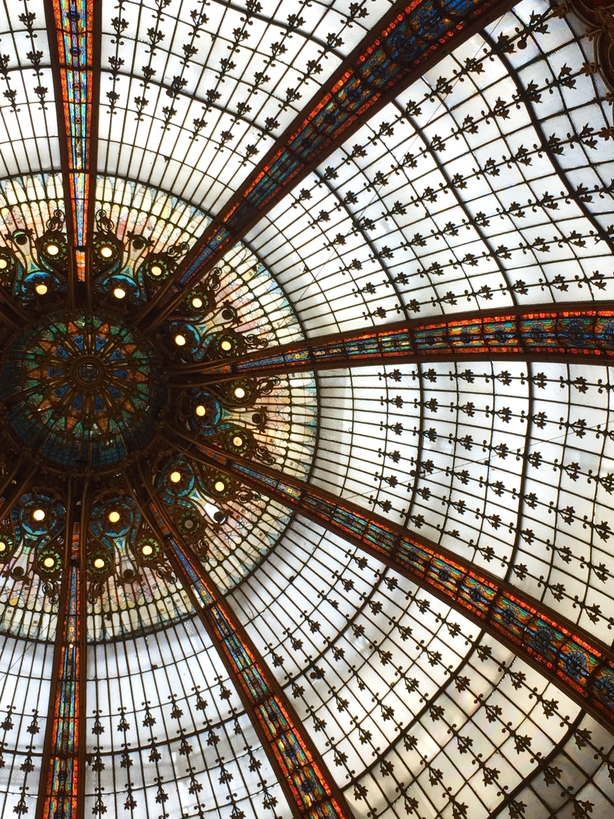 Delectable as the thought of a shopping trip in Paris is, the Opéra district is known for its upmarket stores, with Tiffany & Co and Patek Philippe just a few of the boutiques lining its streets.
Pluck instead for the Galleries Lafayette, which are the second-most visited attraction in Paris, after the Eiffel Tower. The sprawling Belle Époque complex is like a gilded shrine to all things beautiful and purchasable, housing five buildings each as lavish as the last.
Brands like Maison Margiela sit alongside patisserie stands for Pierre Hermé and premium makeup counters, while, in a separate building, food and homewares tempt the senses, the aroma of fresh bread enveloping you like a cashmere blanket.
But anyone will tell you that you go to the Galleries Lafayette to marvel at the glass dome ceiling, painted in a dazzling array of colours and patterns. Get there early and walk the Skywalk, a glass runway stretching from the top floor and overlooking its jewellery box-like depths.
Vintage shopping in the Palais Royal
Just as breathtaking but far less expensive are the shops dotted along the Palais Royal, a palatial stretch of gardens, arcades and promenades. Built in 1692, it is the perfect setting for a spot of flânerie, the time-honoured act of strolling immortalised by Walter Benjamin and his landmark works on French arcades like this one.
Find some of the best vintage shopping in Didier Ludot, such as couture by Lacroix and Chanel in riotous colours. Nearby, perfect your signature scent in Serge Lutens. If this isn't in your price range, fear not: there are plenty of equally enthralling vintage shops to roam in this arcade.
You'll also find 'Les Deux Plateaux', the outdoor contemporary sculpture by Daniel Buren that routinely makes an appearance as a backdrop for Paris Fashion Week photo shoots.
Kiliwatch Paris
Just a few minutes from the Palais Royal is a vintage shop worlds away from the arcade, in style and setting. More like the vintage markets we know and love in Ireland, Kiliwatch specialises in streetwear for men and women, made all the more chic by its industrial setting.
Don't be fooled, though: this is still Paris, so expect an expertly curated of vintage finds, from silk scarves and leather bags to the perfect Breton top and everything in between.
EAT:
Cafe de la Paix
If the grand facade of wrought iron, gold lettering and emerald awnings don't make it clear enough, this is a legendary restaurant. Located right beside the Palais Garnier, its baroque dining rooms have welcomed luminaries like Émile Zola and Guy de Maupassant, yet all are welcome to marvel at its frescoed walls.
While a meal here is pricey enough, some clever planning goes a long way. The Winter set menu, for example, costs just €51 for three courses and includes mushroom broth cappuccino and grilled black angus beef paleron.
But honestly, sitting with a café gourmand in this mythical restaurant would be treat enough.
Brasserie Flo
The brasserie once was to France what the chipper is to Dublin: the fail-safe, the meeting point, the centre of the universe. Now, largely neglected in Paris, one emblematic brasserie has been renovated to its former glory: Brasserie Floderer.
Specialising in Alsatian cuisine, the restaurant has a storied history, from being ransacked during anti-German tensions to "Frencifying" its name to "Flo".
Now, with its rich and moody interiors restored, you can sample delicacies such as Burgundy snails, beef tartare and the renowned "three fish Choucroute", a typical Alsatian dish developed by Guy-Pierre Baumann.
Pink Mamma
If brasseries and café gourmand isn't your bag, how about this: truffle pasta and a speakeasy through a freezer.
Pink Mamma is part of the sizable Big Mamma group, a collection of stunningly designed restaurants across Europe. The Paris location is renowned for its truffle pasta, which has its own veritable fanbase and arrives at your table in a satisfyingly humongous copper pot. The deep fried artichoke is another must-try.
The real draw, however, is the speakeasy-inspired bar underground, accessible only through a freezer complete with frozen hunks of meat.
Fauchon
Have you really been to Paris if you haven't found your perfect éclair? If you're still on the hunt, Fauchon - a gourmet deli and patisserie founded in 1886 - is an ideal place to start.
While their assortment of pastries is impressive on its own, it's the innovation of their éclairs that is truly remarkable. Using seasonal flavours and surprising texture combinations, Fauchon repeatedly manage to reinterpret the classic dessert in a variety of colours and designs.
Their special at the moment is the éclair café sésame, but while you're there pick up a Bisou-bisou, a scarlet red lip-shaped confection filled with caramelised almond and raspberry compote.
Country: France
Flight time: approx 1 hr 50 min
Language: French
Currency: € Euro
Time Zone: GMT+1
---
All the above photos (bar the Instagram embeds) were taken on the Huawei P30 Pro phone, which was on loan to me for the duration of my trip to Paris. The company covered both flights and accommodation in order for me to attend the Huawei conference in the Paris Convention Centre, which launched the P30 Series, currently the highest rated smartphone camera on the market as awarded by DxOMark.