The weary traveller who arrives to Madrid seeking tapas and churros will meet their first roadblock when day breaks, and they find that the churros - doughnut-like pastries most often confused as a dessert food - have been gobbled up before the sun is fully risen.
I was one such traveller.
It takes a few of these timing mishaps to understand that Spanish meals are much more complex than anything we have in Ireland. While you'll never eat badly in Madrid, learning to navigate the five designated mealtimes in Spain will spare you from the dreaded tourist traps, not to mention score you some of the most simple and delectable meals you'll ever have.
El Desayuno: Breakfast, 7am to 9am
Although the Spanish are a nocturnal people, breakfast begins at much the same time as it does for us, and staples like coffee and comforting food that can be munched on the Metro are paramount.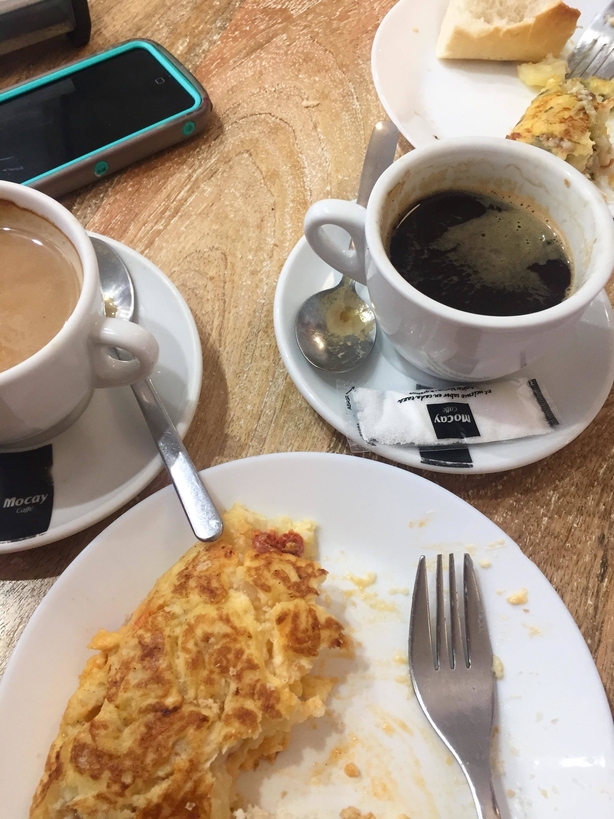 A day of walking Madrid's meandering cobbled streets calls for a solid breakfast, and here is where you first encounter the Spanish omelette, or tortilla de patata as it is properly known. Many local cafés will serve this humble and fulfilling dish, the golden brown mounds of fluffy egg and soft potato concealing local chorizo, wild mushroom or spinach.
In Chueca, the ever-vibrant gay district, you can get a hefty slice of tortilla de patata, served with a hunk of fresh bread and a café for just €3.50 in Café Oita. Follow this with a jaunt through the neighbourhood's many impressive vintage shops and curio stores.
As so many Madrileños start their days early and in a hurry, toasted French bread with olive oil and crushed tomato is a popular breakfast option, and deceptively satisfying.
Pastelería Mallorca, just a few minutes walk from the stunning Retiro Park, is a sophisticated café similar to Fallon & Byrne or Dollard & Co, but full of a warmth that can only come from the affable Spanish people and the golden hue of their pastries.
Their version of the French bread dish is made up of toasted bread, muddled tomatoes and garlic, uniform slices of the most flavourful Iberico jambón around and two bite-sized portions of creamy, luscious flan, artfully presented on individual boards and served with a coffee.
Almuerzo: Mid-morning snacks 10:30am to 11am
Mercifully, Spanish food culture allows for a "second breakfast" of sorts, which typically features more coffee - this time try a café con leche, or espresso with milk - pastries and savoury sandwiches. A simple but elegant option is a jambón y queso, or ham and cheese, sandwich, which can be found in most local bars or cafés.
Coffee is easy to find in Madrid, but coffee with world-class sophistication? Now, that takes some rooting around, a tall ask when you're on a mad museum dash from the Prado to the Reina Sophia to the Thyssen-Bornemisza.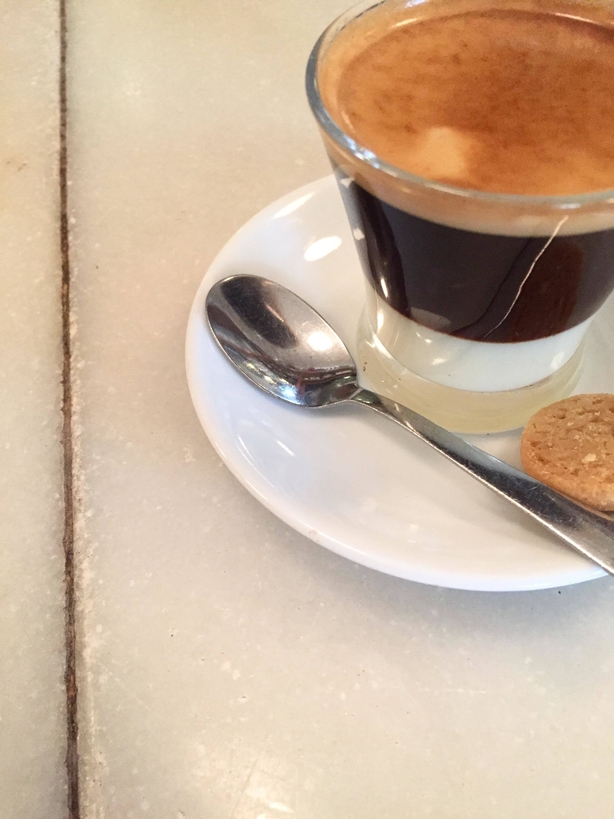 A mere two minutes walk from the Prado sits Café Murillo, a charming café and restaurant that oozes old-world glamour. Order a café bombón, a Valencian delicacy of espresso layered over sweet condensed milk. The buzz from the caffeine and the sugar is initially head-spinning, but there's no better fuel for sightseeing.
If you haven't exceeded your churro quota by then, something sweet can be found at Mamá Framboise near Salamanca. Its rich wooden facade and gold lettering beckons you towards a similarly opulent selection of French-style pastries, including croissants completely covered in chocolate and cream cakes filled with the most tart raspberry compote you're likely to find. Regional favourites such as crisp and flakey palmeras are also on offer, crafted with the same level of decadent flair.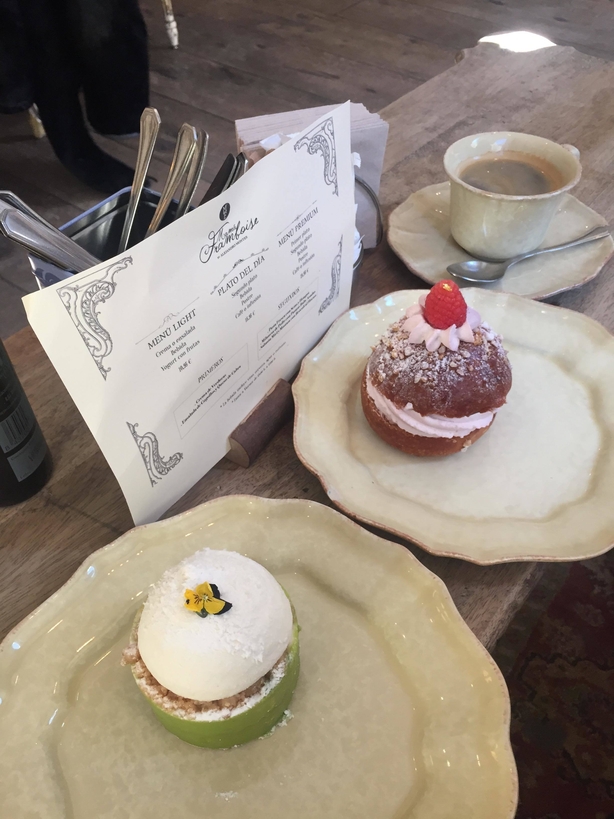 If you're in a real pinch, Spanish croquetas, bite-sized morsels of mashed potato coated in breadcrumbs and deep-fried, are plentiful and exquisite and can come with ham, chicken, mushroom and a range of other flavours. Croqueta y Presumida serves up croquetas, fresh or fried in front of you, for travellers in a hurry.
La Comida: Lunch 2pm to 3:30pm
Debate over whether breakfast is the most important meal of the day is null and void in Spain, where lunch - which translates as "the meal" - reigns supreme in the meal hierarchy. It is during these hours that the city traditionally shuts down for la comida and siesta, though this doesn't necessarily happen in a modern city like Madrid.
Many bars and restaurants will offer their menu del dia or menu of the day, with options for three courses and a usually affordable set price. At Mamá Ines, in Chueca, you could get gazpacho, seafood paella and tiramisu for €10.50.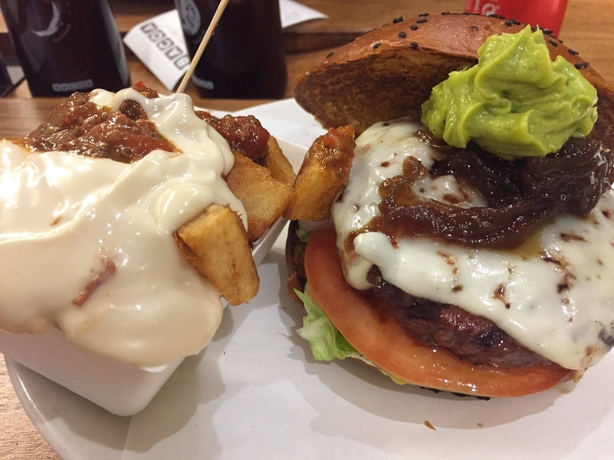 La comida is typically a sit-down meal, which while luxurious and relaxing isn't always ideal for the traveller on a schedule. For something quicker, check out Bacoa Burger for sumptuous burgers you can customise yourself (their bravas brutales, which translates as "brutal" potatoes, are epic, topped with a Catalan chorizo relish and roasted garlic aioli).
Mexican food is surprisingly sparse in Madrid, but Takos Al Pastor serves up their unique and moreish tacos with rapid-fire efficiency and superb quality. As they're small softshell tacos, order one of each of their eight varieties - including cactus, mushroom and chorizo - and a sneaky sangria*.
La Merienda: Snack 5:30pm to 7:30pm
This second lunchtime comes close to what some people see as tapas hour (8:30pm to 10pm), making it the perfect excuse for a trip to Mercado San Miguel, the bustling, overwhelming and thrilling food market just off Plaza Mayor, one of the city's central squares.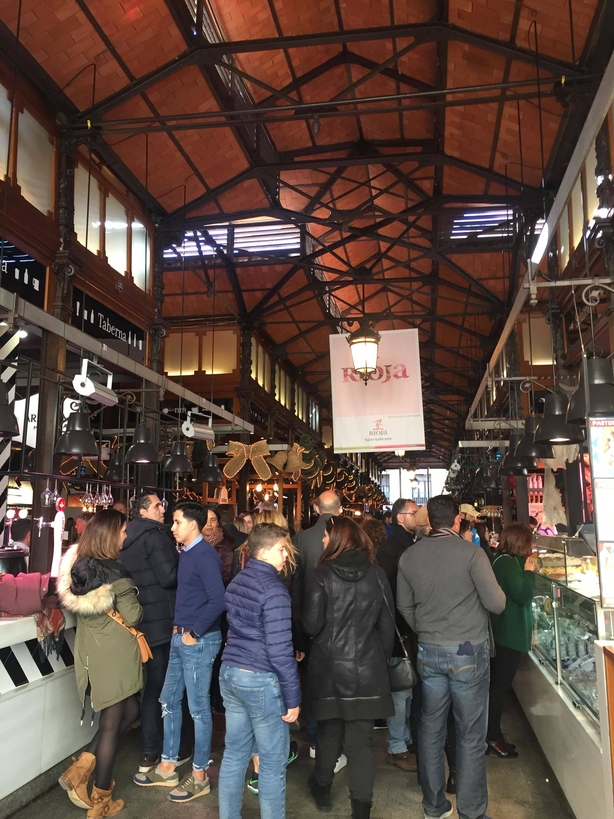 The covered market is housed in a dramatic iron and glass structure that manages to look simultaneously antique and contemporary. With fairy lights lacing along the rafters overhead, the calls of customers and vendors and the intoxicating medley of aromas from 30 individual stalls drawing you in, it's a glorious confluence of what makes Madrid so alluring.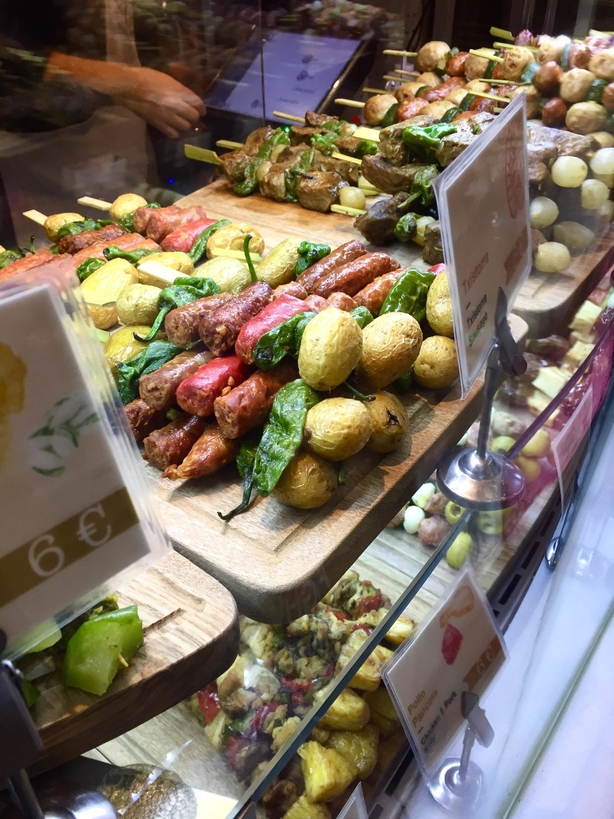 This lunch hour is reserved for catching up with friends, neighbours and co-workers after the day's work, so the market's many stalls are ideal meeting points. Pick up a bocadillo de calamares, the simple and sophisticated crusty bread roll stuffed with squid, followed by whipped burrata drizzled with viscous berry compote and flaked almonds.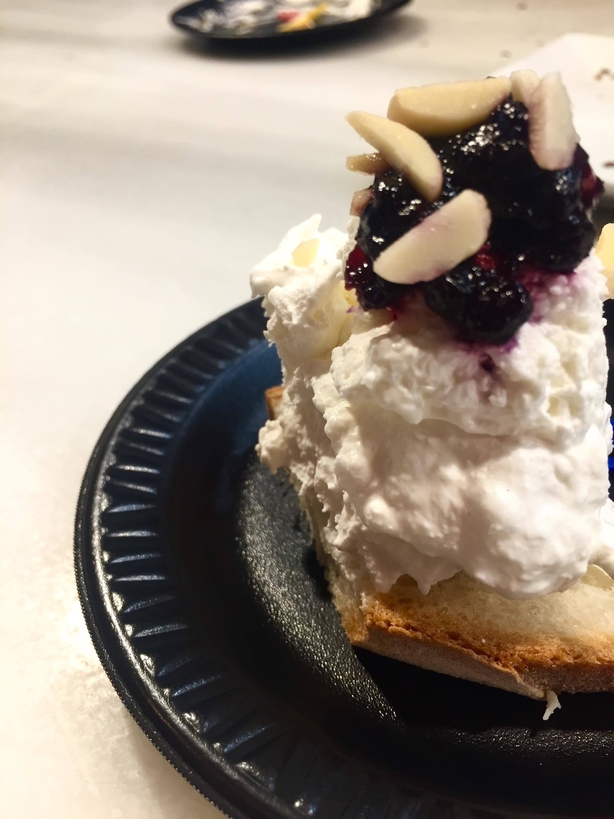 Next, a few empanadas, flaky pastries here stuffed with everything from cod and apple to black pudding and walnut, washed down with the house sangria*. Finally, take your pick of desserts, from churros with spiced hot chocolate, delicate violet and mango-flavoured pastries or a build-your-own ice cream sundae.
Roll out of the crowds and into the gloaming, heart and belly full.
La Cena: Dinner 9pm to 11pm.
With so much eating before this point, it's unsurprising that dinner in Madrid is a quieter affair, and with smaller meals. Madrileños eat much later than most cultures do, so expect to be out until 11pm, if not later, when booking a table for dinner.
If you are in the market for a sit-down dinner, Celso y Manolo is a worthy option. Praised for their reinterpretation of tapas, focus on regional ingredients and dynamic flavour pairings, you'll find painterly variations on classics and newer offers, all in the atmospheric setting of the 1950s-era dining room.
For something on the go, however, you could do much worse than 100 Montaditos, the chain of sandwich restaurants found in many Madrid neighbourhoods.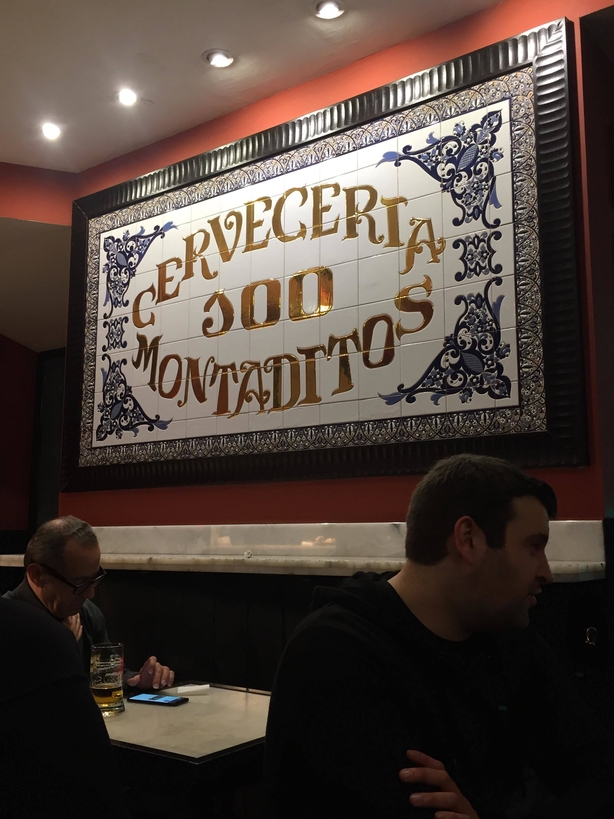 You choose from roughly 100 options, including sweet and savoury sandwiches as well as sides like onion rings and Gouda bites, fill in the menus found at each table, place your order and await the arrival of your platter of mini sandwiches.
Options include calamares, not the fried kind but minced in its own black ink, chorizo with aioli, cheese and caramelised onions and a sweet cookies and cream version.
Finally, contrary to rumours mentioned in this very article, there is no churro quota, so take yourself to Chocolatería San Ginés, the iconic 24-hour churro emporium. Hidden in a passageway, its deep green facade has been doling out fresh churros con chocolate since 1894. Inside is similarly ornate, with plush velvet chairs and mirrored walls transporting to you another world. The dough is cut by the staff and prepared freshly all day long, and for €4 you get a cup of their molten chocolate and six comparatively mammoth churros.