Family-run lakeshore hotel, Harvey's Point has been a favourite of many long before the Wild Atlantic Way became one of the most successful tourism initiatives in the country. The remote location makes the drive worthwhile - regardless of where you're coming from, it's worth every kilometre. 

We arrived just as it was getting dark and Harvey Point was lit up like a welcoming Christmas tree and we could almost smell the fire burning inside as we entered the gates. The Donegal people have a way about them, a warmth and the staff exemplifies the Wild Atlantic welcome from the moment you step inside. Paul Brady was right when he sang, 'For there's rest for weary wanderers in the homes of Donegal'. 
If the people make the place, then its coming from the top down as local girl, General Manager Deirdre McClone is a wonderful ambassador for the whole county. Seeing her at work, it's little wonder that she has many accolades under her belt including Hotel Manager of the Year, 2010 and Donegal person of the year, 2016. Deirdre co-owns the hotel with her husband Swiss-born chef Marc Gysling. In a rare tale of romance, team work, Irish-charm-meets-Swiss-efficiency, the couple met and together with a dedicated staff, created this oasis of peace, rest and homely luxury. An example is the weekly 'Meet & Greet' that the couple invite all their guests to each Saturday evening before dinner, where they share their story and invite others to share theirs over a glass of bubbly. 
The Swiss are known for their professionalism and attention to detail, mix that with the Irish ability to make people feel at home - it's a winning combination, award winning in Harvey's case. The hotel was named as the Top Hotel in Ireland for five years running.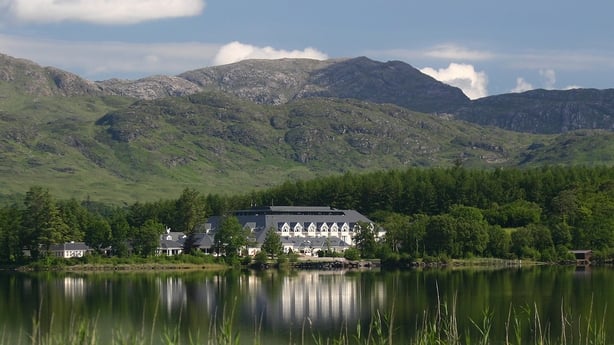 Harvey's Point has grown with guest demand over the years since the couple took over after they got married in 1996 and has managed to do so in a stylish way without losing its homely feel and lodge appeal. There are fresh flowers at every turn which brings a little of the stunning landscape indoors.
The hotel is built around the fireplace of the original cottage which was owned by two men both named, funnily enough Harvey. The home was bought by Marc's brother, business man Jody who fell in love with the Lough Eske area when he holidayed and fished there in 1980's. The visionary transformed the cottage into a house and entertained locals until he decided to open a small hotel in 1989 which employed locals, including Deirdre as the receptionist and also his younger brother Mark as the chef.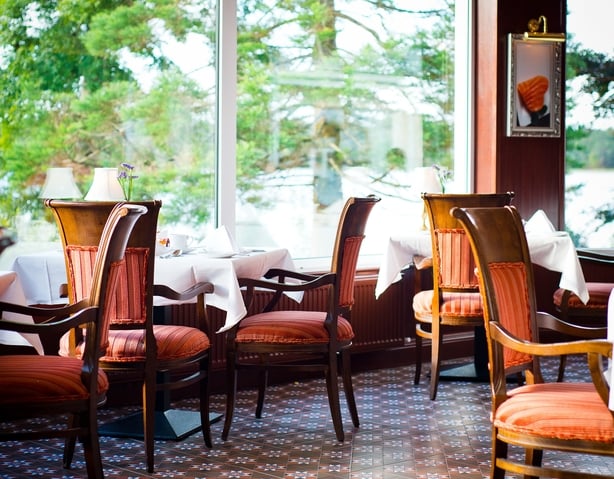 The warmth and homeliness of the hotel radiates from that first original fire place. There are many real fires burning around the hotel - Deirdre's stamp on the hotel design. The landscaping is second to none as Harvey's hugs the lake and blends in beautifully with the surrounding nature. Inside there are many welcoming areas and rooms to rest, read, eat and relax. Live music is on offer as well as many more unexpected treats such as cookery demonstrations, art classes, pop-up fashion shops amongst others. For those looking for a bit of pampering, the treatment suites offer an array of options for the face and body. Children are welcome at Harvey's but in truth, this an ideal adult bolt hole.
From the bar menu to fine dining, Harvey's prides itself in the quality of its local produce. No matter what time you head to bed, make sure to make the breakfast - it has everything you could want from cooked to order dishes to an abundant buffet.
There was a wedding happening when we were there and a sneaky peek inside the ballroom revealed a brochure-perfect setting ready for the 250 guests. The Sunday carvery caters for 400 people on a weekly basis - it's always a good sign when a restaurant is popular with locals. Donegal town is only a 10-minute drive and was buzzing with live music emanating from every corner.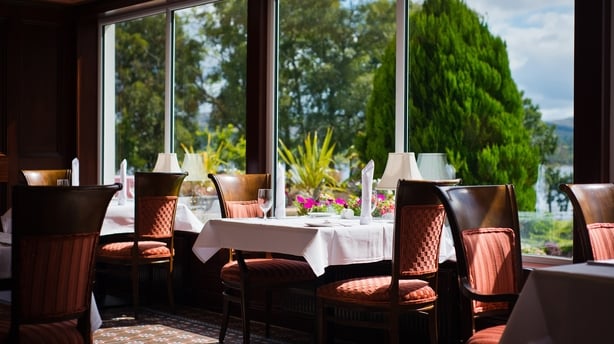 We stayed in one of the hotel executive suites and it was breathtaking in terms of space with walk-in wardrobe, enormous bed room, complete with a hardwood desk, chairs, seated area and a super king size bed. It even had a hall way. In addition to all the usual mod cons such as double sink and power shower, the bathroom itself is an experience with hard wood heated floor and double Jacuzzi bath. There are now 64 suites in the main hotel as well as the Lodge which has 13 gorgeous cabin style rooms.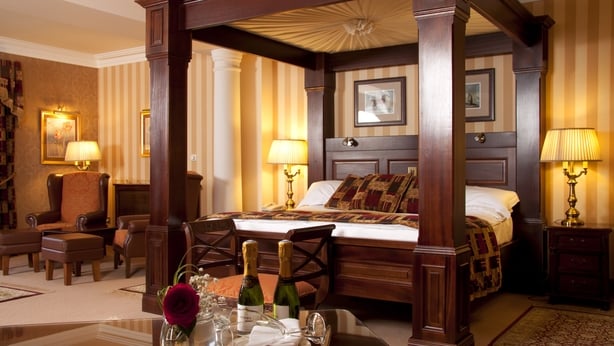 The lake views are spectacular and take in the lake shore suites below, which incidentally are pet friendly. A number of special features are unveiled as you walk around the grounds and the lake including a helipad and the boathouse which is set to home a wellness centre in the near future. Many places push promises of detoxing - in Harvey's it happens organically and naturally. I've a feeling that's been the case long before smart phones were invented and will continue long into the future. 
Weekend Package
We stayed as guests of Harveys for 2 Nights Bed & Breakfast with a complimentary dinner on one evening.
From €119 per person sharing per night.
January Midweek Winter Escape
2 Nights Bed & Breakfast with a complimentary dinner on one evening includes a complimentary cooking demonstration and wine appreciation class every Tuesday & Thursday afternoon.
From €89 per person sharing per night.
Christmas/New Year
The hotel books each year from the summer, so plan now for next year.