Malta is shaking off its reputation as a destination for retirees and history buffs; and a vibrant, hip, creative side is revealing itself.
One of the catalysts for this is Valletta holding the European Capital of Culture 2018 (V18). The country has been scrubbing up in preparation for the million-plus visitors expected for the celebrations. Many of the historic sites and buildings have been restored, and the economic and tourist boom has brought about a plethora of boutique hotels, restaurants, and an exciting new nightlife scene.
WW2 brought much destruction to Valletta and many of its residents moved across the harbour, to the modern city of Sliema. By the 80's and 90's, Valletta's old buildings were falling into disrepair and the city resembled a ghost town. But over the last few years, the city has been undergoing a renaissance.
Industries such as iGaming have drawn an international crowd of young workers who are breathing new life into Malta's historic cities. What attracts immigrants and tourists alike, is simple; good weather, spectacular cities, accessibility (it's in the EU) and conveniently, everyone speaks English.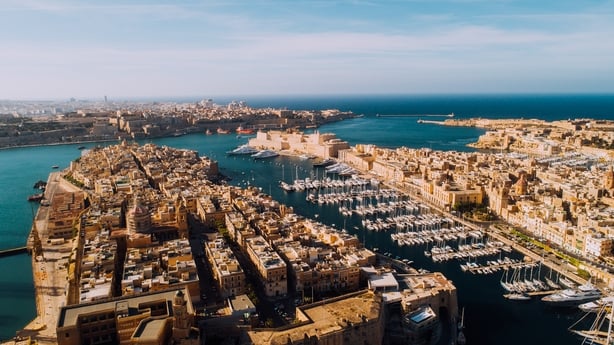 And so the scene is set for this small Mediterranean island to show, with pride, its family jewels. V18 is the culmination of six years of cultural development and a whopping €10 million of investment into the culture sector. Over 400 events will take place throughout the country across different disciplines including music, the visual and performance arts.
Two-hundred of these events will take place in the capital Valletta, a small peninsula city (1km by 600m) built by the Knights of St John. As a UNESCO World Heritage Site, its narrow limestone streets still retain much of its 16-century charm. But a controversial new architectural project has seen a modern twist to Valletta's cityscape.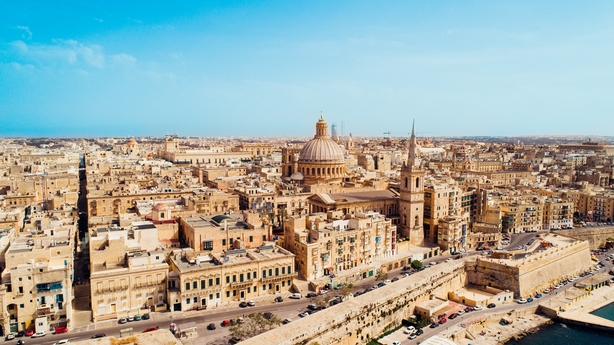 The shell of the Royal Opera House which was bombed in WW2 has been used as a framework for a new open-air theatre. Built in the old ruins by the Italian architect Renzo Piano (who also designed The Shard in London); the theatre is set to play centre stage in the V18 celebrations.
Piano also designed the nearby City Gates and Parliament Building. The latter is much like Dublin's Spire and is a talking point for the locals; you either love or hate it. I'm a fan of its wide stone façade which looks like its suspended in air and think that all of Piano's buildings contrast well with Valletta's historic architecture.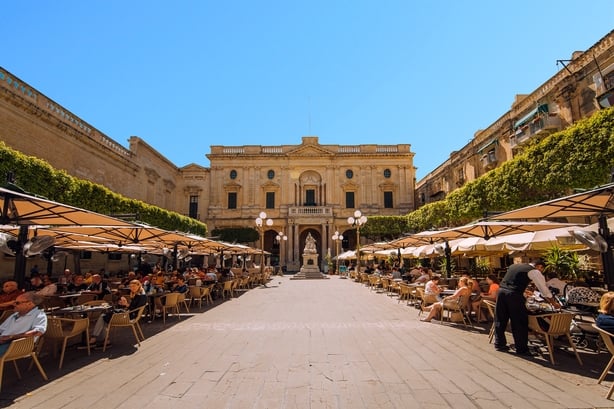 If you want to meet the who's who of Malta's contemporary art scene head to Blitz, the islands most exciting exhibition spaces. It's the brainchild of photographer and curator Alexandra Pace who restored the building after it lay unoccupied for 30-years.
The ramshackle bar sells cheap drinks, including cans of Cisk, the 100-year old local beer originally brewed for British garrisons. For details on their exhibition, events, and residencies visit www.thisisblitz.com.
A more classical cultural attraction is St. John's Co-Cathedral which is considered one of the greatest Baroque sights in Europe. Its interior is ridiculously ornate; with a marble floor and every wall and pillar encrusted with ornamentation and dusted in gold. But the big draw to the Cathedral is that it's home to two Caravaggio.
The artist, landed in Malta in 1607, after killing a man over a tennis game. A little excessive don't you think? He then joined the Knights and produced two pieces of work for them; The St Jerome and The Beheading of St John the Baptist. The latter is considered his greatest work and the only one he signed.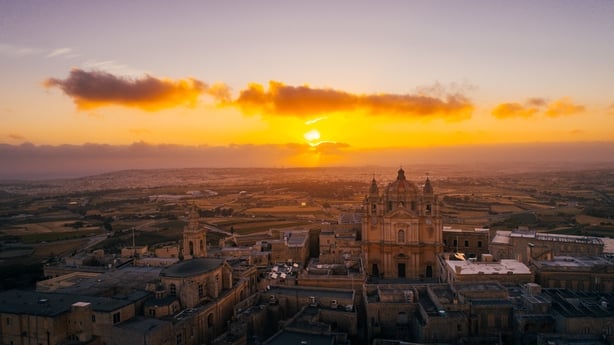 The hilltop walled medieval city of Mdina has the Cathedral Museum which is a popular space for contemporary art exhibitions. From November to January every two years it hosts the Contemporary Art Biennale (2019/20) which exhibits work by international artists. Its permanent collection includes a series of woodcut and copperplate prints and lithographs by the German Renaissance artist Albrecht Durer.
Outside the walls of Mdina is the more modern town of Rabat where self-taught artist Stephanie Borg has her studio and shop. Her series of colourful ink drawings and prints are inspired by everyday life in Malta. She also has a fascination with Maltese tiles and reproduces their patterns on homewares which make for nice gifts.
A couple of streets over is the studio of the ceramic artist, Sue Mifsud. English with a Maltese husband, she has been living in Malta since '89 and it's where she learned her craft. She operates an open studio where you can watch her work as she recounts stories behind her various pieces. Her tales are interesting as she brings a lot of her personal life into her work; using a scan of her ovaries in one of her lines, and her grandfather's ashes in another.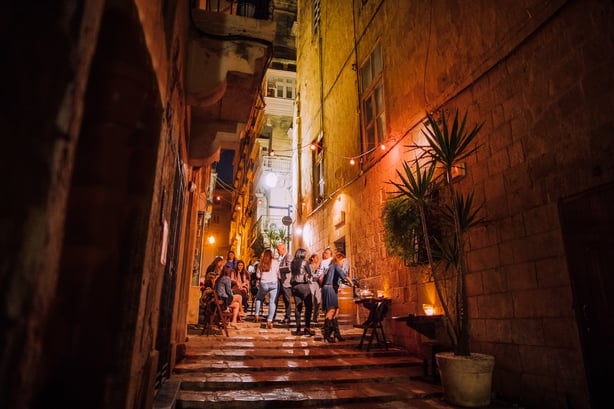 The first half of the 20th century saw Valletta's Straight Street, nicknamed The Gut, as a hub for prostitution, bohemian artist and sailors. Today this long narrow street is packed with trendy cafés and bars. Yard 32, a gin and tapas bar, has good value tasty tapas and live music most nights. It's the only bar I've been to where the barman determined which gin (180 on the menu) I would like by asking me a series of questions such as, "are you more mountain or beach". A bit pretentious, but in fairness, his choice was bang on.
Café Society draws an arty crowd and is the hangout during Valletta Film Festival (June), when they also project 'Art Shorts' are on their back wall. Barman, Daniel, who happened to be from my hometown, makes top-class cocktails such as a Basil Fawlty (gin, basil, sugar syrup and lime).
The Bridge Bar is famous for its live jazz on Fridays. The crowd spills on to the steps outside, with the Grand Harbour as a backdrop. From here grab a ferry or dghajsa (a traditional Maltese gondola) across the Grand Harbour to The Three Cities.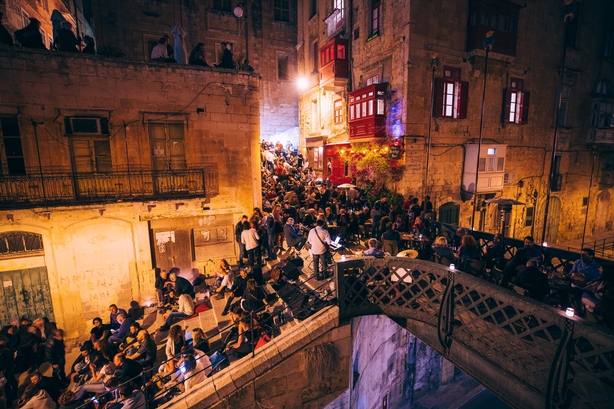 One of The Three Cities is Vittoriosa or Birgu, as it's known locally. At the harbour is The Maritime Museum, which is housed in an old naval bakery from 1840. They host an amazing event, for groups who book in advance, where you eat and drink from a menu which is an exact replica of what the Knights ate on the ships 200-years ago. Grandson to an Irish sailor, Liam Gauci, is the historian in the museum. He spent six-years painstakingly studying over 2,000 ships logs to research the meal. The result was a fascinating experience of Maltese culinary history.
On the menu was aged goats cheese, dehydrated ships biscuits, a hearty lentil soup and eight different wines. The main course was a delicious slow cooked shoulder of pork served with rice, both of which were cooked in goat's milk and wine. It made for a rich but satisfying meal that put me in a food coma that was worse than that on Christmas day.
Birgu is the original home of the Knights and its streets are perfectly preserved. Wander around the narrow plant-lined allies and take in the stunning view of the harbour to Valletta. The neighbourhood has its own festival in October, BirguFest, which is a celebration of music and dance that culminates with the streets lit by candlelight.
Malta hosts many annual festivals throughout the year such Valletta International Baroque Festival, Valletta Film Festival and the Malta Jazz Festival; all which promise to be even bigger and better for V18. Notte Bianca, an annual cultural party takes place in October. A bit like our Culture Night, galleries and state buildings stay open late and the crowds pack on the streets for free gigs and parties.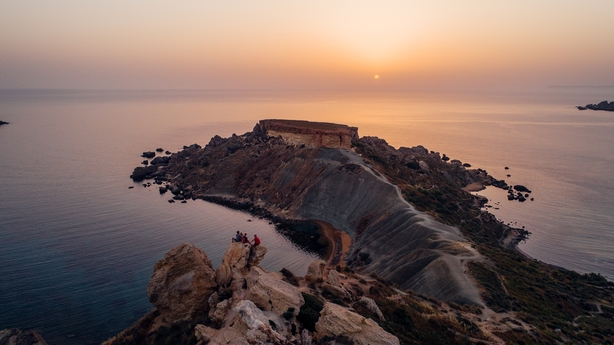 In recent times younger-skewed music festivals have emerged such as the Isle of MTV, Groovefest, Glitch and Lost & Found. The latter is presented by Irish BBC DJ Annie Mac. Just like Croatia carved itself a niche around festival tourism, these festivals target tourist, who come not just for the music, but for the sun-drenched lifestyle that Malta promises.
Malta is happening and, this year, with V18 there is no better time to bathe yourself in the fresh face of its music, arts and culture scene.
Ryanair flies direct from Dublin to Malta three times a week in winter and five times a week in summer. A new Belfast Malta route has also started. www.ryanair.com
For more information on Malta visit www.maltaireland.com