A babymoon is defined as "a relaxing or romantic holiday taken by parents-to-be before their baby is born."
I think we can do that.
Our second baby is due any day (!?*) and with a manic toddler to control, our minds wandered to relaxation, good food and a general break before the madness.
Flights or anything like that was out of the question, but we had lots of options around Ireland to pick from.
Monart Spa in Wexford was a contender as we had gotten engaged there back in 2009. We had been there since on a short break home from London and found it not quite how we remembered. One thing that really bothered us was all the mobile phones at dinner...snap, snap, snap.
We were looking for a place you could just get away from it all. Leave it all behind at the door and where we could disconnect from the World for a bit.

With that in mind, we looked at Castle Leslie in Monaghan. I had been there a few times as my hometown isn't far and our general feeling was that we wanted somewhere new and exciting.
That led us, after lots of internet searching and chats with friends, to Dromoland Castle.
The location, setting and sense that we would really get away from it all for a night or two really attracted us to the Castle.
The Castle was the ancestral home of the O'Briens, Barons of Inchiquin, who are one of the few native Gaelic families of royal blood and direct descendants of Brian Boroimhe (Boru) High King of Ireland in the eleventh century.
It has an amazing history - which you can find all about in the castle.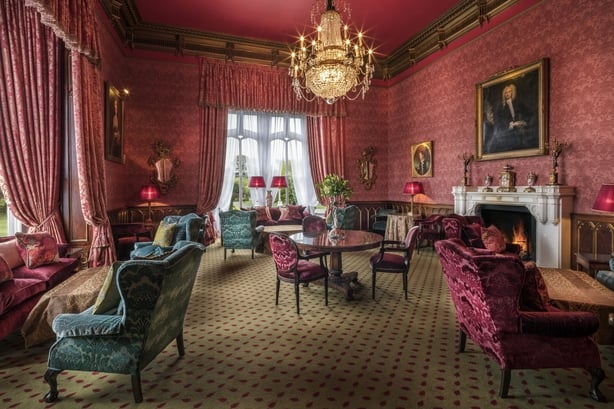 In 1921, the IRA leaders in Dublin marked Dromoland Castle for destruction but it survived and in 1962, the castle underwent major renovations to transform the ancestral home into a luxury hotel.
Armed with all this history we headed from Dublin (minus our toddler, Paige) for Newmarket-on-Fergus, Co. Clare.
At this Rita was fairly heavenly pregnant so I was glad the route is fairly straightforward and over the moon when we came upon the Obama Plaza.
From the moment we met John and he parked the car to when he swung it around the again two days later - it was a dream-like experience.
We had arrived nice and early to start our Dromoland adventure on Saturday - unfortunately, our room wasn't ready - but that just meant we had to retire to the Drawing Room for tea and sandwiches.
As any parent of a toddler can appreciate - especially our own Digital Dad - just sitting, reading and sipping tea by an open fire can be heaven.
We had wanted to get out and about when we arrived but the Clare rain descended as we waited for our room. Manager Carmel was really nice and on her advice, the wait for the room was worth it.
We were, after all, staying in the Presidential suite.
After we got the keys we giddily climbed the stairs to the impressive hall and door to our room. It was really worth the wait.
Four rooms of elegance, relaxation and luxury awaited us. The touch of a tv, surround sound and a double shower in the extensive bathroom was not lost on us either.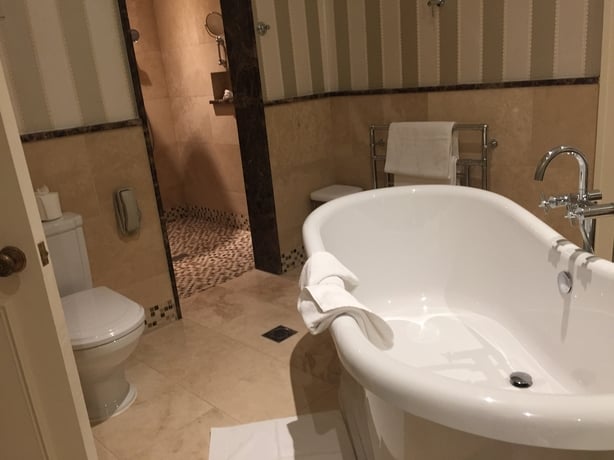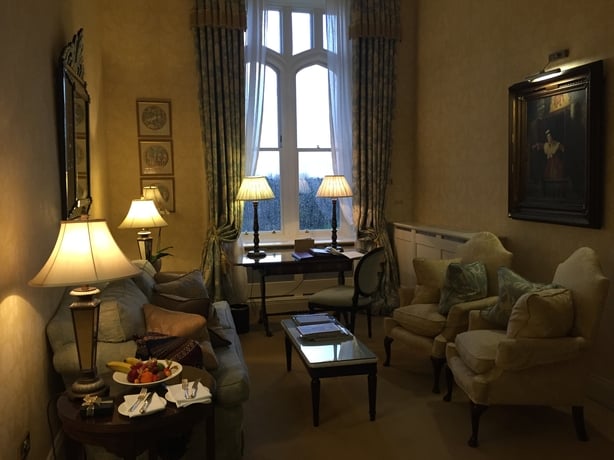 All was left to do that night was chat to Tara to book a spa treatment and grab some dinner in the Drawing Room.
Tara in the spa was a great help as Rita was a little nervous as to what pregnancy treatment to chose, but she talked it all through and Rita ending up getting a mixture of treatments that suited her.
The next morning - Sunday - we dined in The Earl of Thomond's Restaurant for breakfast. It was a stylish but relaxed affair with a buffet offering and hot food on an ordering service.
We'd booked all our activities for the day and first off was a pony and trap ride with Sean and his horses Nora and Tom. This is the must-do activity at the castle.
Archives: A tour of Dromoland Castle - 1962
Sean is a true castle legend and some great tales to tell of the grounds, the history and how he has seen it all before.
Our resounding memory from the hour-long trip was rounding the top of the golf course and heading back towards the castle Seán turned to us - the magnificent castle over his shoulder - and shouted, "there's my office!"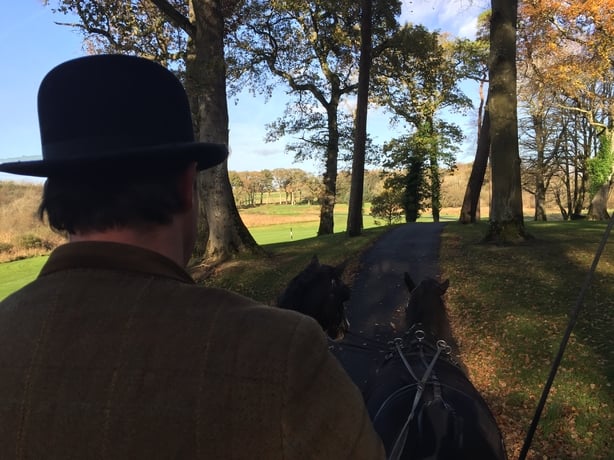 Next up we rented a golf buggy for our own Dromoland Castle tour. You can rent by the hour and it is well worth it - to see other places that Seán has pointed out on his tour but didn't take you to.
There is a lovely garden, gift shop and another restaurant down by the golf club which you can get a lift to in the evening, but we took a spin down in the buggy and it was a lot of fun.
Last up for the day was some relaxation as the team in the spa took great care of us. The massage and pregnancy package set up nicely for an elegant meal back in the main dining room.
That might, after a little nap, of course, we were treated to a World Class dinner service in The Earl of Thomond's Restaurant.
The big tip I have when going to Dromoland Castle is to bring a dinner jacket. This is not so you blend in better with the surrounding but it is a requirement for the restaurant. No denim, either.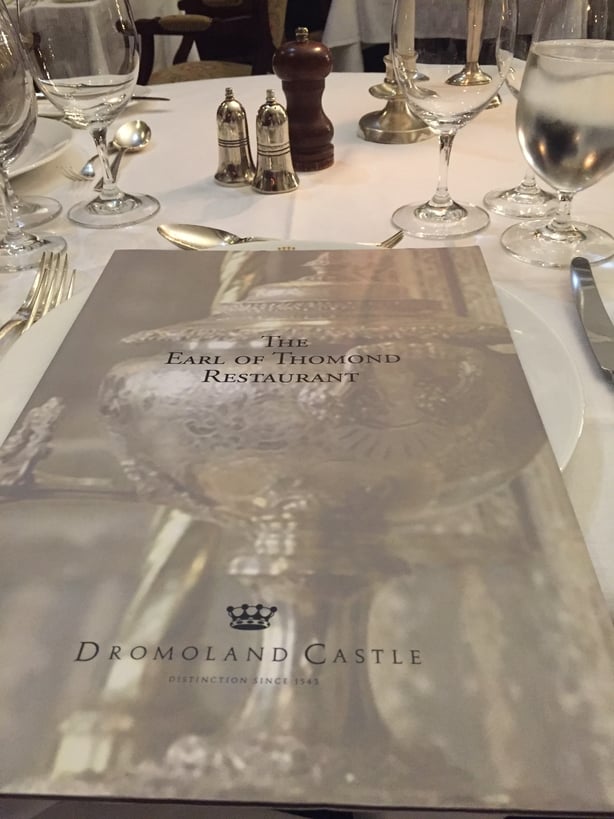 If you forget one, I'd say, Tony, the restaurant manager might have a few jackets hidden away for such just an occasion.
Back to the food and it was light, delicious and fresh.
The prices are reasonable for the quality of food and service with the Dinner Menu priced at €75 per person + 16.5% service charge.
All that was left to do was to retire to the Cocktail Bar again for another virgin cocktail (sorry Rita) and a short walk up to our room.
Too soon we had to pack up and face the prospect of leaving our little Dromoland bubble to face the real world - as John pulled the car around the front.
The one chink of light for Rita in this slightly depressing picture was that Kildare Village was on the way home...
***********
*We stayed as a guest of Dromoland Castle
Check out the other places we have visited recently:
Christmas in Belfast keeps getting better and better
48 hours in Galway