On the morning of January 19th, 1940, a small, propeller-driven aeroplane took off from Dublin. It was a cold Friday morning in a tiny facility known as Collinstown Airport as the Lockheed 14 took to the air, destined for Liverpool, with the words Aer Lingus visible on its exterior.
It was the first flight, and the first official route, from an airport that subsequently became Dublin airport.
Now, over 70 years later, Dublin airport has expanded into one of the leading major airports in Europe. And the numbers in 2017 are extraordinary.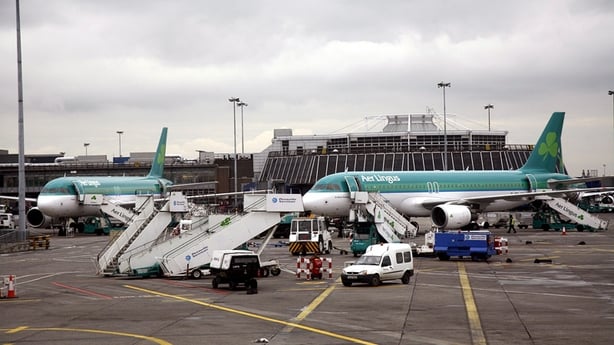 On Today with Sean O'Rourke, Evelyn O'Rourke reported on her visit to Dublin airport, where she met some of the people who make the airport what it is today, including operations manager, Declan Keane, as well as some of the passengers who were passing through that day.
But the figures provided to Evelyn by Siobhan O'Donnell, Head of External communications for the Dublin Airport Authority, really put the success of the airport in perspective.
'It is phenomenal, when you look back. You think back in 2008, when we reached a peak at 23.4 million passengers, then we dropped back to 18 million. Since 2011, there has been phenomenal growth. Last year, we reached 27.9 million passengers in one year.'
While the growth is welcomed by the Dublin airport Authority, the figures have a downside, with some passengers complaining in recent times about lengthy and frustrating queues. With more new routes being planned and Terminal 1 undergoing a facelift, the airport looks set to grow even bigger in coming years.
Last year, on three occasions, the airport broke through the ceiling of 100,000 passengers per day. Siobhan outlined to Evelyn just the extent to which the Dublin Airport has become a global hub.
'Dublin airport currently has direct flights to over 180 destinations, in 40 countries, on four continents, with 47 airlines. We are the fifth largest airport in Europe in terms of connectivity to North America. We surpassed Madrid some years ago.'
To listen to Evelyn's full report, including interviews with passengers and fascinating behind-the-scenes look at the control centre at Dublin airport, click here.