As we were told - by a lot of people - you need to plan, plan and plan some more when you are going to New York.
We were in a bit of dilemma, as I had visited the Big Apple ten years ago and did most of the tourist traps in a whistle-stop 3-day tour. Whereas Rita had never been - but did she want to do all the tourist things?
We were also leaving our 2-year-old daughter - Paige - at home with her Nana, so that had to come into our thinking as well.
To be honest, we never really made a decision one way or the other. Instead, early on in this New York adventure, we checked out www.nycgo.com to give us a general overview of shopping, dining, tours, museums, and sightseeing.
And as a sort of compromise, we decided to get what's called a CityPASS . It is a ticket - for about €110 - that gives entry to six of the city's most iconic attractions and museums. Our thinking behind the ticket was that it took the stress out of having to plan visits to lots of main attractions.
Your next major planning task was where to stay.
There are lots and lots of options - depending on what you want to do in New York. When booking your New York hotel you should do lots of research, ask people who have been before and read reviews about a location and food/drink options in the area.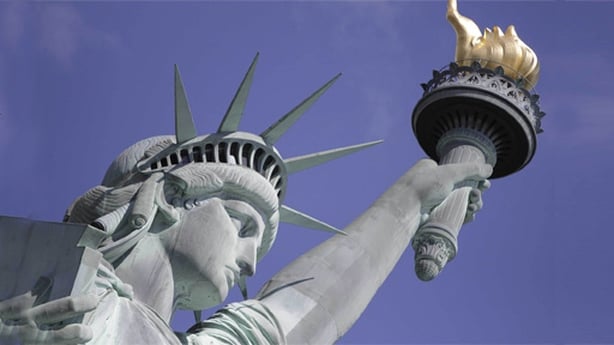 We wanted something central but still reasonably priced. Online we found The Hotel Beacon NYC, which is a stone's throw from Central Park.
It turned out Rita's brother had stayed here before and recommended it highly, and digging further we found out that the hotel was close to Amsterdam Avenue, a hipster street with lots of trendy bars and good places to eat.
One of the most appealing aspects of the hotel for us was that you get a small kitchen with most rooms and with a supermarket across the street - making the option of cooking very easy. It ticked all the boxes for us.
With sight-seeing kinda sorted and the hotel booked all that was left to do was drop Paige at creche one Thursday morning in February and head to the airport to get our flight to Newark.
We arrived at Dublin airport to a lovely surprise of an upgrade to Aer Lingus business class. The check-in was a breeze - with the free 23kg baggage allowance (even without our upgrade) - coming in very, very handy.
Through security and we were able to avail of the 51st State airport lounge - which was right beside our boarding gate.
But before that, we had another security check but one that was going to make our journey a lot easier. Aer Lingus passengers get US Customs and Border Pre-clearance at Dublin and Shannon airport in one go, ensuring that arrival into the US is really speedy.
So as we sat down for with a coffee, a sausage sandwich and the morning newspaper - we were totally ready for our New York adventure to begin. The flight was nothing short of epic.
Drinks as we sat down, glorious food and the very latest in-flight entertainment system - kept us very well entertained for the eight hours.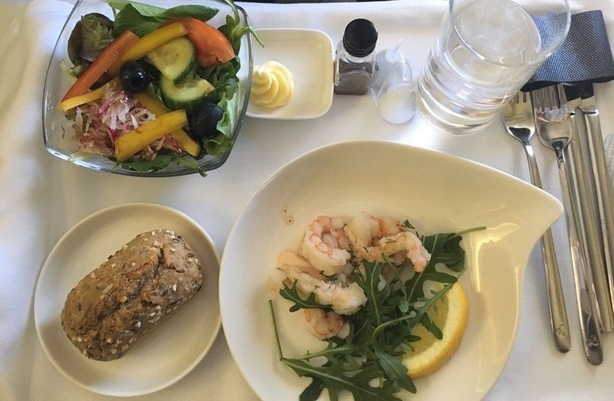 The seating is Aer Lingus Business Class is amazing. With the click of a button, you can lie straight back and have a little snooze and just wake up in time for some 5-star food and silver service.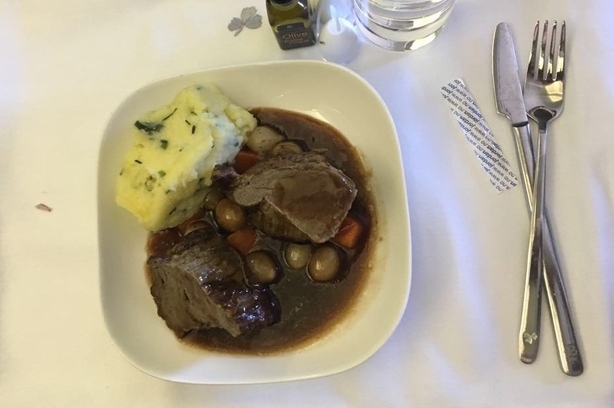 A few meals later and suddenly we were in Newark, with the trip to the hotel ahead of us. We arrived at the hotel about 5 pm and it was decision time. Rita and I are not great at the whole jet lag thing. We went to Las Vegas a few Christmas' ago and suffered badly.
This time we had a master plan. It involved wine and beer and was destined to succeed.
Amsterdam Avenue - the next street over from the hotel - is a mecca of cool bars and craft beers. We sampled then nightlife and some very tasty chicken until about 9 pm. It was time for bed in the final leg of Mission: Beat Jet Lag.
And guess what? Our jet lag wasn't too bad the next day. We got up at about 7 am and started to think about the day ahead.
As mentioned, our planning had been minimal, but armed with our CityPass for the sights and lots of recommendations from friends and family we headed out for the day.
The hotel is in a great location to go exploring New York. The subway, which brings you straight into Times Square, is at the bottom of the street, but we walked in the first day. In truth, it was a lovely walk, cutting through the Upper West Side, skirting past Central Park and Trump Tower, before entering tourist territory and Times Square.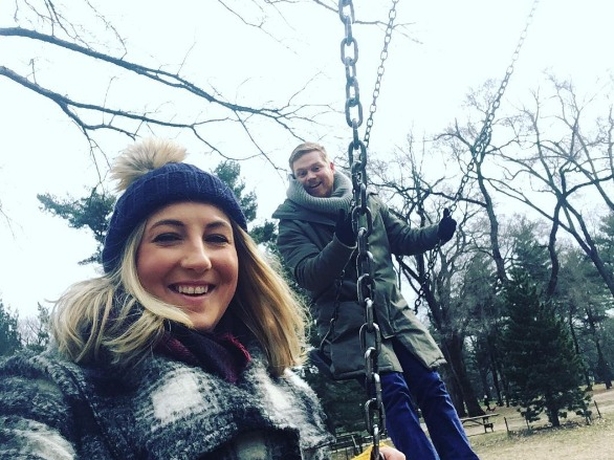 We grabbed breakfast just beyond Central Park which consisted of coffee, some more coffee and a few eggs. Fully charged, we headed through Times Square and for Top Of The Rock, the Rockefeller Centre observation deck with some of the best views of the city.
We did lots of other sightseeing and walking, before ending up in the National History Museum
Our daughter Paige loves dinosaurs - well, small dinosaurs, not big ones. So it was the perfect opportunity to check in at home. She was fine of course, playing happily with her cousin and not really caring that we were standing in front of a massive dinosaur skeleton. Toddlers, eh?
We planned to nip back to the hotel, change and go for dinner. But jet lag doesn't always play ball, so we were actually in bed by 8.30pm.
This was fine we thought - wake up early and we'll start again. Waking up at 5am was not what we had in mind. A FaceTime home to Paige didn't go to plan when she got upset that we weren't in Ireland and so started our second day in New York.
Again the big decision was whether to do the tourist things or find our own route - I think we did a bit of both. First, we took the subway to Lower Manhattan and headed for the Statue of Liberty. Despite the freezing wind chill, the queue was pretty massive for the boat out to the statue, so booking ahead or getting a ticket like we had is definitely recommended.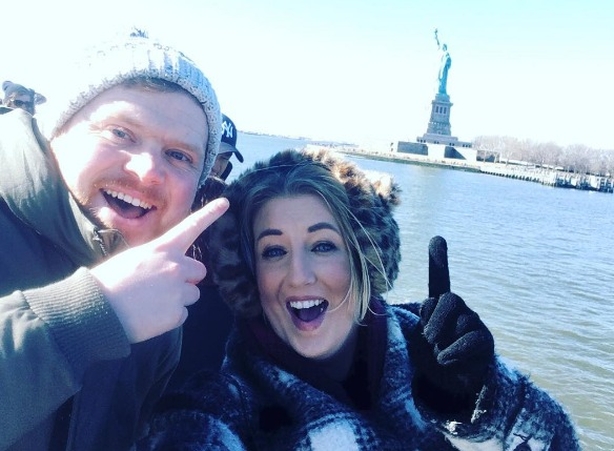 Despite the large crowd for tickets, we had to wait the guts of an hour before the boat left - and it was a cold 50 minutes. The views, though, as you leave the shoreline are spectacular, as are the ones as you approach the Statue of Liberty.
We decided not to get off at the statue and instead head for Ellis Island. I found it really fascinating and the audio tour was really good. Rita was a little less enthused.
After the boat trip, we cut loose a bit and wandered up from Battery Park, past the World Trade Centre and into Soho. The highlight of our walk - rather sadly - was finding a Seven Eleven shop and getting massive Slurpees. It brought back a lot of good memories.
More strolling, a spot of all-you-eat sushi and suddenly we were knackered again!
Sunday was all about the food and just relaxing. The highlight was a breakfast in Jacob's Pickles on Amsterdam Ave. The food was amazing!
Sunday night was Superbowl night, so we thought the only possible way to celebrate in New York was on the rooftop of a hotel across from the Empire State Building - cocktail in hand.
Amazing game, amazing venue and good American chicken wings made for the ultimate Sunday night. Although Rita had a bit of trouble on the walk back to the subway....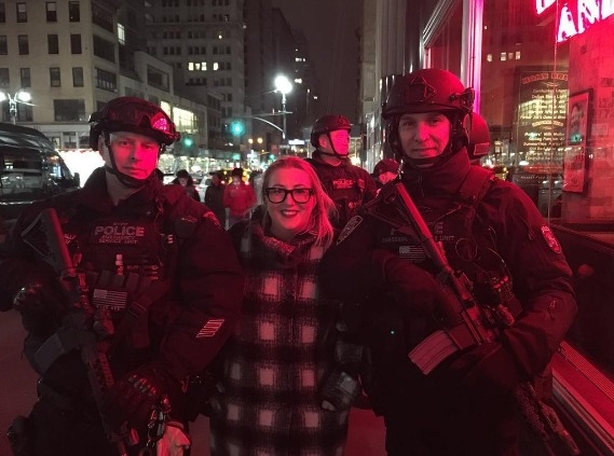 All too soon, we had to pack up and head for home. Not before, of course, we hit Fifth Avenue hard and stocked up on clothes and snacks.
One shopping spree later, we were in JFK awaiting our flight back to reality - and a return home to Paige.
We were tired. It is hard to have a relaxing holiday in New York, but it was an experience we will never forget.
The cost
We booked our flights in November, before flying to New York the following February and paid close to €850 for two seats. We got a complimentary upgrade on the outbound flight. It is worth looking out for seat sales for your American flights, a January one saw Aer Lingus offer its 13 North American routes direct from Ireland starting from €249.
Prices at the Hotel Beacon NYC start at around the $200 mark for a standard room. We received two nights free and two nights at a reduced rate.