Whether its Havana's faded architecture; music; fine cigars; the whiff of revolution; the spirit of its people or the country's beautiful climate, there is a unique experience waiting for the engaged traveller. But with Americans about to be allowed to travel there again, now may be the time to get ahead of the pack and get the best out of Cuba. Our Washington Correspondent, Catriona Perry, takes you there.
I knew the trip to Cuba would be something special, when, as I stood in the newly re-opened Cuban Embassy in Washington DC waiting on my visa, broad grins crept across the faces of the Cuban nationals waiting for passports when they heard me say "soy irlandesa"…."Oh you're Irish? And you're going to Cuba? Amazing".  This continued when checking in for my direct Miami-Havana charter flight with Cuba Tours - one of the first agencies now flying several direct routes from the US to Cuba since US-Cuban relations warmed up.  The man checking us in looked at my passport and said "oh you're Irish? And you're going to Cuba? That's fantastic".  He told me he had an Irish mother - a teacher, who'd been swept up by his Cuban father - a sailor in the merchant navy - and she'd fallen in love with his Latin ways and left the West of Ireland for eastern Cuba.  On board the plane, the air stewards barely got time to get the drinks trolley out during the 44-minute journey.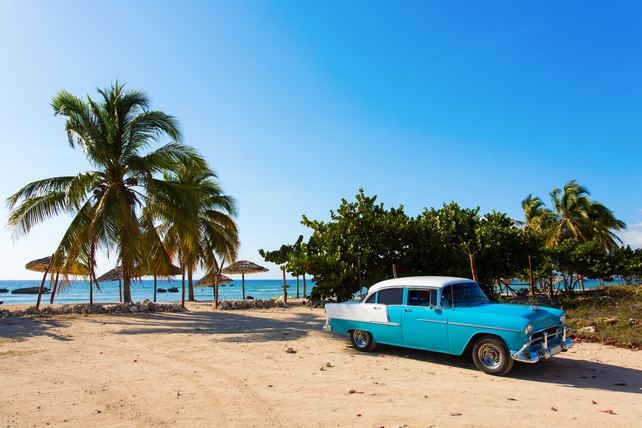 Classic cars are one of Cuba's great legacies and they are still plentiful
Taking everything into account, would I recommend a trip to Cuba? Absolutely. However, it is not for the the holiday-maker who is seeking an experience similar to what you might find in Barbados or St Lucia.  Of course there are cheap, delicious cocktails, amazing, ear-tingling jazz bands, and an almost theme-park experience of the Land That Time Forgot.  But you won't find too many all-inclusive resorts with swim-up pool bars in Havana. You will find a city that is incredibly poor, the beautiful but sadly crumbling buildings of La Habana Vieja, and the rundown but ugly buildings of the "modern" el Vedado district.  
You will find a people who are really poor by Western standards, with limited food supply and little disposable income, but who will give you what they have, who will invite you into their homes and create delicious meals from limited produce.  Finding out how people live first-hand gives a far superior insight than any guide book can and the people I met in Cuba were fantastic.  Again because I was there working I met a lot of Cuban people, rich and poor, young and old, professional and not. And to a man and woman they were friendly and welcoming and curious to know about life in Ireland.  Of course they know about the Irish already, as right in the middle of La Habana Vieja is O'Reilly Street, or Calle O'Reilly - complete with Irish language road sign. It's named for General Alejandro O'Reilly, a native of County Meath who is remembered for having organised the military forces on the island in the mid to late 18th century.
You can easily visit Calle O'Reilly, (and the nearby Palacio O'Farril) as it is one of the main streets in the UNESCO World Heritage Site that is Old Havana (la Habana Vieja). If you have a love of Hemingway, nearby you'll find the two bars that claim him as a regular:  La Floridita where he is said to have come for Daquiris (I can agree they are quite delicious), and the La Bodeguita del Medio , which was his mojito stop (I did not make it this far).  
Cuba operates a dual currency system - one, the Cuban Convertible Peso for foreigners that is pegged to the US dollar and one, the Cuban peso for local people - 1 CUC is worth 24 pesos.  The difference is price dramatic, and further highlights how ridiculously wealthy even the most modest European or American visitor here is, where the average salary is around 20 Euro a month. And Havana knows how to charge visitors, whether you take exception to that or not is personal choice.  For me, when travelling to a less well-off country, I view this requirement to pay above the odds as one woman's attempt to redistribute wealth from the developed to the developing world. To give an example, I began a mojito index….This ranged from $1.50 for a mojito in a backstreet restaurant frequented by Havana locals where nobody really spoke Spanish….to $3 in a bar/restaurant more on the tourist drag where the waiters have a little English, to $5.50 in the famous Hotel Nacional in el Vedado, to $6 in La Floridita where it was hard to spot locals in the queue of tourists vying for a photo with the bronze statue of Mister Hemmingway propping up the bar in the corner (guilty as charged). To contrast, in the Hotel Florida in la Habana Vieja, a shoulder of Havana Club 7 year old rum was $3…yes I thought it was a misprint too.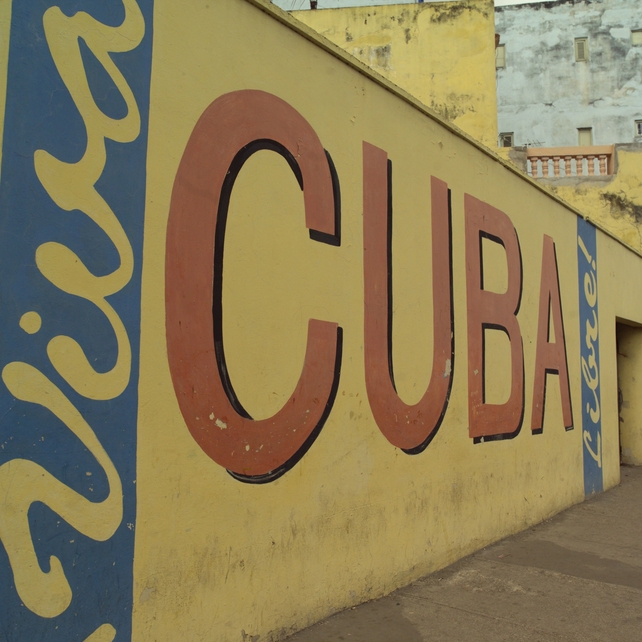 Cocktail or political statement? 
While I did spot many honeymooning types, particularly around the swimming pools and terraces of the beautiful but rundown Hotel Nacional, I did not spot many young families, and a colleague commented that he didn't think it was a good spot for children to holiday….not yet anyway.  If you are going to properly experience Havana, do get out of your tour in a shiny baby blue classic Buick and walk the famous el Malecón, aka "the world's biggest couch" as my Cuban colleague called it. There is fantastic people-watching here. In the mornings, clusters of people cast lines in search of fresh fish; by night gaggles of young people chatter, and sway and share many a romantic moment. Two Cuban couples I met said they'd spent the first night with their future spouses walking and talking and taking in the sea air along this 8 kilometre stretch of chunky seawall and broad esplanade.
I'd heard before I went that the food in Cuba was not great, but that was not my experience in general.  Sure the food is simple, and choice is limited, but it is pleasant. Mostly we ate slow-cooked pork, rice with "sleepy" black beans, (sleepy because they're soaked for a few days), and of course fried plantains  (a banana relation). Fishing and lobster-catching is strictly regulated by the State, and despite the fines for illegally catching lobster, it is on practically every menu for eye-watering low prices.  But food is rationed, controlled and choice can be limited. For that reason lots of things will be "off the menu" and others will be different to what is expected. In one stylish cafe in the middle of the Old Havana, the milk frothed up for cappuccinos, was powdered packages mixed with bottled water.
I walked a lot through la Habana Vieja (mostly in search of some sort of internet connection which is still very restrained), admiring breath-taking architecture of the buildings, monuments and plazas of la Habana Vieja and I felt incredibly safe, even walking alone after dark.  Perhaps that is a positive side affect of living in a communist state - the people are too afraid of the consequences to attempt crimes against tourists.
Given that I was working the entirety of the time I was there, I probably got a better and worse impression of Cuba than someone who is strictly a tourist.  Better because I didn't do "the tourist things", I travelled with a local in his car - not in a polished and renovated 1955 Chevy (although they are so beautiful to see driving around); I spoke to Havana natives who spoke only Spanish - not hotel concierges; and I ate dinner in private homes - not only tourist restaurants. But I also probably got a worse impression precisely because I didn't spend my time doing those things, and also because I never made it to the famed Varadero beaches, or even the Havana ones.  The pictures look breath-taking and I will be stopping by on my next trip.