Penguin Ireland has recently published Karl Whitney's Hidden City - Adventures and Explorations in Dublin by Foot, Bike, Bus, Train and Tram; in the Sewers and Underground Rivers; along the Edges and behind the Hoardings… Harry Guerin finds out more.
How long had the book been on your mind?
Karl Whitney: I began seriously thinking about this book in around 2010, when the economy seemed to be grinding to a halt and ghost estates and overpriced brownfield sites were being talked about on a daily basis. I wanted it to be a non-fiction approach to the city that wasn't simply a repetition of the oft-told anecdotes about Dublin characters or a kind of warm and fuzzy heritage-type of thing. I wanted to write something that challenged me and that reflected the kind of Dublin I knew and experienced on a daily basis.
How did you decide on which places to visit and write about? Were there some that didn't make the cut, even though you really wanted to go?
Really, I chose each place through finding what interested me in the city. This took some time. Part of this was about defining the terms of the book – I would look at the edges and the hidden places of Dublin, and treat the city like a landscape to explore. These places I took to be peripheral suburbs and the infrastructure beneath the city's streets.
I carried on from that, looking into the stories behind suburbs like Clongriffin and Tyrrelstown. The latter was of interest to me because I had read about the killing of Toyosi Shittabey at the time it happened, in 2010, and had looked up the estate on the map: its footprint appeared unusual to me, a circular development with no straight streets that was completely surrounded by fields. I guess I filed the idea away for a while; much later I went there to take a look around and carried out more in depth research. Elsewhere the attraction was autobiographical: I went to Tallaght because I had lived there as a child, and to the Liberties because I had lived in a couple of places there in my twenties and as a result became interested in its history.
As far as what didn't make the cut: I wanted to write about Charlie Haughey's house, Abbeville, but couldn't get access in time. And a section I wrote about cricket clubs formed by immigrants in the western suburbs of the city didn't make it either.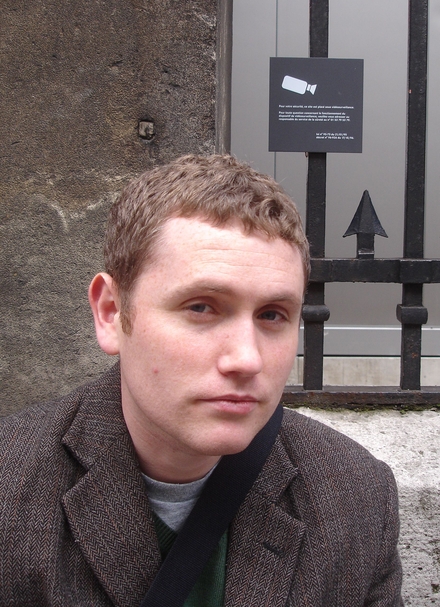 Karl Whitney
You travel by foot, bike, bus, tram and rail, so how difficult was it to get a real sense of each place while on the move? Your descriptions are great, so did you have to make return visits to take more notes about look and feel etc?
What I most wanted to do with the book was to capture a sense of place. I'm interested in books that can tell a story, or a number of stories, while also describing a location. You become used to the reviewers' cliché that goes along the lines of a place being like a character in a book – perhaps Zola's Paris or Dickens's London. But it's surprising how few books actually bother with places at all.
The descriptions are based on basic reporting. The writer Gay Talese defines reporting as "the art of hanging out". You have to take your time and allow things to happen. For me, I also have to write down as much as possible, even if it's not immediately clear how I'll use it in the future. The thing I used most was a ring-bound reporter's notebook – I carried it as I walked, I kept it on my knee as I travelled on buses and trains.
I also carried a small digital camera and a Dictaphone – when typing up notes I'd often look back at photos I took while researching, and I transcribed thousands of words of audio along the way. As a result of this I generally didn't have to return to locations, but there was a lot of follow-up research involving books, newspapers and contacting journalists and experts.
The book is a lovely blend of history, local colour, social and political commentary and personal memories. Was it very difficult to get that 'knit' right so that one element wouldn't overpower the others?
I think it varied from chapter to chapter. I had written about Tallaght, and that combination of autobiographical and factual approaches became useful in the following chapter about the Liberties and the River Poddle. But as the book moves on other elements come into play: the history of James Joyce's family's fortunes and how that's reflected in his fiction, followed by what's really an explanatory narrative tracing where Dublin's sewage goes, and, later on, the game I decided to play using the Travel 90 bus ticket where I attempted to end up somewhere I'd never been before through experimental bus journeys.
Different approaches come to the fore in each chapter, but as you point out there are certain things which persist throughout the book – these are mostly the result of my own perspective: I'm a historian but I'm also interested in watching what happens in a given moment and writing it down, and because I'm a Dubliner I have many personal memories of the city. Getting the knit right, as you put it, was a process of writing and rewriting until what was on the page felt right.
Of all the trips you took, which was your favourite?
I basically write non-fiction to get out of the office. A lot of research and writing is quite solitary, and part of why I choose to write about real people and real events is that I get to spend time with them and stretch my legs away from my desk. So the trips that stay with me most are the ones I took in the company of others, such as the journey I took with archaeologist Franc Myles as we traced the underground rivers of the Liberties. I also very much enjoyed a walk I took with my friend Jonathan from his home in the half-built new suburb of Clongriffin to the airport, which became the chapter called Flight Path that comes near the end of the book.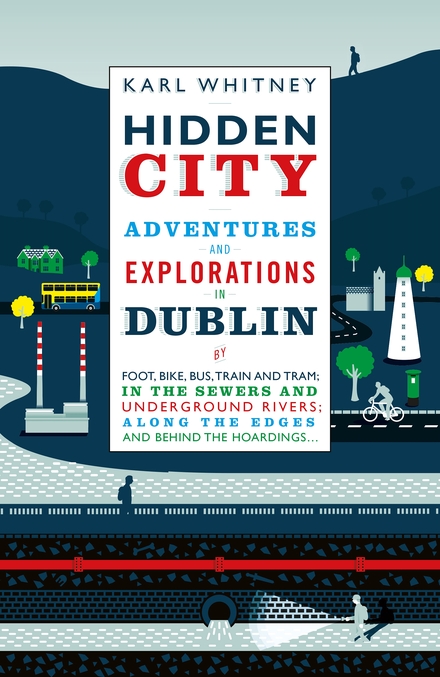 A highlight for me was your journey in the tunnels underneath Dublin. I'm always amazed they've never put the money into making them a tourist attraction - do you think they ever will?
It took a while to get access to the tunnels that channel the River Poddle under the city. One morning I met workers from Dublin City Council and we climbed through a manhole next to Leo Burdock's chip shop. When I stepped off the ladder I stood in the river – we then walked through the tunnels until we climbed out in front of St Patrick's Cathedral.
The journey through the tunnels tell you a lot about the development of Dublin, and the place of this small river in the history of the city. There are other tunnels elsewhere – the railway tunnel under the Phoenix Park and the Guinness tunnel at St James's Gate. Perhaps making the tunnels a tourist attraction would work, but I think much of their legend depends on being hidden from view only a few feet beneath the city's streets. They're talked about but rarely seen, which gives them a ghostly, mythic quality.
As a native Dubliner like yourself, it never ceases to amaze me that I can be on a familiar bus or walking route and see something I've never noticed before. What were the biggest surprises for you writing Hidden City?
I think a lot of Hidden City was driven by me paying attention to the city in different ways. We become used to the city because our perception of the place is shaped by our habits: we go to certain places but not others, we stick to the same bus route and we have routines that guide us around the city. It's when these certainties are challenged or changed that we start to see the city in a different way – and sometimes that can result simply from looking out the window as you sit on a bus or looking upwards when you walk along a street.
If we think of the city in terms of people we knew who have passed away, it really becomes apparent how much it has changed in the last 20 years. Do you think about that a lot?
I suppose what I did think about a lot was how the city that I was born in was a much different city to the one that exists today, and how maybe five years before I was born the estate where I grew up didn't exist at all.
Really, the city changes all the time – although perhaps less so during the period between 2009 and 2014, when I researched and wrote the book. (Part of the motivation for the book was that the city's expansion had stopped – that it was frozen.) But the expansion prior to that was particularly huge.
To answer your question more directly, I think we associate people with places – our memories of them are connected to certain location – and it seems difficult to acknowledge that the city continues to expand and change once those people have gone. Life goes on, and the city does too, and that can be heartbreaking.
There's a line from the French poet Baudelaire that seems inescapable when you talk about physical cities and human time: "The form of a city changes more quickly, alas, than does the human heart."
What did you learn about yourself writing the book?
I found out that my own experiences were an essential part of understanding the city. I suppose I literally went back to where I'm from – where I grew up, in Tallaght – and through doing that I found a way to approach the entire book. I looked back to some of my less happy memories: when I was a teenager I became depressed and left school. It was a particularly dark time for me and a stressful time for my family. But when I look back on that largely traumatic period it was also liberating: my days were free, and I was able to explore the city and to see a side of it that I hadn't before. (I eventually went back to a different school.)
Frank Black from The Pixies once said in an interview that Los Angeles was a great city to leave and a great city to come back to. Do you feel the same way about Dublin?
It's always nice to come back to Dublin, although more so now that I no longer live there. But leaving it doesn't sadden me the way it once did: there are other places in the world that are worth exploring.
If the money was matched by the will, what are the five things you would love to see happen in Dublin?
I feel I should say something like 'a cable car between the mountains and the Pigeon House' or 'a ski slope on College Green', but I'll keep it practical. I'd like to see the city have an elected mayor and more control over its major, arguably essential infrastructural projects. There should be a further expansion of the Luas system and an underground high-speed rail link should be built to the airport and beyond – something like this is not science fiction, or a vanity project, but should be a key part of making a city function. I'd like to see the cost of housing – both rent and house prices – remain affordable, but that probably seems more unrealistic than building a Metro to the airport. On the plus side, the growth of cycling in the city has been brilliant – long may it continue.
Have you thought about turning the book into a television series?
It would be nice, if a little weird, to see it become a television series, but the main thing for me is that I did what I set out to do: the book says what I wanted to say about Dublin. I think there are things you can explore and expound upon more easily in book form than on the screen. That said, we'll see what happens.
Will there be a sequel?
Will I write another book after this one? Yes, but it won't be about Dublin. The next book is in the planning stage, so it's early days.