Sun, sand, kites and surf boards are the ingredients of the day when Dollymount Strand plays host to a leg of this year's European Kite Boardercross Championships plus Stand-up Paddle Boarding Competition at this year's Battle for the Bay.
Dublin's Dollymount Strand will welcome some of the globe's best kitesurfers, who will descend on the beach to showcase their spectacular skills and gravity defying moves as they skim the water surface and compete for the coveted King or Queen of the Bay crown.
The free event throughout this weekend will also include demonstrations from Pure Magic, live music, a funfair and a food village, complete with BBQ!
After a long hard winter of training, the surfers will be honed, toned and raring to compete as the Battle for the Bay gets underway. This year will feature race and freestyle competitions, with riders performing daring technical tricks and feats. Boardercross is a mix of freestyling and racing which will bring a unique format of the competitors together on the starting line for a slalom style fight that is fast and furious involving jumping water obstacles. Competitors compete for championship points!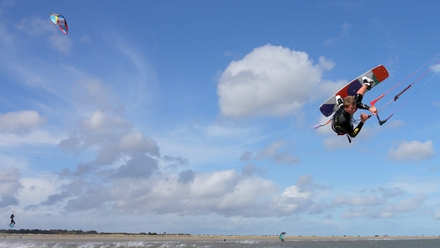 Pieminister, Crepes in the City, K-chido Mexicano, The Wing Bar and Cranky Yankee Corn Dogs are some of the food stalls who will be setting up down at The Food Village for the weekend, as well as famed Pakistani/North Indian restaurant Kinara and coffee and pastries from O'Briens.
Dirty Epics, Red Sail, Elevation Falls, Radio Friendlies and Darragh Cullen will all showcase their musical talents throughout the weekend to entertain attendees.
To top it all off, late night entertainment continues into the night at partner venues in Clontarf and city centre.