We "should not under-estimate the value of 'being green'" said Mike Read, Global Sustainability Tourism Council, speaking at the official launch yesterday of EcoTourism Ireland.
However he said tourism can also be bad - leading to climate change, disrupting communities, and consuming precious resources. "We need to treasure and protect our natural resources and use them to attract visitors but in a responsible and sustainable way" he said at the launch in the Royal Hospital Kilmainham in Dublin, yesterday.
The Global Sustainable Tourism Council is an initiative dedicated to promoting and regulating sustainable tourism efforts around the globe. Ecotourism Ireland's standard is one of the first to be officially Recognised by GSTC as conforming to their international criteria.
Currently, the Irish tourism industry is worth €5 billion euro annually to the economy, with an estimated five per cent of this figure, or €250 million euro, spent on ecotourism experiences.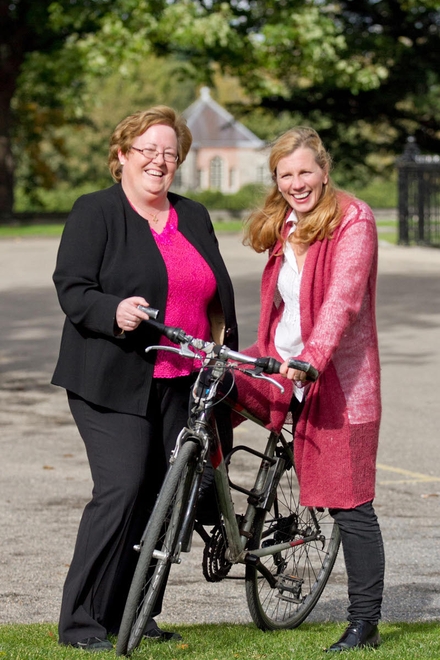 Pictured at the official launch of EcoTourism Ireland in the Royal Hospital, Kilmainham, are (left to right) Catherine Mack, eco travel writer and author of the Green Ireland travel App and Mary Mulvey, Chief Executive of EcoTourism Ireland
There are now 20 Irish companies certified with EcoTourism Ireland , with another 35 expected to come on stream in the next year. Eight of the certified companies have "Gold Certification".
EcoTourism Ireland CEO, Mary Mulvey, said ecotourism is highly suited to development in unspoilt, rural locations and can create jobs and income without destroying or degrading the natural or cultural assets the visitors have come to see.
"In Ireland, we have bog and wetland experiences, farms, marine and ecology, craft and food that can be developed as serious visitor experiences" Mulvey said.
"International and domestic travellers care more and more about the environment and are looking for unique, authentic experiences that are sustainable. Rural Ireland is perfectly suited to the creation of sustainable networks of rural businesses by people passionate about their natural resources."
"The Ecotourism Ireland Certification programme brings Irish tourism closer to ecological and social sustainability. The principles of supporting conservation by these experiences is a new concept here which we need to embrace."
Irish tourism businesses who have received Gold EcoTourism Ireland certification include:

• Dolphinwatch Carrigaholt, County Clare, providing wonderful Dolphin and Nature Boat trips, travelling to the mouth of the River Shannon. www.dolhpinwatch.ie

• Cnoc Suain, Spiddal, County Galway, a cultural retreat in a restored 17th century Connemara Gaeltacht hill-village. www.cnocsuain.com

• Heart of Burren Walks, Burren, County Clare, offering guided walks through the Burren, illustrating the rich legacy and the sacredness of the unique landscape. www.heartofburrenwalks.com

• Glenquin House, Burren County Clare, providing guided walks on the farm, visits to stone forts, cairns and other sites of archaeological interest. www.fathertedshouse.com

• The Boghill Centre, Burren, County Clare, a residential eco venue used for courses, events and conferences as well as holistic workshops and other eco training activities. www.boghill.com

• CycleWest Ireland, County Galway, offering bike tours in the magnificent surroundings of Connemara, the Aran Islands and the West Coast. www.cyclewest.com

• Burren Smokehouse, Lisdoonvarna, County Clare, providing a range of locally sourced products and crafts, including their 100% Burren organic smoked Irish salmon. www.burrensmokehouse.ie

• The Roadside Tavern, Lisdoonvarna, County Clare, a famous historic vavern and the guaranteed craic make it an attraction to locals and visitors alike. www.roadsidetavern.ie
For more information go to www.ecotourismireland.ie