Linking the sciences and the arts through a festival for the first time in Cork, CuriousCity will surprise you with live science, visual art, quantum theatre, multimedia, music, exhibitions, interactive workshops, and most importantly, fun!
Highlights of the festival include a free Science Picnic for families at Cork's ever popular Lifetime Lab with pop-up theatre from Red Sandstone Varied Productions, life-sized mind-bending games and MegaMolecules while award-winning CIT Blackrock Castle Observatory brings the acclaimed theatrical production 'That's About The Size Of It' and Cork Midsummer Festival's MOON, alongside a series of eye-popping installations from local artists.
Art and science have more in common than we may think - Curiosity is the impulse that drives both artists and scientists to explore reality, and in doing so expose new truth. CuriousCity events show how these two seemingly diverse fields open our eyes to look at the world in new ways. Taking place in numerous venues throughout the city, there is something to appeal to all audiences.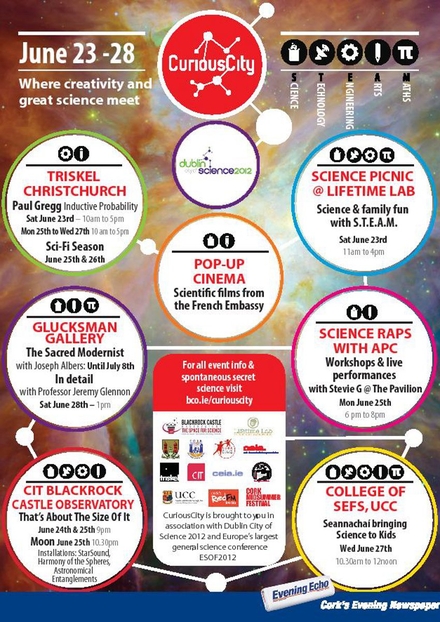 Also in town, The Pavilion hosts Science Raps from UCC's Alimentary Pharmabiotic Centre, MC'd by Cork's own Stevie G, with performances from winning rappers David "Genesis" Jackson and Rory O'Connor. The age old tradition of the Seannachaí takes a leap into the future at the College of SEFS at UCC with science storytelling for families. Venues across Cork have embraced the concept with Triskel Christchurch and Lewis Glucksman Gallery presenting Paul Gregg's Inductive Probability and Josef Albers Sacred Modernist highlighting the commonality and crossover of the artist and scientist.
CuriousCity is part of the nationwide Dublin City of Science 2012 Festival. Dublin City of Science was developed in honour of hosting the prestigious international science event, the Euroscience Open Forum (ESOF) 2012, Europe's largest general science conference, taking place on 11th to 15th July in Dublin.
The event will bring together over 5,000 scientists, business leaders, government officials and international media to discuss the best of European science.
Speaking on Cork's collaboration with the innovative Dublin City of Science 2012 festival, Vincent McCarthy, Curator of Dublin City of Science 2012 said: 'Dublin City of Science 2012 is about building a community who see science as both intriguing and inspiring. This is why it has been great to work with CuriousCity on making these superb events happen in Cork.'
Most events are free, others are ticketed in association with Cork Midsummer and for more information on all events please see bco.ie/curiouscity