Watch Paul Flynn's Food Truck Favourites on Wednesday at 8pm on RTÉ One.
Ingredients
Serves 6
1 head of cauliflower
1 onion, peeled and chopped
1 clove of garlic, peeled and chopped
A 3cm piece of ginger, peeled and chopped
50mls sunflower oil
2 tbs ready made Korma paste or powder (look out for Green Saffron blends)
1 tin chopped tomatoes (400g)
1 tin coconut milk (400ml)
1 tin chickpeas (400g)
Zest and juice of 1 lime
200g Cherry tomatoes, halved
Salt and pepper
1 tsp caster sugar
Some fresh coriander to serve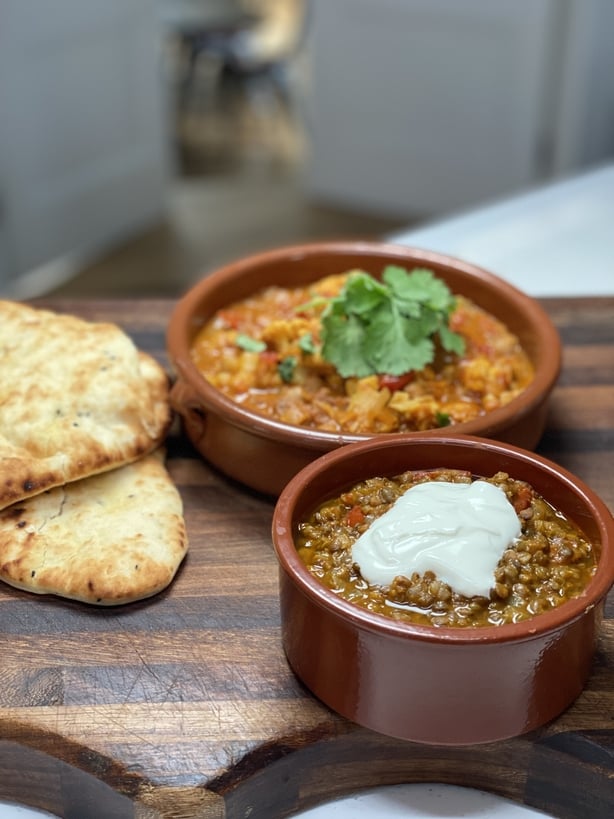 Lentil Dahl

Serves 6
200g puy lentils, pre-soaked in cold water
100g butter
1 onion, peeled and finely diced
1 tsp cumin seeds
1 tsp coriander seeds
1 tsp ground turmeric
6 cardamon pods crushed
2 cloves of garlic, peeled and chopped
1x 2cm piece of ginger, peeled and grated
1 tbs tomato purée
1 tin of chopped tomatoes 400g
400 mls water
2 red chillies, halved lengthways
Salt and black pepper
A pinch of sugar
Yoghurt
Method
Paul Flynn's cauliflower and chickpea korma
Break the cauliflower into small florets and boil in salted water until just soft, drain and set aside.
Put the onion, garlic, ginger and oil into a food processor and pulse until evenly chopped.
(if you don't have a processor just chop everything as fine as you can)
Add the sunflower oil to a pot and then add the mixture and cook over a medium heat for 10 minutes, then add the Korma paste.
Continue to cook for 3 more minutes then add the chopped tomatoes, coconut milk and chickpeas.
Bring to a simmer and reduce gently for 10 minutes.
Add the lime, the cooked cauliflower and tomatoes, then the salt, pepper and sugar and it's ready to serve. Scatter over some fresh coriander before serving.
Lentil Dahl
Melt the butter and add all the spices followed by the garlic and ginger.
Cook over a low to medium heat for ten minutes then add the tomato purée, chopped tomatoes then add the water.
Add the drained lentils and the chillies, then simmer for about 20 minutes until the lentils are tender.
Season, add the sugar and its ready.
Serve with a dollop of natural yoghurt on top.