Ingredients
Serves 4
4 Cloves garlic, crushed
2 Onions, sliced
2 Carrots, diced
1 Stalks celery, chopped - optional
100g Button mushroom, quartered
1 Courgette, diced
3 Sprigs thyme , chopped
1 Tsp. Rosemary, chopped
2 Litres Vegetable/chicken stock
1 X 400g Tin plum tomatoes
100g Spaghetti, broken into small 3-4cm sticks
Salt and pepper
Gremolata:
4 tbsp. fresh parsley
1 lemon, segmented
1 garlic cloves, finely chopped
Salt and pepper
Olive oil
To serve (optional):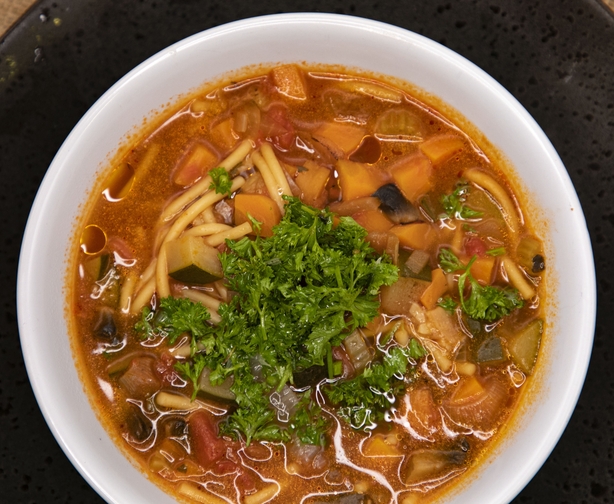 Method
In a saucepan, over medium heat, sauté with olive oil add the onions, garlic, carrots, celery.
Cook for 2- 3 minutes to lightly colour the vegetables.
Add the mushrooms, courgette, herbs, and continue to cook for a further 2 minutes.
Pour in the stock, tin of tomatoes and season well with salt and pepper. Bring to the boil and simmer for 15-20 minutes or longer if desired.
10 minutes before serving, place the spaghetti in a clean tea towel and break the spaghetti into 2-3 cm pieces.
Add the broken spaghettis and cook a further 10 minutes until the spaghetti have plump up.
Next prepare the gremolata - combine in a bowl, the parsley, lemon segment, garlic clove and drizzle with a spoon of olive oil if desired. Season well and set aside until required.
Ladle the soup between bowls and enjoy with some crusty bread and sprinkle of gremolata.