Watch Donal's Family Food in Minutes on RTÉ One, Wednesdays at 8:30pm.
Ingredients
Serves 6
Takes 1 hour
2tbsp olive oil
1 large onion, finely chopped
1 carrot, finely chopped
2 stick celery, finely chopped
1 large sweet potato, peeled and cut into 2cm chunks
3 cloves garlic, finely grated
2tsp each ground coriander and cumin
Pinch ground cinnamon
2 x 400g tin chopped tomatoes
1tbsp chipotle paste
250g pack cooked puy lentils
1 x 400g tins mixed beans, drained and rinsed
Soured cream and tortilla chips to serve
100g cheddar cheese, grated
Handful fresh coriander leaves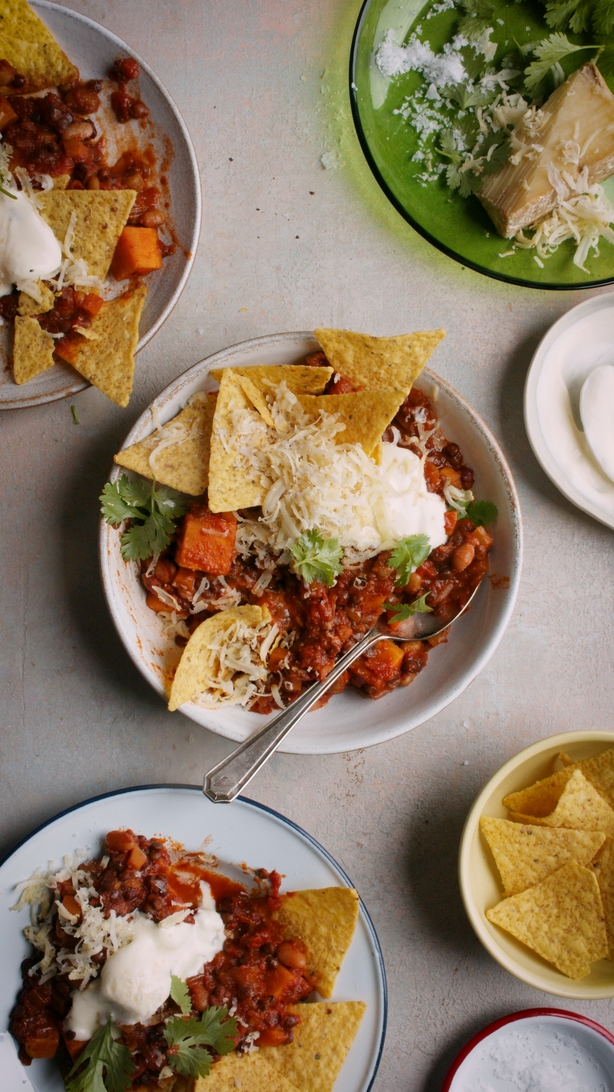 Method
Heat the oil in a large, heavy based casserole. Fry the onion, carrot and celery for 10 minutes until softened. Add the sweet potato and garlic and cook for a minute more.
Add the spices and cook for a minute before adding the chipotle. Stir through the tomatoes along with a splash of water. Cover and simmer gently, for 30-40 minutes until the vegetables are tender.
Once the sweet potato is tender and the sauce thick and rich, add the lentils and beans, stir through and simmer until heated through.
To serve, add to bowls, top with a good dollop of soured cream, tortilla chips, cheddar and coriander leaves.