Just stick it all in the oven.
Ingredients
"This dish is super high in fibre, which is something we lack in Western culture, and great for digestive support and the gut," explains nutritionist Rosemary Ferguson.
"It is also rich in antioxidants from the squash and sprouts, which is great for the skin, the immune system and helps to balance inflammation. The chickpeas are a wonderful source of plant protein and help to control blood sugar levels, among other things."
Ingredients:
400g chickpeas drained and rinsed
1 bag of Strong Roots Chargrilled Sprouts
1 bag of Roast Butternut Squash Chunks
1 leek, chopped into generous slices
2 carrots, cut lengthways
1tsp ground coriander
1tsp caraway seeds
2tsp fennel seeds
1 bunch of mint
1 lemon, juice and zest
Himalayan crystal salt
Freshly ground black pepper
4 cloves of garlic
Olive oil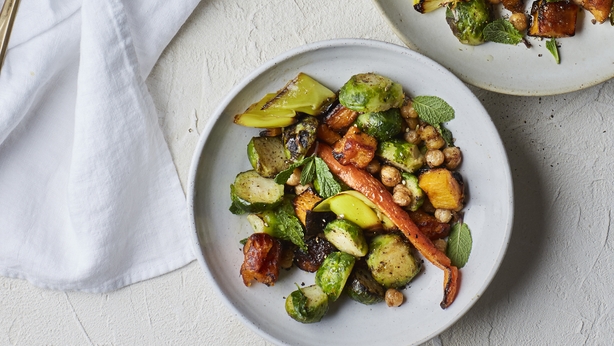 Method
Method:
1. Preheat the oven to 180 degrees.
2. Drain and rinse the chickpeas. Pop them in a bowl and drizzle over one tablespoon of olive oil. Add the ground coriander, caraway seeds and fennel seeds. Season and toss the chickpeas before setting aside.
3. Add the Roast Butternut Squash Chunks and carrots to a large flat baking tray – roast for five minutes.
4. Add the Chargrilled Sprouts and leek, along with four cloves of garlic and a drizzle of olive oil and continue to roast for 20 mins. When they have 10 minutes to go, add the chickpeas.
5. Prepare a dressing by chopping the mint leaves and add them to a hand blender. Zest and juice in the lemon. Pour in two tablespoons of olive oil and one tablespoon of cold water. Season and blend until smooth.
6. Remove the veg from the oven and transfer to a platter or plates. Drizzle the minty dressing all over and enjoy.