This choca-mocha cake recipe is a crowd-pleaser.
Ingredients
"I've never been a hardened coffee drinker, so a mocha – that moreish combination of coffee and chocolate – is my go-to hot drink," says food writer Sarah Rainey.
"This recipe combines these two favourite flavours in a moist, fudgey cake, topped with a super-speedy coffee icing that you can drizzle on while it's still hot."
Choca-mocha cake recipe 6-minute Showstoppers by Sarah Rainey
Makes: 1 cake
Serves: 8-10
30g cocoa powder
3tsp (heaped) instant coffee
175g self-raising flour, sifted
175g caster sugar
60ml semi-skimmed milk
60ml sunflower oil
1 egg
1tsp vanilla extract
For the icing:
1tsp (heaped) instant coffee
130g icing sugar, sifted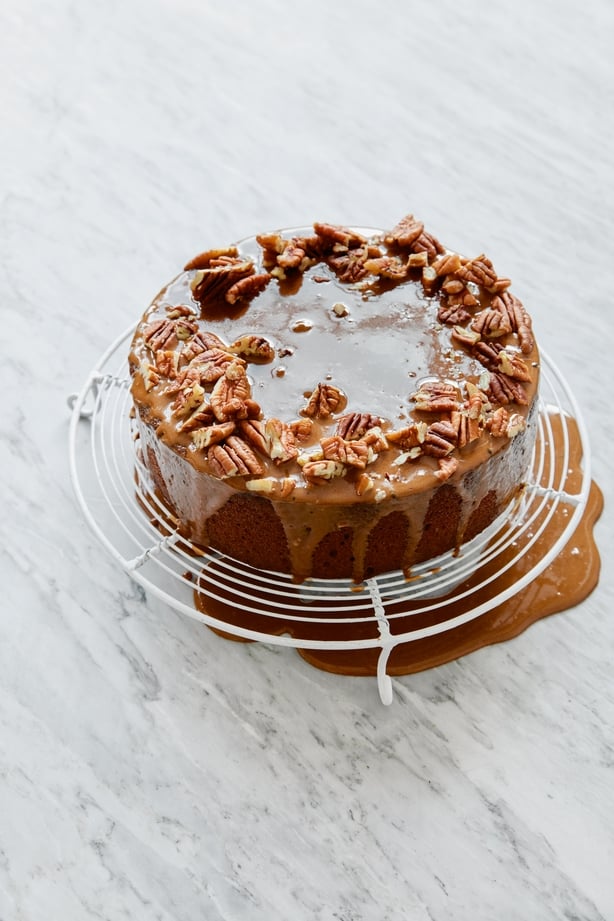 Method
1. Grease a 20cm-round, microwave-proof cake dish with a little butter and line the base with greaseproof paper.
2. Mix the cocoa powder and three teaspoons of coffee together in a small bowl and add approximately 100ml boiling water. Stir vigorously until dissolved.
3. In a separate bowl, mix together the flour and sugar. Add the coffee mixture, followed by the milk, oil, egg and vanilla extract. Beat to combine.
4. Pour the batter into the prepared cake dish and microwave on high for four-and-a-half to five minutes, checking throughout. You'll know it's ready when it's risen and spongey (not wet) on top.
5. While the cake bakes, make the icing. In a small bowl, add a splash of water to the remaining teaspoon of instant coffee and mix to make a paste.
6. Mix in the icing sugar, a little at a time, adding more water if you need to, until you have a smooth paste, roughly the texture of thick cream.
7. When the cake is done, carefully tip it out on to a cooling rack and immediately spread the icing over the top (or drizzle, if you're more artistic than me). You may want to put a plate or chopping board underneath the rack as this bit can get messy.
8. If you like, sprinkle chopped walnuts, pecans or coffee beans around the edge of the cake for a pretty finish – do this before the icing sets so they stick.
6-minute Showstoppers by Sarah Rainey, photography by Clare Winfield, is published by Michael Joseph. Available now.