Please, please, don't buy pre-made meatballs – honestly, they only take minutes to make at home and it can be lots of fun if you involve everyone in the process. And don't even think about buying ready-made sauce either! This recipe has everything you need to make your own incredible meatballs.
Ingredients
Serves 4
For the sauce
Drizzle of rapeseed oil
1 onion, diced
2 cloves of garlic, chopped
1 tsp dried oregano
400 g tinned, chopped tomatoes
50 g tomato puree
500 ml beef stock

For the meatballs
Drizzle of rapeseed oil
1 onion, diced
1 clove of garlic, chopped
250 g minced beef
250 g minced pork
1 egg
40 g breadcrumbs
½ tsp ground nutmeg
Freshly ground black pepper
5 fresh sage leaves, chopped

To serve
400 g spaghetti
80 g Parmesan cheese, for grating
Method
To make the sauce, heat a drizzle of oil in a saucepan and sweat the onion with the garlic for 3 minutes. Add the oregano, tomatoes and tomato puree. Add the stock and simmer for 10 minutes, stirring occasionally. 
For the meatballs, fry the diced onion and garlic in the oil in a heated frying pan. Add these to a bowl with the minced beef and pork.
Combine using your hands and then add the egg and breadcrumbs and season with nutmeg and pepper. Mix well, then add the chopped sage leaves and shape into desired meatball size. 
In the same frying pan you cooked the onions in, brown the meatballs then transfer them into the sauce. Simmer together for 12 minutes, stirring gently to ensure the meatballs don't break.
Cook the spaghetti in boiling water according to the packet instructions and then drain. Serve in a bowl with meatballs and sauce on top and some grated Parmesan cheese.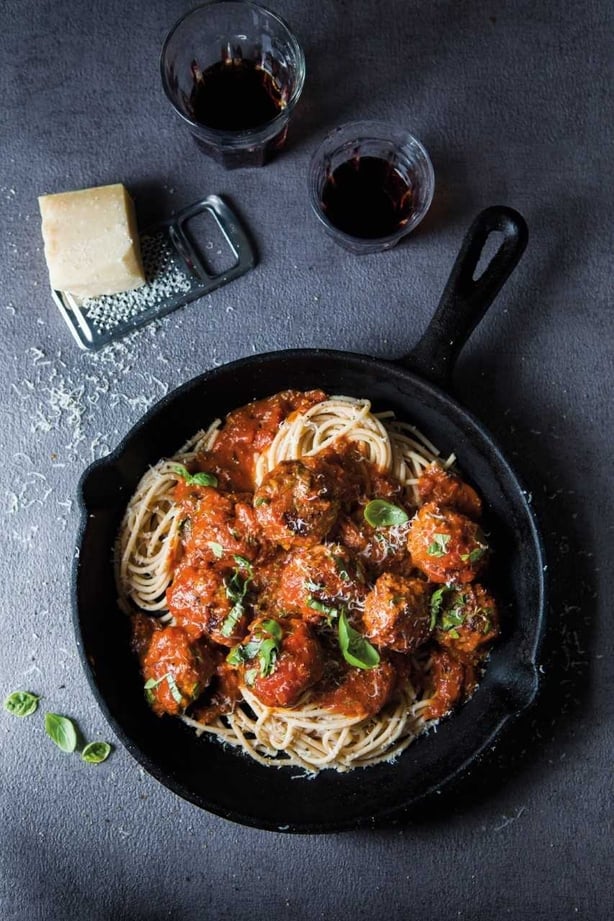 Recipes by Brian McDermott from Brian McDermott's Donegal Table, published by The O'Brien Press, 2018