Take the old garlic bread idea but jazz it up with chorizo and pungent parmesan and Violà! You have something extra special. There's very little that can't be improved with little chorizo in my opinion.
Ingredients
100g Mussels
100g Clams
1 very finely chopped shallot
100ML white wine
50G garlic butter
Chopped flat leaf parsley
Salt & Pepper
Squeeze of lemon
Chorizo and Parmesan Garlic Bread
100g butter, softened
3 large cloves garlic
Fistful of chopped parsley
50g grated Parmesan
2 large slices chorizo, very finely chopped
A small baguette
Method
Mussel & Clam Marinièr
Place the mussels, clams, shallot, wine and garlic butter in a saucepan, season and cover with a lid.
Place on a high heat and steam the mussels and clams open.
Remove from the heat and add a squeeze of lemon and sprinkle with the chopped parsley.
Taste the broth and correct the seasoning.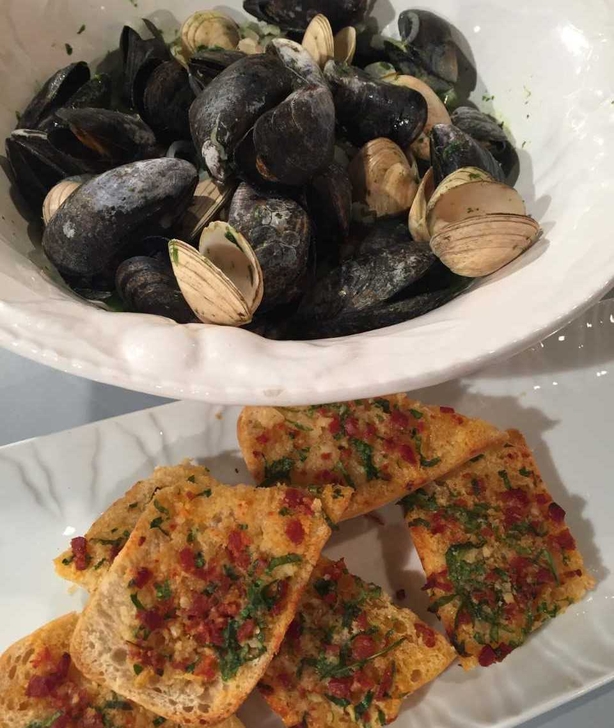 Chorizo and Parmesan Garlic Bread
Mash the butter into a cream.
Mix in the garlic, parsley and grated parmesan and the finely chopped chorizo.
Slash a cooked baguette evenly and stuff the butter in the slashes
Place into tinfoil and seal
Bake in a preheated oven for 180°C for 15 minutes
This is great with pasta, salads, or on its own with some dips