Wade Murphy's Lemon Posset with Marinated Strawberries and Honey Crushed Pistachios: Today with Maura and Dáithí.
Ingredients
A tasty and fresh dessert for the summer.
Serves approx 6
Prep time 15/20 mins plus
Setting time 24 hours
For the Posset:
150g Caster Sugar
425mls Double Cream
2 Lemons, juiced and zested - both separated - measure the juice to 125mls
For the Strawberries:
1 punnet of Wexford Strawberries - cut in half or quarters depending on size
5g caster sugar
1 teaspoon of aged balsamic vinegar
4 or 5 mint leaves - sliced
Crushed Pistachios:
50g peeled pistachio nuts
1 tsp honey - use honey from your local area.
Method
For the Posset:
Mix the cream, lemon zest and sugar in a saucepan. Bring to the boil and stir occasionally until all the sugar has dissolved. Reduce the heat and simmer for 3/4 minutes.
Remove the pan from the heat and whisk in the lemon juice. Strain the mix into a jug. Discard the zest.
Allow the mix to settle for remove minutes and then skim any bubbles from the top. Pour equal amounts of the posset into serving glasses and allow to cool.
Once cool enough cover and leave in the fridge overnight to set up.
For the Strawberries:
Mix all ingredients well in a bowl. Cover with cling film and leave to marinate for at least 1 hour.
Crushed Pistachios:
Toast the pistachios in a pan to release the oils. Remove the nuts from the heat and then roughly crush them using a rolling pin or whatever is handy.
Place in a bowl and add the honey. Toss the pistachios in the honey until completely coated. Set aside
To Assemble:
Remove the possets from the fridge. Top with a couple of spoons of the marinated strawberries.
Finish with a sprinkling of the pistachios and honey. Garnish with a sprig of mint leaf, serve and enjoy.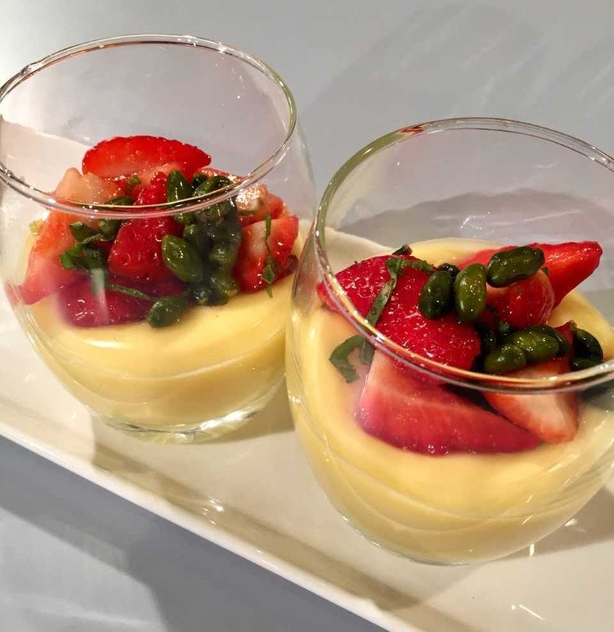 Happy eating,
Wade