Domini Kemp serves up a Christmas dinner of Cashel Blue, pomegranate, pear and walnut salad, Beef Wellington, Baked Onions and Nutty Italian Chocolate Cake.
Ingredients
Cashel Blue, pomegranate, pear and walnut salad
Serves: 4
45 g whole walnuts
6 tbsp olive oil
2 tbsp honey
3 tbs. white wine cider vinegar
2 tsp. Dijon mustard
salt & pepper
250 g mixed baby greens
2 pears cored and sliced
juice of 1 lemon
1pomegranate
80-100 g Cashel blue cheese, crumbled
Beef Wellingtons
Serves 4
4 tbsp olive oil
50 g butter
Salt, pepper, sprinkle caster sugar
4 fillet steaks
1 onion, peeled and very finely chopped
Few sprigs thyme
4 garlic cloves, peeled and crushed
250 g button mushrooms, very finely diced
Splash cream
8-12 slices Parma ham
1 pack ready made puff pastry
Few egg yolks, lightly beaten
Baked Onions
Serves: 6
6 large Spanish onions
100g butter
150-200g breadcrumbs
Small bunch parsley
1 clove garlic, crushed
250ml cream
Small bunch sage, chopped
100g Parmesan or cheddar (or mix of the two)
Generous pinch of grated nutmeg
Salt and pepper
Nutty Italian Chocolate Cake (Adapted from a Diana Henry recipe, rich and delicious.)
Serves: at least 10-12
Use a 25 cm spring form cake tin
75 g shelled walnuts
75 g blanched almonds
75 g shelled hazelnuts
175 g butter
325 g dark chocolate, broken into pieces
175 g caster sugar
100 g raisins
150 g chestnuts
Grated rind of 2 oranges
½ tsp ground cinnamon
5 large eggs, seperated
50 g ground almonds
Method
Cashel Blue, pomegranate, pear and walnut salad
Toss the walnuts with 1 tbsp olive oil, 1 tbsp honey, and season. Put on a sheet of baking paper and toast for 10 minutes at 140 C until starting to caramelise. Set aside and do this the day before.
Whisk together the vinegar, 1 tbsp honey, mustard, salt and pepper. Add the olive oil in a thin stream, whisking constantly until the dressing is smooth.
Add the greens, pears, pomegranate seeds and walnuts to the bowl with the dressing and toss gently to coat. Divide the salad among 4 plates, sprinkle with the cheese and serve immediately.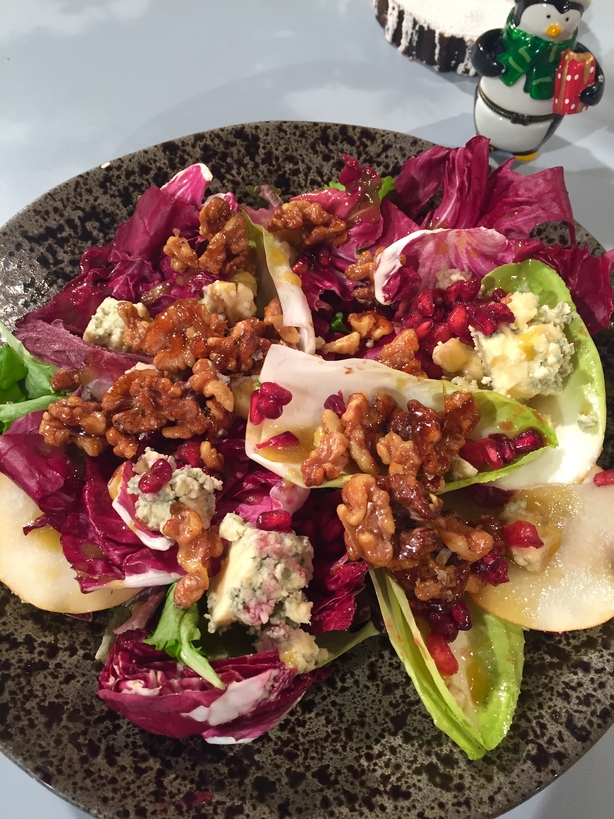 Beef Wellingtons
Note: Much handier to do individual ones. takes the "fear" out of making them!
Heat half the olive oil and half the butter in a large frying pan until very hot. Sprinkle the top of the steaks with salt, pepper, and a little sugar and sear the meat, seasoned side down.
Sprinkle some more seasoning onto the other top surface and when you feel you have good colour on the bottom, turn them over and sear the other side. We are looking for maximum charred colour and flavour here, without any cooking to take place.
The sugar will really help the meat to caramelise quickly, without cooking the meat. Once you've got some decent colour, remove from the pan and leave to cool while you cook the mushrooms.
Clean out the saucepan and heat up the rest of the olive oil and butter and fry the onion until soft. Add the thyme, garlic, and mushrooms. Cook on a high heat as you want to cook the hell out of the mushrooms so you end up with a very dry mixture.
Add the cream, season and cook until the mixture is uber tasty and dry! Set aside to cool.
When the steaks and mushrooms are cold, lay out 3 sheets of cling film, (to give extra strength to your parcels) on top of each other.
Lay out 3-4 slices of Parma ham and spread lightly with a layer of mushrooms. Place a steak in the centre, wrap up in the ham and then pull up all sides of the cling film to meet at the top and then twist around so you end up with very tight bundles. Repeat and then chill for a few hours.
We are trying to avoid the pastry from rising, so roll it into a ball and then roll out quite thinly and divide into four sheets. Unwrap the beef from the cling film and wrap in the pastry, using a little egg to seal at the top.
Cut away any excess and use your fingers dipped in water to smooth out the seams and ensure the pastry is snug against the beef. Then place the ugly sealed side down onto a baking tray that you've lined with some greaseproof paper.
Brush with egg yolk and chill until ready to bake. Heat oven to 190 C and preheat a non-stick baking sheet
Just before baking, lightly score the pastry with a sharp knife, but don't cut all the way through. Cook the beef, straight from the fridge, ugly side down until the pastry is golden-brown and the beef medium rare which should take 12-15 minutes.
If you want them better done, just watch the pastry doesn't burn, so turn down the oven to 160 and bake for an extra 5-10 minutes.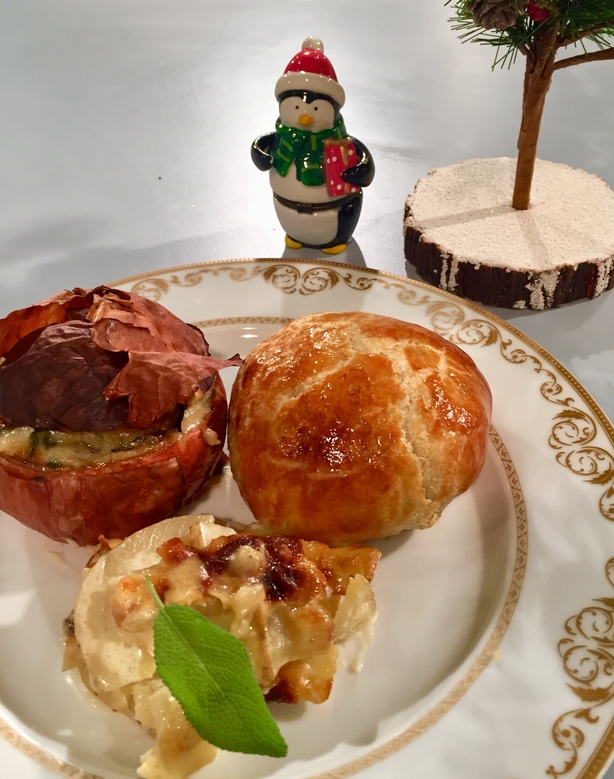 Baked Onions
Note: Everyone loves these guys - full of sweet onion flavour, they are delicious on their own or else served with roast meat instead of spuds. A lovely side dish with the beef and even good as a veggie main course.
Preheat the oven to 200°C. Trim the root of the onions and, keeping the skin on, make an incision in each onion three-quarters of the way up near the top.
With the root-side down, wrap each onion in tinfoil, place in a roasting tin half-filled with water and bake in the oven until very tender (about 1 hour). Reduce the oven to 170°C.
When the onions are done, remove the tops, cutting along the incision line, and scoop out the soft flesh inside, which you then chop or blitz quickly in a food processor (don't make mush of them though; a quick pulse should do it).
Heat the butter in a large pan and, to make the stuffing, add the flesh of the onions and then the breadcrumbs, parsley, garlic, cream, sage and half the cheese. Season with nutmeg, salt and pepper.
Finally, top each onion with a generous cap of grated cheese and bake for 20 minutes until golden brown and bubbling.
Nutty Italian Chocolate Cake
Pre-heat the oven to 180 C. Toast the nuts on a baking tray in the oven for a few minutes and then crush in a haphazard fashion so some are big and some are small.
Melt the butter and chocolate in a bowl over a pan of boiling water. Add the sugar and stir until it dissolves. Take off the heat. Add the toasted nuts, raisins, chestnuts, orange rind, and cinnamon.
Beat the egg whites until soft peaks. Add the egg yolk & ground almonds to the chocolate and mix well, then fold in the egg whites carefully before pouring into the cake tin and baking for 45 minutes. Allow to cool for at least 1 hour before unclasping from the tin.
It is quite delicate and mousse-like, so be careful and is likely to collapse in the middle. Dust with icing sugar or glaze with a little extra melted chocolate and sprinkle with nuts. Serve with cream.