It is day 11 of December which means we are on a delicious countdown to Christmas! Every day this month, we will share some of our most Christmassy and festive recipes such as this red velvet Christmas trifle.
Ingredients
Layers of red velvet cake, custard, strawberry jelly and whipped cream, caramel cream with raspberries and white chocolate snowmen playing on top!
Serves 8 to 10
For the cake
160g caster sugar
120g butter
3 eggs
200g plain flour
1 tsp baking powder
2 tbsp cocoa powder
3 tbsp red food colouring (2 tsp colour paste)
For the trifle
1 strawberry jelly
300g raspberries
200ml caramel whipped cream
500ml freshly whipped cream
300ml custard
4 tbsp sherry (or to taste)
For the snowmen
200g white chocolate
10 white mini marshmallows
20g rice krispies
Black "ready roll" fondant, for hats and buttons
Method
Preheat the oven to 180C/fan 160C/gas 4.
Line the base of 1 x 23cm cake tin with parchment and brush the sides with melted butter and dust with flour.  
To make the cake, place the sugar and butter into a bowl and cream until pale. Whisk in the eggs.   Fold in the plain flour, baking powder, and cocoa powder. 
Stir in the red food colouring or paste and pour into the tin. It must be a deep red. 
Bake for 20 to 25 minutes until cooked through. Insert a skewer to check that it is cooked – the skewer will come out clean. 
Leave in the tin to cool before transferring to a cooling rack. 
To assemble the trifle, slice the cake into pieces.
Make the strawberry jelly accordingly to the instructions on the packaging. Leave to set slightly. 
To layer up, using a pretty glass bowl, spoon some custard on the base, add slices of cake, drizzle some sherry, add the raspberries, whipped cream, more cake slices and jelly, caramel whipped cream and continue until ending with whipped cream. 
To make the snowmen, line a tray with parchment.
Melt the chocolate and marshmallows in a bain marie and take it off the heat.  Stir in the rice krispies.
Leave to cool slightly, spoon some mixture into your hands and roll it in 5 large balls for the body of the snowman and place onto parchment. Now do 5 smaller ones for the head. Leave to set completely.  To assemble, glue them together with a little melted chocolate and leave to set.
Make 5 small hats from the "ready roll" fondant and create eyes and buttons.
When set, stick the hats, buttons, and eyes on with a little melted chocolate. 
When ready to serve, arrange the snowmen on top of the cream.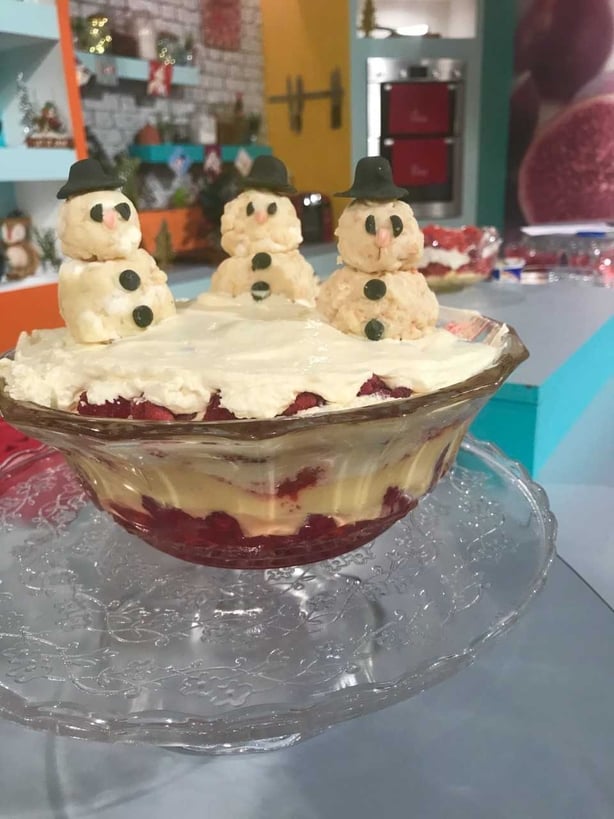 Recipe sponsored by Avonmore