Donal Skehan dishes up Tortellini Spring Drop Soup in 5 minutes. Tune into RTÉ One at 8:30pm every Tuesday to watch Donal's Meals in Minutes.
Ingredients
1 tbsp olive oil
1 small onion, finely chopped
1 stalk celery, finely chopped
1 litre good quality chicken or vegetable stock, boiling hot
75g frozen peas
50g asparagus, trimmed and roughly chopped
4 spring onions, trimed and sliced in 5cm pieces
¼ savoy cabbage, finely shredded
125g pack tortellini
Sea salt and ground black pepper
To serve:
Pesto
Basil leaves
Pecorino cheese
Extra virgin olive oil
Method
Place a medium pot over a medium high heat and add the oil. Once hot sauté the onion and celery for 1 minute until just tender. Add in the stock and bring to a steady simmer.

Add in the peas, asparagus, spring onions and savoy cabbage and the tortellini. Cook for a further 3 minutes until the tortellini is cooked and season to taste.

Serve in deep bowls with a dollop of pesto, fresh basil leaves, shaved pecorino cheese and a drizzle of olive oil.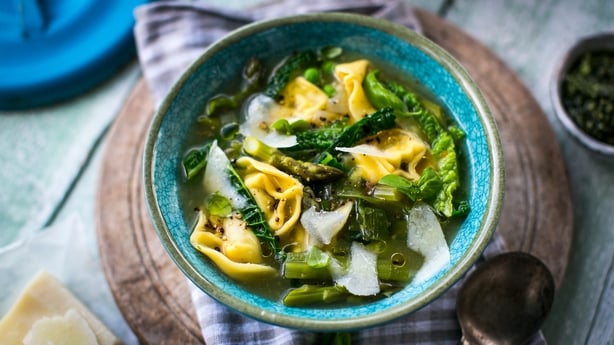 Nutri-facts
Per serving; 346kcal (calories), 19g Fat, 3g Sat, 27g carbohydrate, 8g Fibre, 17g
Protein
Great source of folate (mainly from cabbage, asparagus & peas)
---
Great source of Vitamin K.
---
Vitamin K is essential for healthy blood clotting.
---
Nutri-tips
Our food gut bacteria make Some Vitamin K for us but this recipe will certainly boost your levels
---

SPOTLIGHT FOODS IN THIS RECIPE
Cabbage
is a member of the "cruciferous" family of vegetables, which also includes broccoli, Brussels sprouts,
cauliflower, kale, radishes and turnips. It is a nutrient-dense, low-calorie food, containing vitamins,
minerals and phytochemicals. A serving of 80g has 21 kcal. Cabbage is an excellent source of vitamin C
and folate. It is a good source of fibre.