Each week on RTÉ Food, we meet one of the nation's hard-working Irish food producers to see how they do what they do so well. This week, we're chatting to Dorene Mallon from The Farmer's Daughter.
What is your food product?
Our food product is yummy beef burgers and we've got two delicious varities!
The classic burger which consists of grass fed beef from our farm, chopped onion, sea salt, cracked black pepper and a sprinkle of parsley. Yes that's it!!! No nasty ingredients! Exactly how you would make at home.
The next flavour is caramelised red onion and Irish cheddar cheese which recently won at the Blas awards. Both varieties are gluten free, no additives or preservatives.
Absolutely delighted. Winner at #Blas 2016 Irish food awards. Caramelised red onion & cheddar scooped a bronze. pic.twitter.com/veNaaztCFx

— The Farmers Daughter (@tfdaughter1) October 1, 2016
How are they made?
The burgers are made in small batches using grass fed Irish beef from our farm, high-quality cuts of meat, natural ingredients, parsley, chopped onion, Irish cheddar cheese, caramelised red onion, parsley….I look for anything that does not come in a powder format!
Everything has to be as natural as possible. My aim is that the consumer can understand all ingredients on the back of the packet! I find reading the back of food packets these days so puzzling because you have no idea what 's going into your food.
When and how did you first come up with the idea for your product?
Approximately one year ago. I got really fed up with the quality of work going into food. I really felt strongly that somebody had to start producing really good quality food that the people could trust!
Who buys your products?
Mainly families, young professionals, and people who really care about what is going into their food.
Wishing our valued customers a lovely weekend. Thanks for the support. #traceable #glutenfreeliving pic.twitter.com/cGuuZ0ifDG

— The Farmers Daughter (@tfdaughter1) May 27, 2016
Where do you source your ingredients?
The beef comes from our own herd of cattle on the farm! The rest of the ingredients we use can be found within a 50 mile radius…as I said, I love good quality food!
Does your product carry the guaranteed Irish label?
No, but only because we're still in the start-up stage of things. We just launched our products in store in January 2016 of this year!
Other than your own, what's your favourite product?
Glenilen Yoghurt…I think they do a really good quality and tasty product.
What is your view on 'organic' produce?
I love organic, I think it tastes much better and is worth every penny. However, I have not yet done my research on the proven benefits of eating organic compared to non-organic so I could be proven wrong on this matter. Either way, I love it. In my mind, the taste is much better.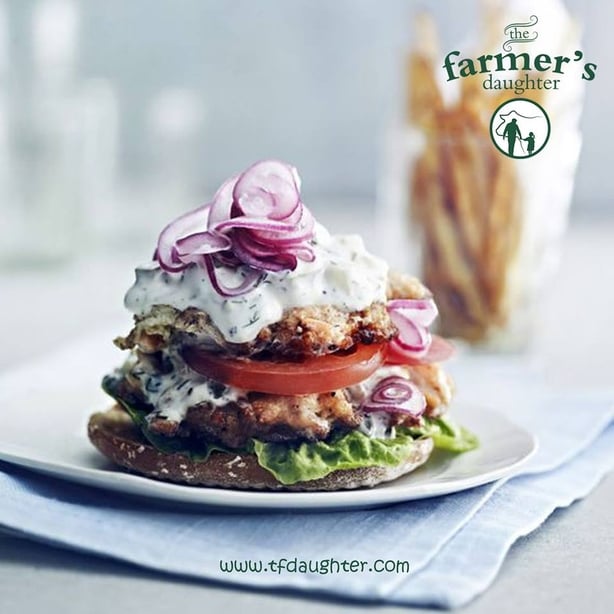 Many food producers are very passionate about their products – have you a message you would like to share with your customers?
My beef burgers are gluten, additive & preservative free. They are exactly how you would make them at home and all the beef is traceable to our family farm. You can't get better than that!
Is there any salt and/or sugar in your products? If so, how much and why?
Yes, there is sea salt in the classic burger because it enhances the flavour but less than 0.3g.
The caramelised red onion and cheddar burger doesn't contain any added salt, but the cheese has a little bit of salt in it.
What is the shelf-life of your product and how come?
Our burgers have 14 days from production as they are vacuum packed. However, this is a tricky part of the process as I want to sell my product as fresh as possible. Unfortunately, it is difficult to maintain a short shelf life product.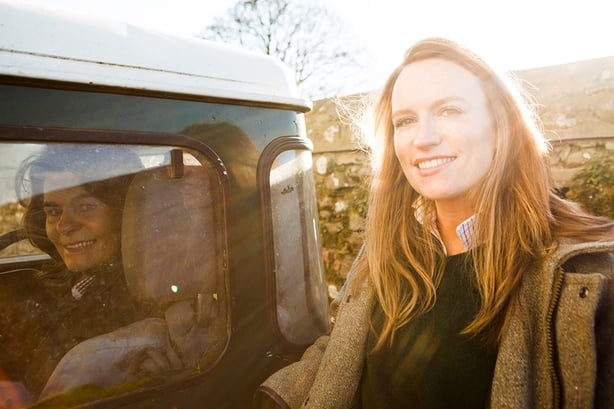 What would your death row meal be (aside from your own products)?
I regularly ask myself this question! My husband and I have had great discussions on the subject.
For starters, I would have Dublin bay prawns and crab claws cooked in garlic butter.
For the main course, it would be dry aged rib of beef on the bone, homemade chips with beef dripping. Yum!
Where can people buy your food?
Some amazing independents stock our burgers such as Avoca Malahide, Listons on Camden Street, Swans on the green in Nass, Lynams in Goatstown but mainly Supervalu around Meath, Cavan, Kildare and Dublin. We are only a start-up so trying to do a bit every week. Check out my website for stockists and let me know what you think!
Where can we find you on social media/online?