Aoife Noonan is taking over Ireland's foodie scene as executive Pastry Chef of John Farrell's restaurant empire. On Today with Maura and Dáithí, Aoife shared her recipe for these drop-dead-gorgeous Quinoa Caramel Squares.
Ingredients:
25g Uncooked Quinoa
100ml Boiling Water 60ml Maple Syrup
80g Pitted Dates ½ tsp Sea Salt
130g Smooth Peanut Butter
100g 70% Dark Chocolate, chopped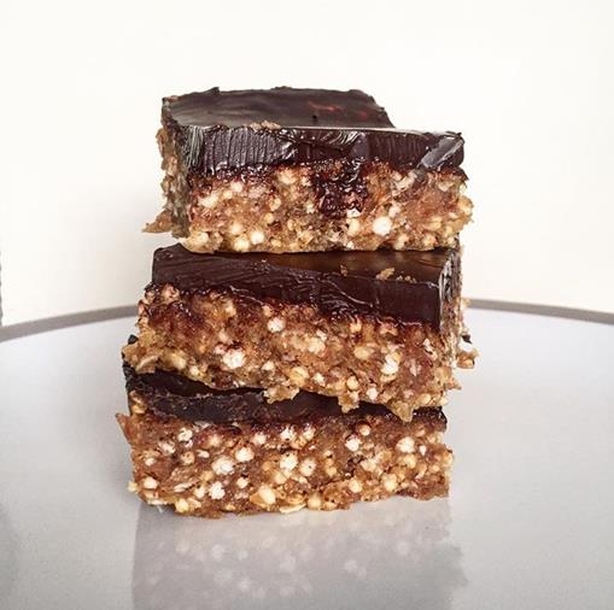 Method:
To melt the chocolate, fill a pan with water and put the pan on a high heat.
Make the popped quinoa by putting a medium sized saucepan on a medium heat.
When the pan is hot, add the quinoa and put a lid on the saucepan. Shake the pan to agitate the quinoa and trigger the popping, continuing to cook only briefly until the popping starts and then begins to fade.
Remove the pan from the heat and pour the quinoa out onto a baking tray to cool.
Put the dates in a bowl with some of the hot water from the pan and leave to soak for a few minutes to soften.
6. Place the chocolate in a bowl over the pan of water, ensuring the bowl does not touch the water. Leave to melt gently while making the caramel filling.
Put the maple syrup, peanut-butter, drained dates and salt in a food processor and blend to a smooth paste.
Meanwhile, line a square tin with parchment paper and set aside.
Tip the quinoa pops into a large bowl and add the date paste. Using clean hands or a latex glove, mix the quinoa pops with the paste until fully combined.
Press the mix into the lined tin and smooth the edges using a spoon. Put the tin in the fridge or freezer for a few minutes to set.
Check the chocolate is fully melted by stirring with a spatula until smooth and glossy.
Remove the tin from the freezer and pour the chocolate over the set mix, spreading to smoothen.
Place the tin in the fridge or freezer again until the chocolate has set before cutting into squares.
Equipment:
2 x Medium Saucepans (1 with lid)
Food Processor Large Mixing Bowl (Quinoa)
Small bowl (Dates)
Glass Bowl/Medium metal bowl (Chocolate)
Serving Plate 2 x Spatulas Parchment Paper
Fridge/Freezer
Baking Tray
Chopping Knife