Paul Flynn shares his recipe for lamb gigot chops with basil and rough and ready ratatouille on Today with Maura and Dáthí.
Ingredients:
2 pkts of gigot lamb chops (740g)
I aubergine(330g)halved and cut into chunks.
2 red peppers(422g) quartered and deseeded.
2 courgettes(500g) cut into chunks.
2 red onions(208g) peeled and quartered.
2 solo garlic(46g)peeled and roughly chopped.
8 new potatoes (495g)cooked
3 tbsp basil pesto.
12 cherry tomatoes,halved(180g)
A good splash of olive oil.
I Tsp of sweet paprika.
Juice of 1/2 orange.
Salt and pepper.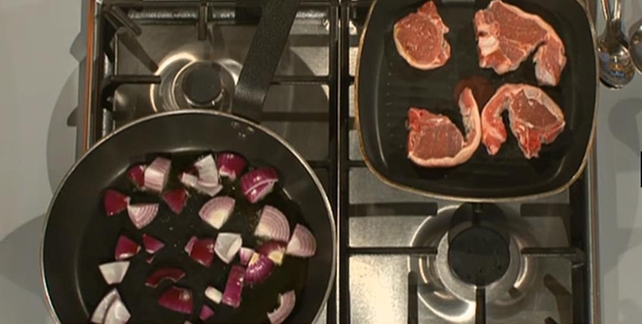 Method:
Set the oven to 200 deg
Put all the ingredients except the Basil,tomatoes and orange on a large roasting tray scrunch them all together whilst making sure the chops are not overlapping.
Put in the oven for 35 minutes turning once or twice during the cooking, again making sure the chops are nicely spread out
When everything is ready squeeze the orange juice over the dish, stir in the Cherry tomatoes Basil pesto, check for seasoning and serve.