This Super Food Salad is the perfect meal to fight those on-coming colds!
Ingredients
100g broccoli florets, purple sprouting if you can get it
100g asparagus tips
50g sugar snap peas
80g frozen edamame beans, defrosted
100g cooked quinoa
80g feta cheese, cut into cubes
100g blueberries or pomegranate seeds
40g toasted sunflower seeds, pumpkin seeds, smoked almonds and hazelnuts
Handful baby spinach leaves
3tbsp Avoca Kilmac French dressing
Small head frisèe lettuce, torn
Method
Pre-heat oven to 180°c/approximately Gas mark 6
Blanch and refresh all the broccoli, asparagus, peas and beans.
Cook the quinoa (approximately 8-10 minutes) or lentils (approximately 15-20 minutes) until al dente, drain and allow to cool.
Cut the feta cheese into cubes.
Toast the seeds or nuts in a pre-heated oven until golden. This will take between 8-10 minutes for the seeds, a little longer for the nuts: keep a close eye on them. Remove from the oven and allow to cool.
In a bowl, mix together the frisèe lettuce, spinach leaves, quinoa or lentil, seeds and nuts and dress lightly with a little of the French dressing.
Next, gently warm the cooked green vegetables with a tablespoon of French dressing in a frying pan for 2-3 minutes.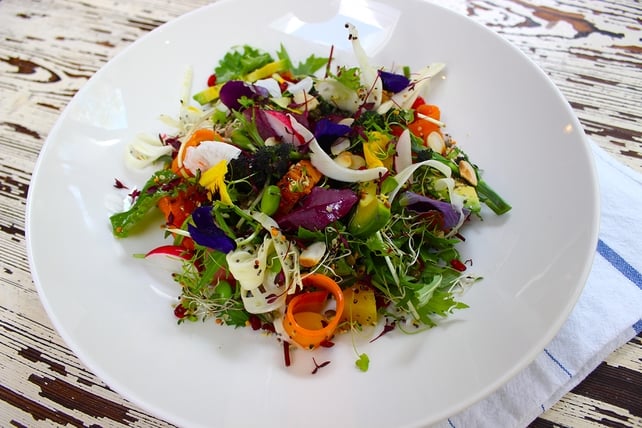 To assemble:
Place some lettuce, grains and seed mixture on a plate, then some of the greens, add some feta and repeat this layering until you have used up all the ingredients.
If you can get them, pomegranate seeds add a nice touch of colour and contrast in texture, otherwise use blueberries.
To serve:
Put a little jug of extra dressing on each plate.
Recipe courtesy of Avoca