Aoife Hearne shares her tasty and healthy pizza recipe from her brand new cookbook The Plan. Bonus: It's just 620 calories!
Ingredients for the pizza base:
150 g strong flour
1⁄2 tsp fast-action dried yeast
1⁄4 tsp salt
100 ml boiled water, slightly cooled
1 tbsp olive oil
Ingredients for the toppings:
120 ml passata
2 tbsp tomato purée
50 g cooked ham, sliced
10 g pepperoni, sliced
1 green pepper, deseeded and sliced
1 red pepper, deseeded and sliced
1 red onion, chopped
70 g sweetcorn
sprinkling of uncooked polenta
90 g mozzarella cheese, sliced
Ingredients for the side salad:
50 g salad leaves
50 g cherry tomatoes, halved
1⁄4 cucumber, thinly sliced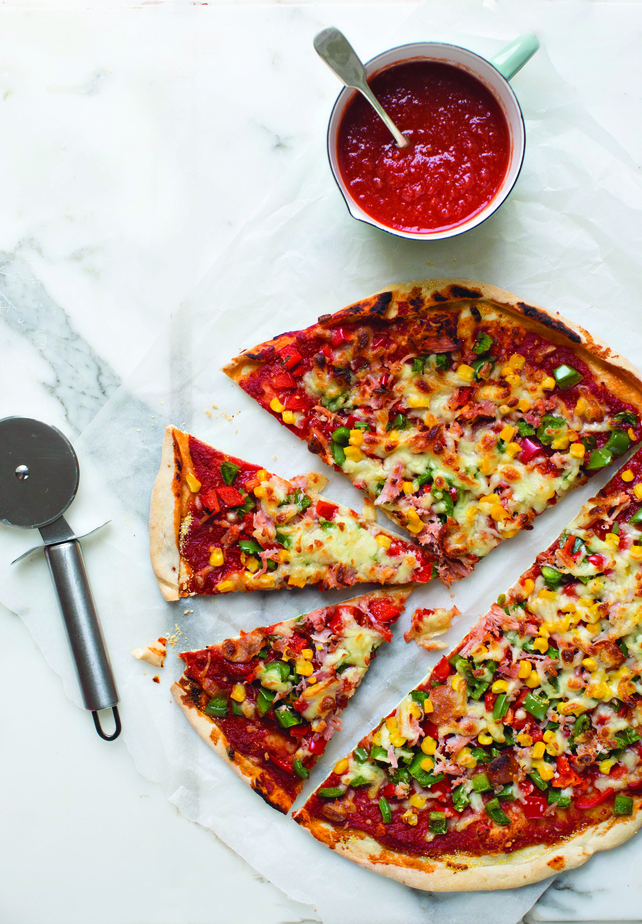 Method:
Mix the flour, yeast and salt in a large bowl. Pour in the warm water and oil, and mix to a rough dough – it should feel damp but not overly sticky. Set aside for 5 minutes.
Sprinkle some flour on the work surface and knead the dough for 5–10 minutes.
Place in an oiled bowl, cover with oiled clingfilm and leave to rise until doubled in size. (You can
leave it to rise in a warm room for 1 hour or overnight in the fridge.)
Preheat the oven to 220°C/425°F/gas 7.
Once the dough is ready, shape it into a round shape and leave for at least 15 minutes – it may take longer if the dough has been in the fridge overnight.
Roll out into a circular shape.
For the topping, mix the passata and tomato purée in a bowl. Spread the tomato mix on the pizza base.
Add the rest of the toppings and then sprinkle the cheese on top.
Place in the oven for 10–15 minutes.
Serve with the side salad.
Top Tip: Leave the dough to rise overnight in the fridge, as this will boost the flavour – and it makes for quick preparation.
Calories: 620