Dublin Cookery School's Lynda Booth is sharing her recipe for mouth-watering Crepes with Summer Fruits.
Watch the video below for Dublin Cookery School guide to Crepes with Summer Fruits:
Ingredients:
125g plain flour
2 good pinches salt
2 eggs, separated
1 tablespoon melted butter
300ml milk
sunflower oil, to grease the pan
Filling:
150g mascarpone
100ml cream
20g sugar
¼ vanilla pod
For the fruits:
150g sugar
150ml water
1 stick cinnamon
250g strawberries, hulled and sliced in half
125g raspberries
125g blueberries

Equipment:
Non stick frying pan or crepe pan, about 24cm-28cm in diameter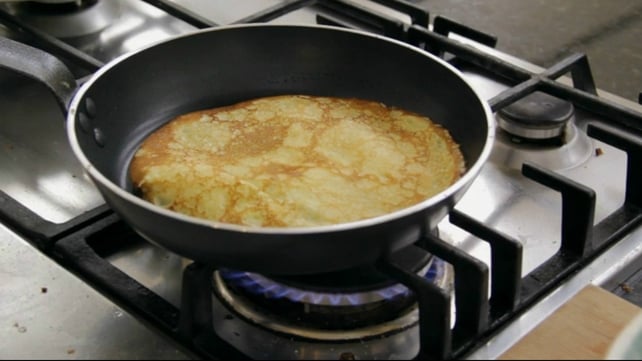 Method to make the crepes:
Place the flour and salt in a medium bowl and mix. Make a well in the centre of the flour.
Place the yolk and a little milk in the centre and using a hand whisk gradually draw in the flour from the centre, adding the milk and the melted butter as you go. Allow to rest for 30 minutes.
Just before cooking the crepes, whisk the egg whites to soft peaks and fold into the batter.
Heat the crepe pan until hot. Moisten some kitchen paper with sunflower oil and use this to rub a light film on the pan. Pour a small ladleful of batter into the pan and rotate it until the batter covers the surface. Cook for 30-40 seconds or until lightly golden.
Loosen the pancake with a spatula and flip over onto the other side. Continue with the rest of the batter.
Layer the pancakes with a piece of bakewell in between each one. Keep warm in a low oven covered with tin foil. The crepe may be cooked earlier in the day and reheated.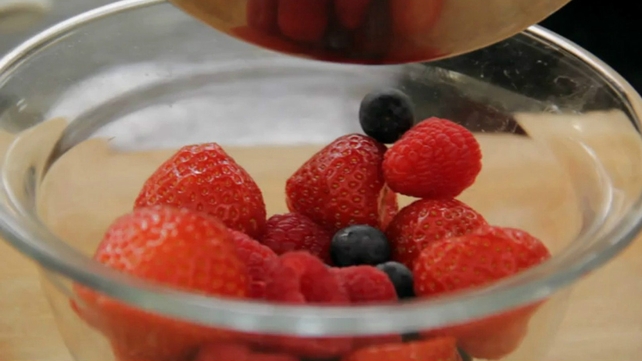 Method to prepare the filling:
Place the mascarpone, cream and sugar in a bowl. Split the vanilla pod in half and scrape out the seeds. (Reserve the rest of the pod for the sugar syrup).
Whisk the marscapone and cream together until it holds a shape. Refrigerate until ready to use.
Place the water and sugar in a small saucepan and bring up to the boil. Add the cinnamonstick and the reserved vanilla pod. Boil for about 2 minutesto reduce. Allow to cool for about5 minutes.
Pour the sugar syrup over the fruit.
Serve the crepes with a spoonful of marscapone cream and spoon over the summer fruits.
The video has been produced in partnership with Lynda Booth's Dublin Cookery School in Blackrock using one of their own recipes. The school was named 'Best Cookery School in Ireland' in 2013 & 2015 (Irish Restaurant Awards). For further information, click here. Follow Dublin Cookery School on Facebook, Twitter and Instagram !