I tasted a soup with these ingredients in Laos a few years ago and when I came home I set about recreating that delicious flavour.
Rory added: "Carrot soup is a funny thing as you imagine it would be easy, but in fact it can be difficult to achieve a really flavoursome result. However with this lovely combinations of flavours I think it works really well. It is worth noting that lemongrass grows successfully in this country in a glass house or conservatory or even just a south facing windowsill. If possible buy carrots with the mud still on as generally they have much more flavour than pre-washed ones."
Ingredients:
I like to make this soup with big carrots that have been sold with some earth still on and preferably after the first frosts, when they seem to become deeper in flavour, so this becomes a late autumn and winter soup
Lemon grass is easy to source now and is a lovely ingredient with its sweet, scented and astringent flavour. Bright green when fresh, it dulls in colour to a pale straw colour when dried which is the way it is sold generally in the west. Here it needs to be sliced as finely as you can, so that it will cook down and disappear into the pureed soup. Be careful when running your hands over the grass, as its leaves can be razor sharp. If you have not cooked with it before, give it a go as it will open up a world of different recipes to you.
Coconut milk like the lemon grass above is an essential ingredient in the cooking of south east and indeed southern India. Like lemon grass, using it is an entry ticket to a repertoire of dishes bigger than you can imagine. The first time you open a can, you may be surprised by the rather grey white colour of the contents. That's fine, that's the way it looks. Apart from the colour the general appearance can also vary. Sometimes it will be thick and solid on top which is the richer cream, with a thiner watery milk like liquid underneath. If the can has been shaken the two different consistencies can appear rather curdled, again that's all quite alright. Just stir the two liquids together to mix. Some brands of coconut milk have been emulsified to prevent the two liquids from separating and to give the coconut a creamy appearance. I avoid these brands because apart from the fact that in some recipes the thick and the thin are added separately, I really just want the coconut and water that is used as part of the process and don't want the stabilizers and emulsifiers that are added to the creamed version. The quality of tinned coconut milk varies quite a bit, so search out a good brand such as Chaokoh.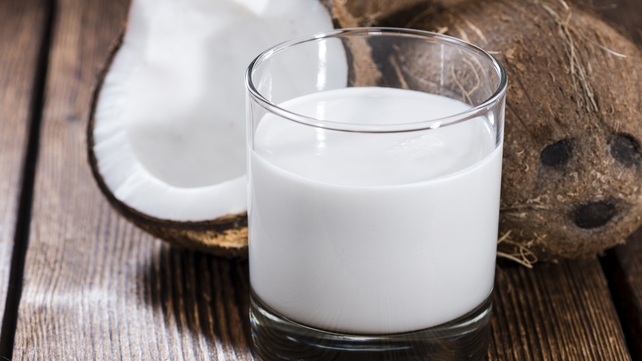 40g butter
700g carrots, peeled and thinly sliced
225g onion, thinly sliced
1 clove of garlic, chopped
2 stalks of lemon grass
850ml chicken stock
500ml coconut milk
salt, pepper and sugar
fresh coriander leaves to garnish
Method:
Melt the butter in a heavy bottomed saucepan and allow to foam.
Add the carrots, onions and garlic and coat in the butter.
Remove the coarse outer leaves and the tough ends from the lemon grass.
Slice the trimmed stalk finely against the grain and add to the vegetables. Tie the tough outer leaves together with string and add to the saucepan. Season with salt, pepper and a pinch of sugar.
Cover with a greaseproof paper lid and the saucepan lid. Cook on a low heat for approx 20 minutes, or until the carrots are beginning to soften.
Add the chicken stock, return to a simmer and cook covered, until the vegetables are completely tender. Remove and discard the tied up lemongrass stalks. Puree the ingredients to achieve a smooth and silky consistency.
Heat the coconut milk to a simmer, add to the carrot puree and mix well. Return the soup to a simmer. The consistency will be slightly thick.
Taste and correct seasoning bearing in mind that carrots sometimes benefit from a small pinch of sugar to really lift the flavour.
Serve hot, garnished with coriander leaves.