Filled with cream and jam such as strawberry, raspberry, blackcurrant and apricot, this cake is a joy according to Ballymaloe's Rory.
Rory says: "There are few cakes that I like better than this old fashioned sponge. The cake should be light and filled with masses of tiny and invisible air bubbles and it is then a most lovely vehicle for all sorts of fillings. 

"Summer fruits such as sweet strawberries can be sliced or crushed and added to the fillimng. Raspberries, logan berries or tayberries lightly sugared and left whole, peaches or nectarines sliced and again lightly sugared are all contenders for the filling.  

"My favourite filling is a combination of a soft fruit such as those mentioned above and a jam made from the same fruit and some whipped cream. You can be creative here and out of the home grown fruit season, pineapple or lightly poached apricots make a perfect change.

"This is the cake I like to use when making trifle, and I sometimes freeze one of these to have ready for that task. Strictly speaking, this is a cake to serve with tea, but I think it is every bit good and special enough to serve after dinner. The sight of this coming to the table on your favourite cake plate will gladden all."
Ingredients:
Good quality free range eggs make a big difference to any cake and are especially noticeable in the colour and texture of this cake.
2 x 23cm cake tins with sides 5 cm high, brushed with melted butter, dusted with flour, tapped and turned upside down to shake out any excess flour and the base then lined with a snug fitting disc of greaseproof or parchment paper.
4 free range eggs at room temperature
110g caster sugar 
1 teaspoon vanilla extract
110g plain white flour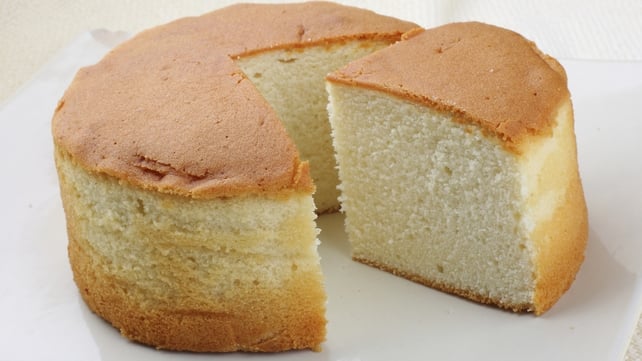 Filling
2 generous tablespoons of jam such as raspberry, strawberry, blackcurrant
250g of fresh fruit such as raspberries or strawberries 
225 ml cream
Method:
Preheat the oven to 180c / 350f / gas 4.
Put the eggs, sugar and vanilla into a bowl of an electric mixer and whisk until it increases in volume to become a light, pale and air filled fluffy mousse. This will take at least 10 minutes and sometimes as long as 20 and is crucially important as this is the part of the recipe where the all important air is incorporated into the mixture. If you are using a hand held electric mixer, it may take even longer. When you lift the whisk out of the bowl and make a figure of 8 with some of the mixture, it should hold that shape for several seconds to indicate a firm and air filled mousse.
Sieve the flour, one third at a time on to the mousse and fold in gently with a long handled rigid rubber spatula.
When all of the flour is added, divide between the prepared tins, being careful not to knock air out of the mixture by being rough or banging the tins.
Place the tins gently in the oven and cook for 20 minutes or until the cake is lightly browned and cooked. The cake will feel gently firm on top and will be barely shrinking in from the side of the tins.
Place the cakes still in their tins on a wire rack to start cooling. After 10 minutes, gently remove the cakes from the tins and again place on the wire rack to cool. 
When the cake is completely cool, whip the cream to a soft peak. Remove the parchment paper and spread the jam on the base of the cake, followed by the cream and then the fruit.
Place the top on the cake and if you wish sprinkle with a light dusting of caster sugar for a traditional but delicious lightly sparkling finish.