"This is a great recipe which can be used all year round. I use fresh berries in summer and autumn, and frozen in winter" says Rory O'Connell.
The geranium leaves for this recipe come from the lemon scented geranium, and they add a highly scented and delicious flavour to the syrup and the fruit.You will find this geranium in a good garden centre and it is well worth having. It can sit outside in a sunny spot in summer and needs to come back in to a sunny windowsill, conservatory or glass house for the winter months. It is immensely useful and I also use it to flavour mousses and soufflés, sorbets, granitas and ice creams. It also pairs beautifully with blackberries and apples or better still a combination of both of those fruits.

I have on occasions replaced the geranium with mint, lemon balm or lemon verbena with excellent results.
Serve these berries with Raspberry Fool or Ice cream or with Chocolate Mousse or Soft Vanilla Meringues.
Ingredients:
Ripe fresh or best quality frozen berries are equally successful here. If using frozen berries, there is no need to defrost them before use.
Sweet geranium leaves, you will need to grow yourself as you will not come across them in the shops. The plants, specifically the lemon scented Pelargonium Graveolens, can be bought at a garden centre, are easy to grow and not in any way fussy. Once they are established, you will have more leaves than you know what to do with.
The water in the ingredients should be cold so as it draws the flavour out of the leaves and into the syrup as it comes up to a boil.
600gr raspberries, fresh or frozen
350gr sugar
400ml cold water
6-8 sweet geranium leaves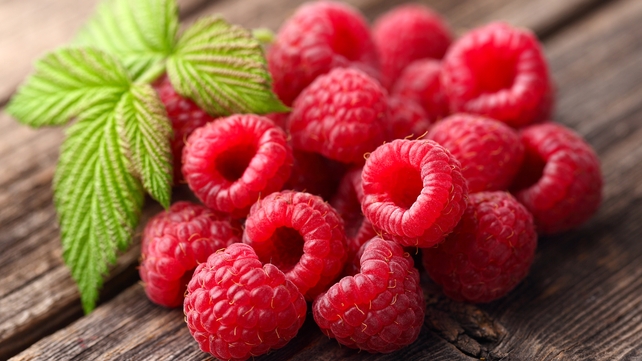 Method:
Put the berries into a large heatproof bowl.
Put the cold water, sugar and leaves in a saucepan and slowly bring to the boil, stirring occasionally to make sure the sugar dissolves. Allow to simmer for 2 minutes.
If using frozen berries, pour the boiling syrup straight over the berries, straining out the geranium leaves as you go. If using fresh berries allow the syrup to cool for 5 minutes before straining and pouring over the fruit.
The fruit can be eaten immediately while still warm which is lovely during the winter months, or leave the fruit for a couple of hours and served chilled.
It keeps for several days in the fridge.