Pop star-turned-TV presenter Rochelle Humes is a prime example of a woman juggling motherhood with a thriving career.
The 29-year-old – who rose to fame in S Club Juniors before becoming a member of mega-successful girl group The Saturdays – has two daughters, Alaia-Mai, five, and Valentina Raine, who turns two in March, with her husband, former JLS star Marvin Humes.
Having recently filled in on ITV's This Morning for Holly Willoughby, while Willoughby was in the jungle, Humes will be also co-hosting a new Saturday night BBC music quiz show, The Hit List, with her husband later this year, as well as co-presenting a new series of Ninja Warriors UK in April.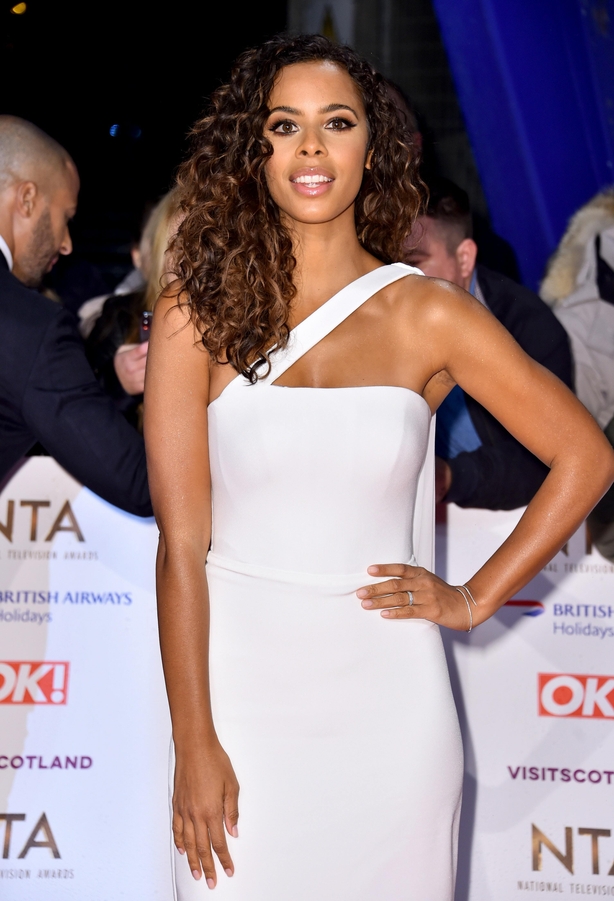 It's a full plate – but the bubbly star credits a combination of things for helping make it work, including a good "support network", her and Marvin working as a team, as well as lessons learned from her own childhood, growing up with a hard-working single mum (Humes' parents divorced when she was three and she was raised by her mother, Roz Wiseman, with help from her uncle, former footballer Paul Ince).
Here, Humes talks parenting, 'mum guilt' and marriage…
On fitting it all in…
"In terms of motherhood, I just treat each day as it comes. Marvin and I sit down on a Sunday and figure out the week. I was brought up with my mum working every hour God sends and it's important to show children that you have to graft.
"But do you know what? I'm winging it like everyone else. There's no recipe, no formula. I'm lucky I've got a good support system.
"I don't have a nanny. My mum has been a paramedic for so long but has slowed down with that now. I also have a very good babysitter who is nearby. My eldest is in school."
On 'mum guilt'…
Humes says she has felt less guilty about her work-life balance since Alaia started school.
"Alaia came everywhere with me when she was little. She's so adult-like because she was around us for a while until she started nursery. But my mum says to me, 'You never grow out of the guilt'.
"Mum guilt is such a normal thing, whether you're a working mum or a stay-at-home mum. My friend feels guilty because she's not providing and feels that she's not showing them that working is good. That's the nature of being a woman. You just put pressure on yourself every now and again. "
On advice to other working mums…
"It's hard to give advice when you're figuring it out yourself, but every now and again, you've got to give yourself a pat on the back. What you are doing at the end of the day is essentially for your kids. Try not to put too much pressure on yourself."
On her debut children's book…
Humes is now dipping her toes into the world of children's fiction too, with her debut picture book, The Mega Magic Hair Swap! The story was inspired by her daughter Alaia-Mai and her best friend and tells the story of two young friends – one with dark curls and the other with straight blonde locks – who both dislike their own hair and want to swap.
SO excited to reveal the cover of my first children's book 'The Mega Magic Hair Swap'. Out Feb - Pre order now 🥥💞 https://t.co/FvDVovTbX5 pic.twitter.com/7kkEsNfNU2

— Rochelle Humes (@RochelleHumes) September 8, 2018
"It came about because my daughter was going through this phase where she didn't like her hair, and was noticing the fact that she was a little bit different to her best friend and the friends in her class. It started off with hair and then it was skin colour. She wanted hair like her best friend at school.
"I would make up these little stories as mums do – and then The Mega Magic Hair Swap! was born, but with a good moral. I think it's bigger than hair. The moral is to teach kids to be who they are. I want all my books to have a moral, to have positive stories for young children and to have every child represented.
"Everyone goes through a phase where the grass is greener, but with age, you become more comfortable in yourself, from what you look like to how you approach situations. You learn to love and appreciate what you've got."
On teamwork in marriage…
She and Marvin, who live in Essex, share childcare duties, with the help of their family network. The couple's careers seem to have run in tandem – both were singers in successful bands, both have gone on to be TV presenters. They've been together for nine years and married for seven.
"It's a funny thing. I'm his biggest cheerleader ever and he's totally mine. When you're in a comfortable relationship, when he's done well, I feel like I've done well myself. We get just as excited as each other.
"I count myself lucky having Marvin. My mum did it on her own, and I think, 'My goodness, we really lean on one another'."
The Mega Magic Hair Swap! by Rochelle Humes is published by Studio Press Books on February 7.