Vlogging parents Mike and Heather Martin lost custody of two of their children after being accused of being psychologically and physically abusive to them by fellow Youtubers and social media users.
The children, Emma and Cody, are now with their biological mother Rose Hall.
The controversy surrounding the YouTube vlogging channel of the Maryland couple, Mike and Heather Martin, called DaddyOFive heated up in April.
Mike and Heather garnered a lot of negative attention online because their content consisted mainly of pranking their children, especially the youngest family member Cody.
The questionable content uploaded to the channel started to gain even more attention when YouTuber Philip DeFranco pointed out some appalling scenes within the family's videos:
"The more I dove into this channel's history, the more concerned I became [...]. They do mess with the kids and a lot of times it seems directed towards one specific kid and that is Cody."
Soon, many social media users were accusing the vlogging parents of being psychologically and physically abusive towards their children.
@MikeMartin1982 You don't support child abuse, but it sure as hell supports you. #anything4views #daddyofive pic.twitter.com/baSn9cLlaK

— Nate's Ya Mate! (@TheCapitalNRJ) 18. April 2017
In one of their most recent videos, the Martins played a prank on their nine-year-old son Cody by spraying disappearing ink on Cody's bedroom floor and blaming him for it. During the video, Cody starts crying and screaming hysterically trying to convince his parents that he isn't to blame for the ink stains:
"I didn't do that! I swear to God, I didn't do that!"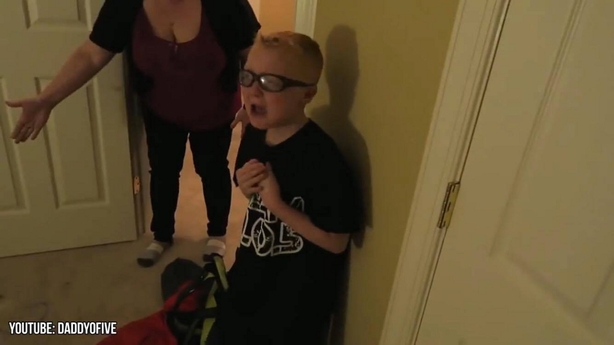 It was this video that sparked the discussion surrounding the actions of the DaddyOFive Vloggers. Mike and Heather Martin soon reacted to this backlash with a video talking about the "hate", they got.
In the video Mike asks the kids:
"Are you guys okay?" The kids answer "yes". Mike goes on to ask if they're upset. The kids negate. And everybody agrees that "it's just a prank" in front of the camera.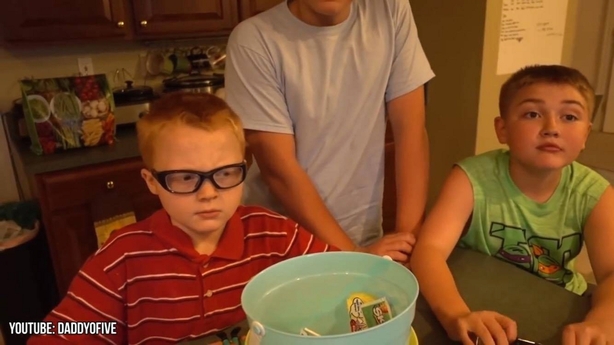 However, some viewers took the time to look through past videos and found more pranks and behaviour that some deemed as unhealthy.
In one particular video, the children's Dad tells his kids to play the water bottle flip game.
Mike Martin explains the rules as follows:
"You gotta flip the bottle and land it. Now if it lands, you're safe. Now if it don't land the other person gets to slap you in the face."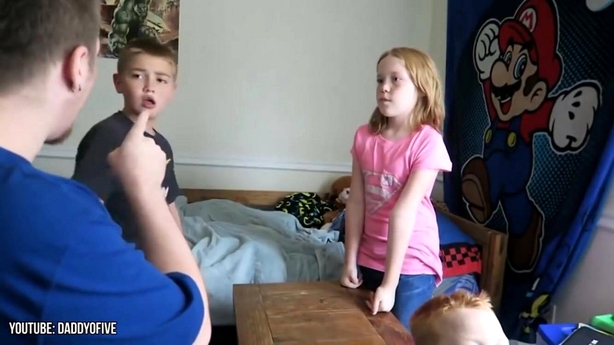 When one of his sons refuses to slap his sister after she didn't land the bottle, Mike persuades him to slap her by telling him "you don't hit girls, but she's your sister, she don't care". The result was a very hard slap and a girl in tears with the dad's laughter in the background.
People responded angrily on social media and in turn, the DaddyOFive creators, Mike and Heather Martin, uploaded a video in response entitled Family Destroyed Over False Acquisitions.
The description box of the DaddyOFive statement video says:
"This has gone way too far over FAKE YouTube pranks. We are sorry and we will change our style but you are putting our family in real danger.
"You are putting the kids that you think you are helping in real danger."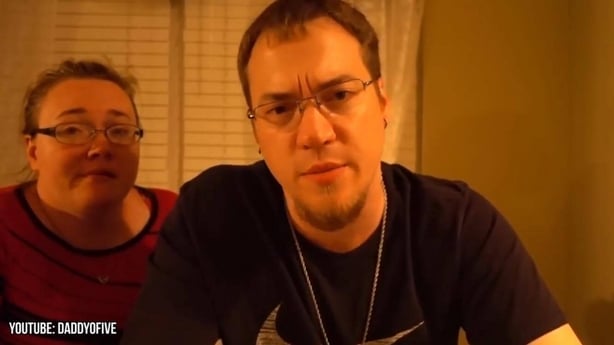 In the twelve-minute-long video, Mike and Heather Martin apologise to their fans who felt let down. They argue that their YouTube videos are fake and over exaggerated. They go on to explain that they might have to change their content in the future because of the current reaction.
"Right now we are under survivor attack by all kinds of media, by this DeFranco guy and all that – He made a video about us just steamrolling us.
"He never contacted me or anything, he never asked me if anything was real or anything like that [...] he watched a few videos and boom", said Mike.
He also emphasized that he'd rather lose his Youtube Channel and all his revenue than lose his children.

According to Mike that's why he deleted all previous videos from their channel.
I'm sorry everyone but I have taken down/demonetized all videos my family's safety is more important than fake videos

— Daddyofive (@MikeMartin1982) April 19, 2017
But the reaction on social media was mainly negative:
@MikeMartin1982 Correction: You don't want people watching them to find more instances of how horrible you treat your kids and make more "exposed" videos.

— Mark Dice (@MarkDice) April 19, 2017
@MikeMartin1982 You sir, are complete and utter garbage. I'm just glad the internet, being what it is, backed up your history of abuse before you deleted it

— Taylor Harris (@AntVenom) April 20, 2017
@MikeMartin1982 First we were haters. Then vids were exaggerated. Then it was Phil's fault. Then everything is fake. Lies. 1 million sentences in prison. 🖕

— HESH (@HeshdeSilva) April 20, 2017
We need your consent to load this YouTube contentWe use YouTube to manage extra content that can set cookies on your device and collect data about your activity. Please review their details and accept them to load the content.Manage Preferences
DeFranco responded to the allegations and commented on the newest developments in a follow up video which led to further accusations of child abuse and the indignation towards the vlogging parents.
Eventually, DaddyofFive uploaded a new response, in which they are less defensive and more apologetic:
"This has been the absolute worst week of our lives and we realize that we have made some terrible parenting decisions and we just wanna make things right."
Mike goes on to explain:
"During this week we've had a lot of time to stand back to jump out of character and to see what we've done and to see how we've come across. And I understand how everyone feels. I acknowledge and I respect how everyone feels about this and I do agree that we put things on the internet that should not be there, we did things that we should not do."
We need your consent to load this YouTube contentWe use YouTube to manage extra content that can set cookies on your device and collect data about your activity. Please review their details and accept them to load the content.Manage Preferences
Heather furthers their apology saying:
"And as a mother over the last week looking back at the videos and just thinking about things, if I didn't know the people and I saw some of those things I would be thinking the same thing. I would be like 'oh my god, there's poor children'."
"Once people started watching us and you know the kids got excited about it and they would try to see how many views they can get and we feel like we went from something that wasn't so bad and then we just kept going more and more for the shock factor versus reality to see what could get more views."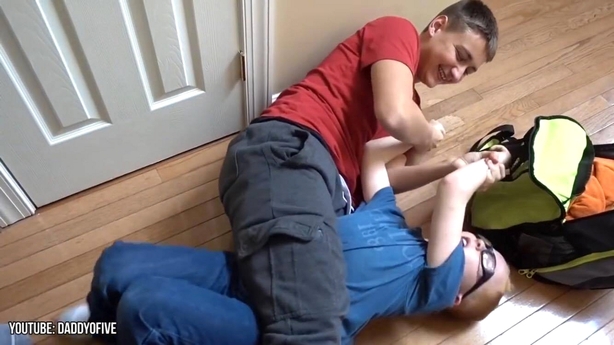 Heather goes on to say that the family are working towards a healthier future:
"We are now in family counselling because we need it. Not only to get through the, you know, media stuff but we need it to come back together and have everybody, even the kids, to understand what we did wrong in all this."
"We just wanna give our kids back some type of normalcy. We just want them to be able to get back to school and just live their lives. [...] we just wanted our kids to be happy and we went about it the wrong way. We're focused on making sure that our kids don't have to deal with so much backlash from our bad decisions and we realise now what kind of a situation we put them in and we're just really sorry to them", says Heather.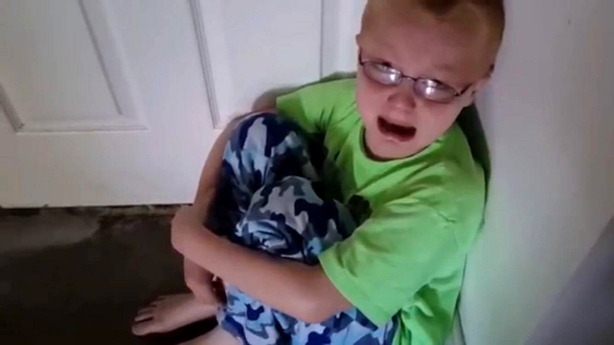 In the meantime Rose Hall, the biological mother of Emma and Cody, became aware and highly concerned of the way her kids were being treated by their father, their stepmom and their stepbrothers.
Last Friday she went to the Martin's house with law enforcement to take her children back home with her. On Monday, 1st of May she and her lawyer Tim Colon uploaded a video to let the concerned people know how the kids are doing now:
"Emma and Cody are with me, I have emergency custody - they're doing good, they're getting back to their playful selves."
The biological mother of the two children explains how they arrived in their home state:
"We went back to Emma and Cody's home state North Carolina. They were reunited with their grandparents and their cousins and their aunts and uncles - they were happy to see them and, you know Cody started remembering everybody and he was happy to be home."
Rose goes on to describe how Cody reacted when she arrived to the house with law enforcement:
"Cody had a difficult time - one officer brought him out to the car, he said some things that were disturbing - that he hated me and that Mike and Heather told him that I threw him away like he was garbage and I didn't love him no more."
Since spending time with his Mother, Cody has started to calm down:
"He remembered that it wasn't true that - what Mike and Heather said that I didn't love him anymore and didn't want him. He remembered that I did want him and I did love him."
When the lawyer asks her how Cody has been doing in the last couple of days Rose responded:
"He's felt pretty good, he has a long road to recovery - it's going to take a lot of counseling to help him, a lot of family counseling to get us all back on track as a close tight-knit family. But I know he can do it and we all can get through this."
The biological mother of Cody and Emma went on to thank those people of the YouTube community who expressed their concerns as soon as they were looking through the content of the DaddyOFive channel, including Philip DeFranco, Based Mama, Im Allexx and Suit Yourself.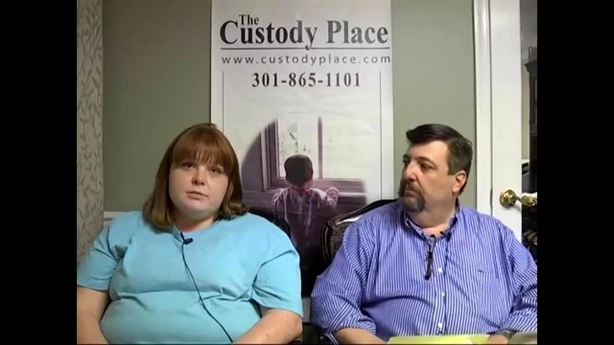 However, many more YouTubers have been sharing their thoughts about the DaddyOFive situation. One of whom was the Eh Bee Family who shared a video discussing the topic of family vlogging.
In a video, in which they express their concerns is titled WE NEED TO SAY THIS!
"The first thing that weighs heavy on my mind is when I see family channels focusing on the pain, weather it's psychological pain or physical pain of children. If something happens to a child, we believe personally that should be private", said Papa Bee.
Papa Bee added his thoughts about click bait and sensational thumbnails:
"Especially when all of these family vloggers say ' well, we wanna share all of our family experiences with our fans, we wanna show them the good and the bad'. Okay! - so then don't monetise your videos, when you do that."
They asked their viewers to hold channels accountable for what they put online. If the upset of a child is the main attraction of a video or the videos are clearly made to make money by showing hurtful content, viewers should question whether the kids are okay.
Mama Bee explained how important it is to create a good healthy environment for your children:
"Don't terrorize your children, don't make them so fearful that they'll start crying and screaming. That will cause tremendous anxiety in their lives, because they won't know when the next time will be that someone terrifies them."
"Let' create healthy environment for our kids – making them smile, making them laugh as much as possible, having fun. Let's not focus on the bad stuff and start focusing on the good stuff and then we can raise healthier children that become healthier adults."
We need your consent to load this YouTube contentWe use YouTube to manage extra content that can set cookies on your device and collect data about your activity. Please review their details and accept them to load the content.Manage Preferences
The Eh Bee family is an example for a healthy way of family vlogging. They are proof that vlogging doesn't necessarily has to be a bad thing, that puts the kids in a disquieting place.
And we have some Irish vlogging families too that are focusing on the good. But still the opinions about putting your children out there at a young age were, are and will be divided.
Check out the interview with the Irish vloggers The Kinsella Bunch and see some public opinions about vlogging in the brand new RTÉ Parenting series with Taragh Loughrey-Grant by clicking here.