Almost inevitably, every new car launch these days refers to some form of electrification, whether hybrid, plug-in or a full electric battery. For the new version of its smallest city car Toyota has, however, opted to have only a small petrol engine.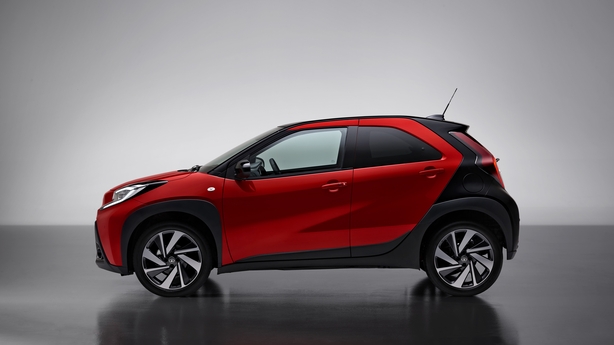 The Aygo X (or Cross) is the replacement for the dinky Aygo but instead of a standard small car design Toyota has opted for that small car practicality with a mini SUV twist. Thus the X has styling features taken from its bigger models and incorporated to match the minimal footprint of the car. These include new LED lights and a raised front profile. Initial versions will have an option of two-tone colouring.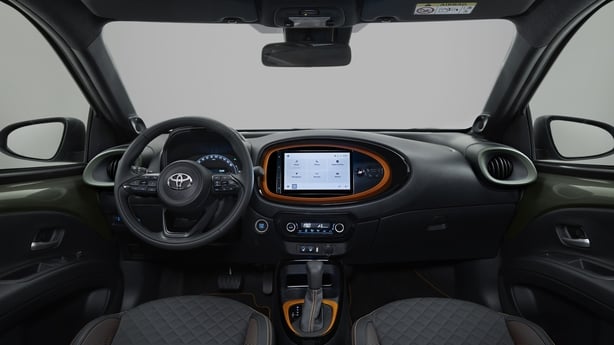 Cars arriving in Ireland will have a 7" inch infotainment screen as standard and the bigger 9" will be an extra option.
It will arrive in Ireland next April and will feature only a 1.0 litre petrol engine with a 72 horse power output. Toyota claims the car will be capable of a consumption figure of 4.7 litres of petrol per 100 kilometres and have emissions of between 107 and 110 grammes per kilometre. No electric version, or even a hybrid, appear to be in the pipeline. No doubt Toyota has other plans for small city cars in the coming years.
There will be a five-speed manual gearbox and an option of a CVT automatic. The car is built on the Yaris platform and that means the boot space will be significantly increased over that of the current Aygo. It now has 60 litres more space in the boot that will take it to an overall capacity of 255 litres.
Toytota has a policy of incorporating its Safety Sense package in all models from the bottom up, so there will be lane assist, cruise control and emergency braking features.
At the moment the Aygo, which the Aygo X replaces, comes in at around 15,000 Euros but the X version will likely cost between 15% and 20% more.