Toyota hasn't exactly been in a hurry to get its battery electric cars to the market, concentrating instead on building up a valuable chunk of the hybrid market in the meantime.
And it doesn't seem it's in too much of a hurry with its first all-electric car, the bZ4x, which it has announced will now be arriving in Ireland in May of 2022.
In the meantime, we are seeing the electrification race by other manufacturers gather real pace. Hyundai's Ioniq 5 and the Kia EV6 that arrived in Ireland this week both represent a real challenge to Tesla in terms of battery performance and range, design and a new type of interior experience with big screens and impressive graphics.
Suddenly the contrast between Tesla's smart interior and the rather dull offerings from other manufacturers is not as great as it was. And both the Ioniq 5 and the Kia EV 6 are a lot more stylish than Tesla's Model 3. Even Volkswagen's ID 4 looks a tad dated by comparison, and it's only been launched in the last few months.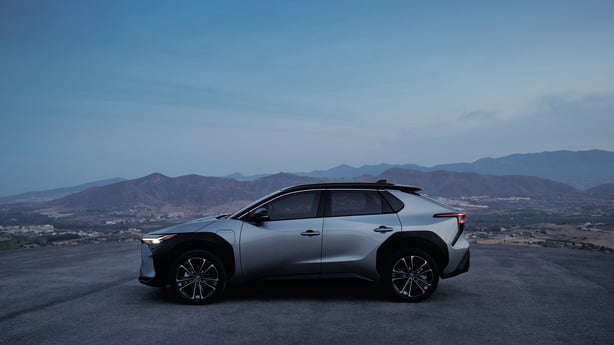 The Toyota bZ4x looks like a version of the Rav 4 and has a similar design profile, even though it is built on a new EV platform designed in conjunction with Subaru.
The Hyundai and the Kia, on the other hand, look a deal more sporting and adventurous.
The Toyota will have front wheel and all-wheel drive options and will come with an entry level 71 kWh battery that Toyota says will give it a range of 450 km. We have yet to drive an electric car that delivers on the manufacturer's claimed range, so we'll wait and see.
The car has a wheelbase 160 mm longer than the Rav 4, which should allow for a much more spacious and airier interior.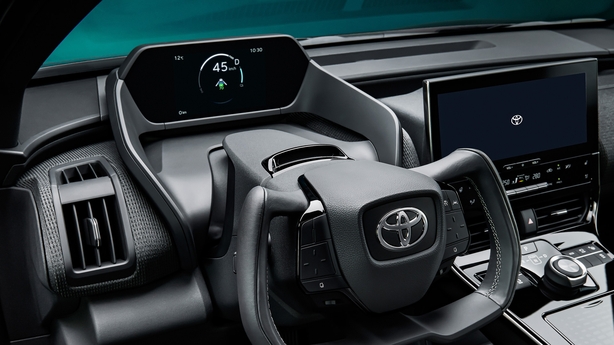 A smaller steering wheel, as pioneered by Peugeot, will be a feature and should allow the car to make a full turn with much less effort. The wheel will only have to be turned 150 degrees and there won't be any linkage between the steering wheel and the front wheels with the use of a technology called drive by wire.
The 0 to 80 % charge time on a fast charger is said to be 30 minutes and Toyota says it expects a battery degradation of only 10 per cent over a 10 year lifecycle for the car.
Another innovation is the option of fitting a solar panel in the roof space which, it is claimed, will provide solar power for up to 1,800 km a year. The safety package, which Toyota has been an industry leader with, has also been improved for the new car with quicker advance pre-collision detection.
There is no indication of prices for Ireland yet and it is likely to be some time before we get one.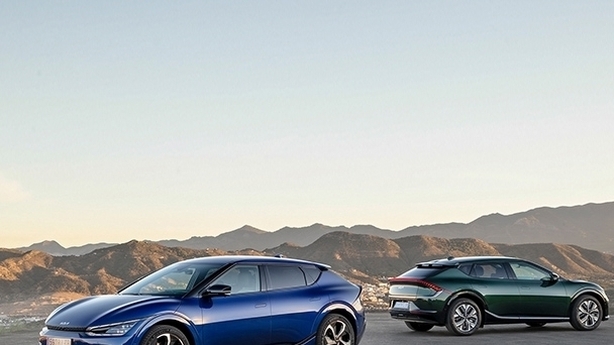 Kia's EV 6 comes in with a starting price of 50,000 Euros for the entry-level Earth version. The car has a 2.9 metre wheelbase, allowing for a really bright and spacious interior with very clean lines, big screens and impressive graphics. I only had a chance to have a brief drive in one this week but first impressions suggested that Tesla will have a battle on its hands to stay as far ahead as it has been thus far.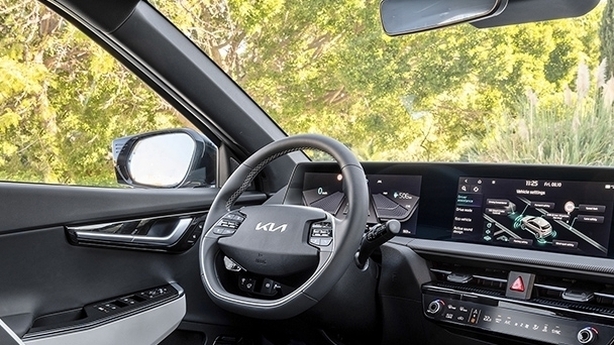 In terms of headroom, legroom and overall comfort, the EV 6 has a lot going for it. Kia is claiming a range of 528 km, but note the above warning. Kia has partnered with Ionity for its charging programme and says the car can be re-charged from 0 to 80% in just 18 minutes using an Ionity fast charger.
There's a GT version too. It will power from 0 to 100 kph in less than four seconds and it costs 4,300 Euros more than the Earth version. I'm looking forward to the longer drive.