For the moment, it doesn't spell the end for the Golf, but Volkswagen's ID is certainly the way of things to come. And it's just the first of VW's swathe of electric models.
Like a lot of people, I'm almost ready for a fully electric car. Almost, that is. Because like a lot of people I'm still nervous about making that last leap while range and the miserable charging infrastructure we have in this country remains issues. Car sales figures show a huge increase in the popularity of plug-in hybrids that are supplemented by a petrol engine and those figures show, I believe, that many people share my reservations. People like the idea of an electric car but they don't want to take a chance on being stranded on a long journey.
The issue of range remains a concern, even if electric cars are moving quickly towards better and more reliable ranges.
Some experts believe that until a car is capable of running for between 700 and 800 kilometres without a charge many people will find it a challenge to make the change from a conventional engine.

Ironically, as Volkswagen's ID 3 hits Irish roads we learn that a future version of the car will have a 600 km range but will cost more. In the meantime, we have the first version which has recently arrived with a claimed range of 410 kilometres and a price tag of €35,150 after grants.
There are two things I don't take at face value from car companies - electric car ranges and fuel consumption figures as both are pitched at the optimum. I had heard that the average range achieved from the ID 45 kw battery was about 330 kilometres and that, I reckoned, would be a good return. And so it proved to be.
The first thing that struck me about the car was its good, but conservative, looks and then I remembered that the Golf didn't get where it is today in terms of global sales by being overly adventurous. In fact, there's no better example of finding a successful formula and then tweaking it long so that it keeps up with the times, but appeals to the widest possible audience.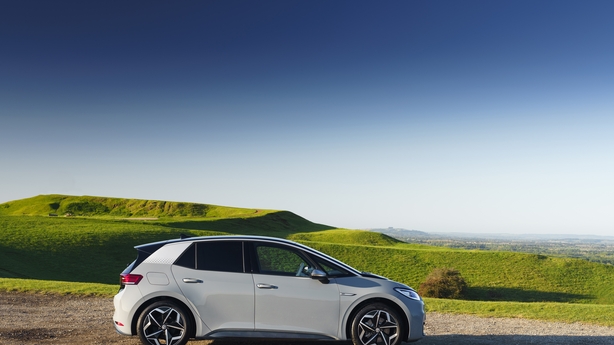 The ID then has clean lines and a very modern profile. It is also very spacious inside. There is a longer wheelbase and there is no engine to take up space at the front, so the occupants get the benefit of that extra room. For the tall driver, it's better than the Golf. And it will take five comfortably. The boot, by the way, is as good as that in a Golf.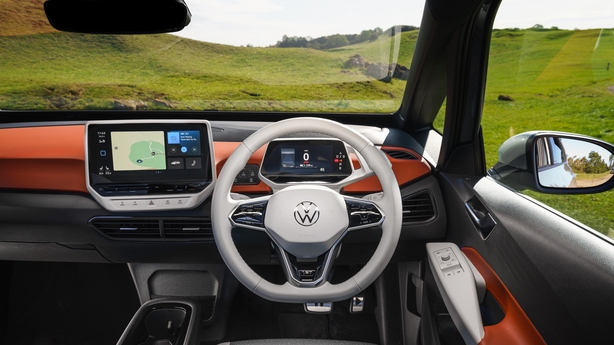 There are familiar features from the latest Golf, like the steering wheel and, like the Golf, the ID has moved away from buttons. Virtually every function is swipe and push and an excellent 10.5 inch screen displays everything clearly and functionally. In fact, I could have spent more time than I did exploring the level of detail it was capable of.
Driving it is impressive. It goes from 0 to 100 kph in about 7.3 seconds, which is not amazing for an electric car because acceleration tends to be lightning fast, but it's more than adequate. Unlike some other electric cars, it doesn't wallow in corners and it absorbs bumps without any fuss whatsoever. However, as I've mentioned before, driving an electric car is not about performance - the reward is in the energy saving and green perspective it offers and one's driving style tends to encourage that reward.
One thing I really liked about the ID was the fact that its recorded mileage matched the battery level available. I have driven electric cars where the two do not correspond and it's frustrating. The ID clocked up the kilometres and the available battery range reduced accordingly, so I knew exactly how far I could travel. After 200 kilometres, I still had another 130 or so to go.
There has been criticism of the interior trim and I have to agree that neither the door trims nor the upholstery added to any sense of quality, unlike the Golf. The central arm rest was flimsy and it seemed a good heft would have it off its hinge. The investment money here seems to have gone on the battery and the technology.
The ID has a good active and passive safety package and has achieved the top 5 star rating in the EuroNCAP crash test programme and should all the airbags ever go off the interior of the car will resemble that of a mattress factory.
There is plenty to like about the ID and very little to dislike, apart from that trim. I liked the price. I liked the rather understated styling, the space, the quietness and smoothness and I liked the range too. Roll on that 600 km range version and even cheaper prices for electric cars and I'll be even nearer again to my final conversion.