As more consumers consider making the move to a fully electric car, James McNamara asks whether Hyundai's Ioniq has enough pulling power in a fast-moving market.
At the start of lockdown, possibly the only winner was the environment. Commuters stayed at home slashing car emissions, the crowded skies emptied and many polluting industries were forced to temporarily close.
Ireland's greenhouse gas emissions fell by around 2.5 per cent during the height of Covid-19 restrictions between March and May, according to a new study by the Environmental Protection Agency. On a global level, it was said the planet hadn't enjoyed a breather like this since the end of World War II.
However, more recent figures reveal the world's emissions are now only an estimated 5 per cent lower than this time last year - and that's before normal activity has even resumed.
So, while we grasp for positives from a humanitarian disaster, the reality is that as restrictions are eased, fears around using public transport will inevitably drive more motorists than ever on to our roads.
Against a backdrop that could even accelerate climate change, it is expected that more consumers will give serious consideration to buying a fully electric car.
There has already been a slump in sales of diesel and petrol cars, although the spike in electric vehicles sales is believed to be less to do greener attitudes and more to do with government rescue packages designed to make buying EVs more attractive.
Regardless of motivations, with a growing number of options in the busy EV market, there is plenty to consider.
One option is Hyundai's fully electric Ioniq - a five-door hatch in direct competition with an entry-level Nissan Leaf.
This version's battery has been given a considerable power boost to 38.3kWh - up a third on its predecessor launched three years ago. It has more clout under the bonnet with 134bhp - 15bhp up on the old model and capable of 0-100km/h in 9.7 seconds.
For those suffering from range anxiety, there will also be relief that this car has a claimed range of 312km, 41km further than the basic 40kWh Leaf.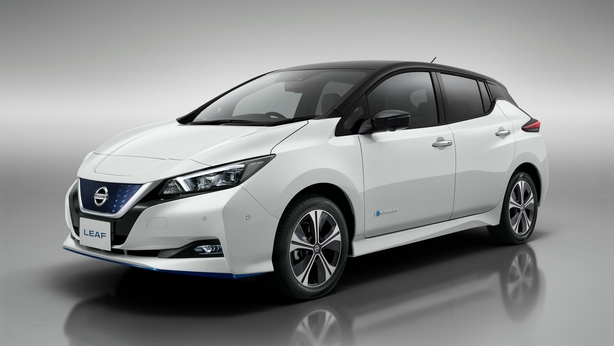 The latest edition of the Ioniq has had an overdue nip and tuck, resulting in a marginally improved face. The original smooth front, which resembled a face mask long before it was mandatory to wear one, has been replaced by a plastic dummy grille. There are sliding hatches either side of the Hyundai badge, which open automatically to cool the hardware inside and close to reduce drag at high speeds.
Sitting in silence at traffic lights in the Ioniq, the peace and quiet is only interrupted by a short beeping noise warning that the vehicle in front is pulling away. A faint whirring of the virtual engine sound system (VESS) is activated once the car is on the move.
Perched on 16in alloy wheels, the Ioniq handles really well on the commute and happily zips through town. At higher speeds it is not as comfortable and can actually feel a little unstable.
Inside, the vehicle is fitted with natural eco-friendly materials designed to create a relaxing environment. But don't look down too often - below the organic sugar cane and volcanic stone, lower grade plastics let down the eye-level luxury.
Apart from the rear spoiler intruding on the view through the rear windscreen, overall visibility is good.
Meanwhile, the test car's two-tone light grey and beige seats bring an executive feel to a modest saloon, while a flat-bottomed stitched steering wheel is pleasant to grip. Either side, two nifty paddle shift levers select different levels of regenerative braking. When set to the strongest of three modes, you will barely need to touch the brakes.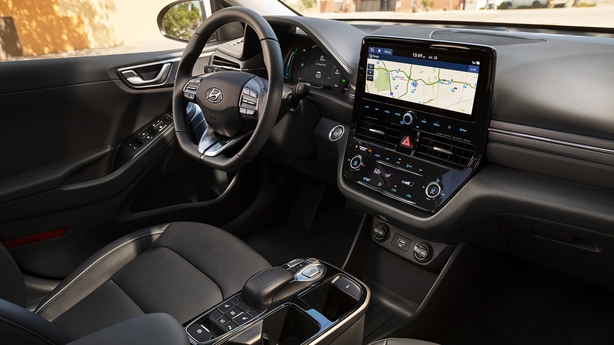 The 10.25in infotainment screen is a generous console. Below, a handy wireless smartphone charging pocket in the central reservation forces you to point the screen in the opposite direction creating a simple but effective safety measure.
There is plenty of room up front and it's reasonably spacious at the rear where three adults can fit comfortably. Despite the car's giant batteries, 350-litres of boot space is respectable enough.
A major plus with the Ioniq is its clean and intelligible digital dashboard. That simplicity is extended to the clearly marked driving settings - D, R and P - just in front of an ergonomic hand grip.
There is a separate switch for the driving modes. In 'Eco/Eco plus' the dials take on a virtuous green, in 'Normal' a practical neon blue and in exhilarating 'Sport' a fiery red.
Safety is paramount here. The car's camera and front radar work together to warn of an imminent impact, automatically applying emergency braking if necessary.
"If you're not the kind of person who can deal with the pressure of micromanaging long journeys because of patchy charging infrastructure, perhaps the Ioniq plug-in hybrid would be a more suitable option."
Now to the number one concern for anyone buying a fully electric car - battery range.
A claimed range of 312km might sound like a healthy reserve when you first check the dashboard following a full charge. However, that all can change once bad weather demands the heat is turned up to the max, at the same time as the car's 'eco plus' setting is not an option in gusting headwinds.
In these conditions, given the speed at which the battery percentage depletes, it would be reckless to activate the heated seats and heated steering wheel (these are both fabulous functions btw). In fact, in the prevailing weather conditions and driving mode selection, the range I experienced was closer to 270km.
If you're not the kind of person who can deal with the pressure of micromanaging long journeys because of Ireland's patchy charging infrastructure, perhaps the Ioniq plug-in hybrid would be a more suitable option.
Hyundai says the Ioniq can recharge from flat to 100 per cent in just over six hours on a 7kW charger (an overnight charge at home), while an 80 per cent charge can be achieved in 57 minutes on a 50kW charger.
Overall, the Ioniq is a fantastic electric car. But with an on-the-road price of €34,850 - that's after a VRT exemption and SEAI grant are deducted - this EV might be more of a drain your finances than you'd like.
The Ioniq's main market adversary, the Nissan Leaf, has been namechecked several times above and has a very attractive starting price of €29,890.
However, it's worth noting that despite a claimed range of 270km from the 40kWh version of the Leaf, a test drive by RTÉ's Motoring Editor, Donal Byrne, in April 2018 delivered just 209km. To upgrade to the new 62kWh model with a claimed range of 385km will cost you over €8,000 more.
Starting at €39,495, shelling out a few thousand euro more for a Kia e-Niro might be worth the investment given its impressive claimed range of 455km.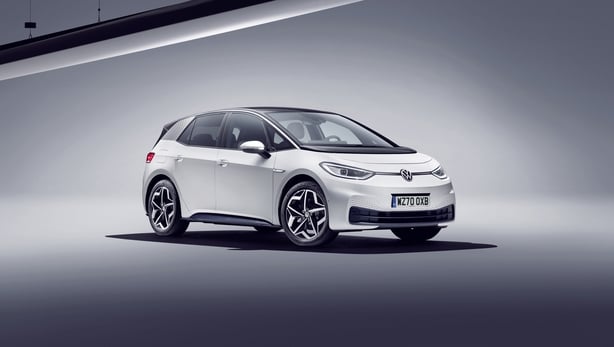 One other to consider is Kia's quirky but fantastic fully electric e-Soul, which delivered magnificently on its claimed range of 452km during my recent test drive in November 2019. The e-Soul's eccentric styling isn't to everyone's taste, but it can quickly grow on you with a starting price of €35,995
If range is an issue, and you want to stick with Hyundai, close in price to the e-Niro is in-house rival Kona, with a claimed range of 449km.
All these cars will remain attractive options, but do watch this space. With an expected starting price of €33,635 and a claimed range of 420km, attention will undoubtedly shift to Volkswagen's ID.3 when it goes on sale shortly in Ireland.