Opel's new generation Corsa is the first result of the collaboration with Peugeot, which took over Opel three years go.
I had expected to see a good deal more Peugeot influence across the new Corsa line-up but it seems both companies have made a good job of concealing the extent of their partnership in developing this car. You certainly won't confuse this Corsa with its Peugeot competitor, the 208, because the designers have retained many of Opel's slightly more muscular profile touches.
The part you won't see is the platform on which both cars are built. Sharing platforms is a major money saver for car companies, which cleverly offer you something of an optical illusion - you are seeing two very different cars but, in fact, they are exactly the same underneath the skin and the bonnet. In fairness, though, Opel and Peugeot have kept the lines clear with this car and arguably the interior of the 208 looks a bit more advanced than the Corsa's does.
Opel is taking on the likes of the Ford Fiesta and the Toyota Yaris, so it's going for a combination of affordability and technology. The versions likely to of most appeal here are the 1.2 petrol (75 horse power or 100 HP) and the 1.5 diesel with 102 horse power. The 1.2 petrol starts at an appealing €17,975 and the diesel costs €21,645. Both are said to be lower on emissions and more efficient on fuel than the previous Corsa.
Wight has been brought down and the car is longer. Headroom has also been increased but the rear area still looks a little cramped to spend any length of time in. The boot area has also been increased to 309 litres, or just over 1,000 with the rear seats folded.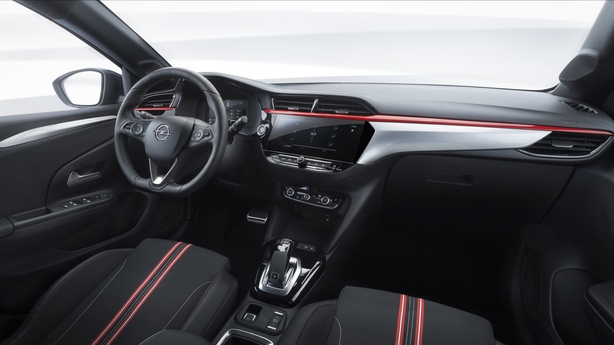 Standard equipment includes LED lights, active lane control, intelligent speeds limiter, automatic emergency braking and 7" screen.
An electric version, with a claimed range of 337 kilometres, is due for launch in April with an indicative price of between €35,000 and €40,000 before grants, taking it down to around €25,000 to €30,000.
Under its new management in Ireland, Opel will be moving away from a "volume at any price" sales strategy and concentrating on building up better used car values than was the case with Opel previously.