While many people simply view a car as a means of getting from one place to another, the more you pay for one the more, it would appear, the more you are interested in a performance- level form of transport. That would seem to be the logic of companies like BMW and Audi, for whom chassis dynamics, sportier performance and edgier design are key selling points. You can add Mercedes to the mix while you're at it.
Ironically, I'm not a great fan of these attributes for Irish requirements. We don't live in Germany, where you can still cruise the autobahn without needing to pay attention to a speed limit because there is none. And I'm not aware of many places in Ireland where you can either safely or legally drive these cars to the limits of their ingenious engineering. In short, you're paying for a lot of advanced driving technology that you may never really appreciate.
However, all three big German companies do have one other thing in common – they are perceived as embodying excellence and quality. This despite the fact that these companies don't often feature in the most reliable cars on the road ratings.
I've been driving two of them recently – the new BMW 3 Series Touring estate and the Audi A4. And while the Touring version is technically a different car, it is not appreciably different in terms of driving and comfort. It's also not much bigger than the saloon version.
Both cars are fierce competitors and central to the fortunes of the companies that make them. When either re-designs these cars they don't tend to ruffle any feathers, perhaps another reason for making minor body revisions and spending the bulk of the money on driving features and new technology. And technology is what you get in spades, from crash-avoidance technology to connectivity to cockpit design that is dominated by big graphics and advanced displays. To put it another way, there are lots of toys to distract one.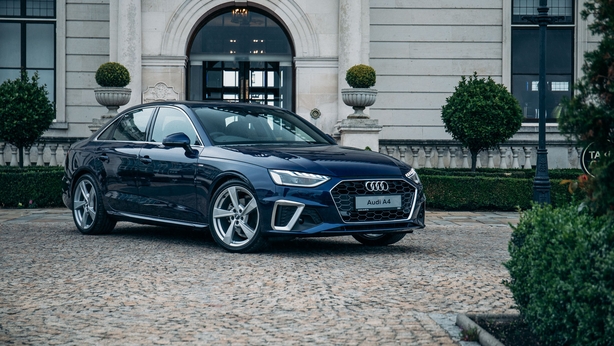 The Audi A4.
Both had 2.0 litre diesel with oodles of power and oomph and well-matched to automatic gearboxes. Both were set up for performance – the A4 was an S-Line and the 3 Series an M-Class, which means big wheels, rigid suspension settings and the kind of badging and steering wheel logos that match them.
Personally, I'd prefer something a bit more subtle and less jarring for Irish road and I wonder about paying this kind of money for a car that will seldom reach its potential in local conditions. It's fair to say, however, that while the tuning and the ride are attractions for some the overall emphasis is more to do with the cockpit experience.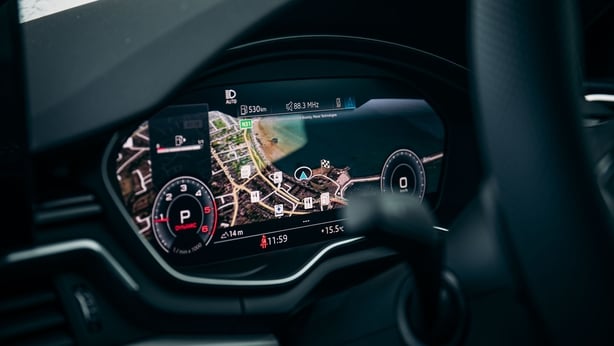 This is where Audi stays ahead of BMW. The BMW graphics may be sharper and in some respects more modern but the Audi cockpit experience is a bit of a wonder in itself. A big screen with 3D capabilities, easy to read graphics and displays and a sense of being in an aircraft than a car all add to a rather special experience.
The front also feels bigger for a taller driver, but the 3 Series feels more comfortable in the back, despite the fact that both cars have a sloping roofline to the rear. Getting in and out of the Audi is also much easier than is the case with the BMW. Given the 3 Series was an estate version, it did shade it on overall accommodation but it's not meant to be a big estate.
Both diesel engines were impressively frugal and compared well with each other. Depending on driving conditions, you'll get between 5.9 and 6.4 litres per 100 kilometres of fuel. Both engines are also flexible and at their best on motorways but the Audi engine came out ahead in terms of overall smoothness. That was not the case when it came to ride and handling where the 3 Series maintained its position as top dog in this category. It glues itself to the road, no matter what the conditions and its tuning is superb. The A 4 does not lag far behind but its front wheel drive layout (the BMW is still rear-wheel drive) means it does not have that verve the BMW is capable of. And that fact that the Tousing had four wheel drive gives it a big advantage.
Both saloon versions have boot capacities of about 480 litres, which is good and you can fold down rear seats. The Touring BMW has a marginally bigger boot, but it's no Skoda.
In terms of practicality, the A 4 wins out. It does'nt match up to the 3 Series for its ride and performance abilities but it's a more comfortable experience and does'nt feel as low-slung as the BMW. I think the overall profile is just a little more gentle and a little less aggressive than the 3.
The A 4 comes with standard equipment such as 19" alloy wheels, leather seats, sports suspension, high beam assist, front and rear LED combination lights, front & rear parking sensors, a reversing Camera, heated front seats, 3 zone climate control, Audi Smartphone Interface, electric lumbar Support, a high resolution 10.1" touch screen display, automatic cruise control, ISOFIX anchors and much more.
Extras such as multi coloured ambient Lighting, virtual cockpit plus, MMI navigation and Matrix LED headlights bring the total price to €49,213,000.
The BMW came in at €55,870.00.
Standard equipment includes front LED foglights,run-flat tyres, variable sports steering, BMW Online Services, parking assist, Harman/Kardon sound surround, cruise control with brake assist. Extras such as head-up display, enhanced Bluetooth with wireless charging, BMW Gesture Control. A comfort package, heated steering wheel, powered boot lid, 19" alloys, sun protection glass, adaptive suspension and M sport differential, adaptive M Sport suspension and sun protection glass can add another €10,000.