Subaru's first mild-hybrid offering - in the Forester - is a modest step towards greener motoring for a brand traditionally reliant on petrol and diesel. Others though are further ahead.
Subaru is a small company with a dedicated following, due in the main to its reputation for reliability and longevity. Now it's moving, rather gingerly it has to be said, towards greener offerings. The first is a mild-hybrid just launched here that allows the car to move from electric-power to petrol, as the car's technology dictates. However, unlike cars like the hybrid Mitsubishi Outlander that has a range of 30 km on electric, it seems the Subaru only runs in electric mode for much shorter bursts in traffic. In fact, it it limited to about 1.6 kilometres - at a speed of up to 80 KPH - at a time.
It's the fifth generation Forester - a car popular with country folk but one that is also expensive and has a reputation for thirsty fuel consumption.
It has all-wheel drive and, while it is not intended to be a mountain climber, it should be capable of dealing well with not-so-serious off-road conditions, as its predecessors were. Subaru says the e-BOXER offers improved fuel consumption in urban, stop-and-go traffic, "where depending on driver's driving style, fuel consumption can be reduced by up to 11% compared to the outgoing 2.0L petrol version".
Towing capacity is described as best in class at 1,870kg and Subaru also claims the car is the most technological advanced Subaru to date.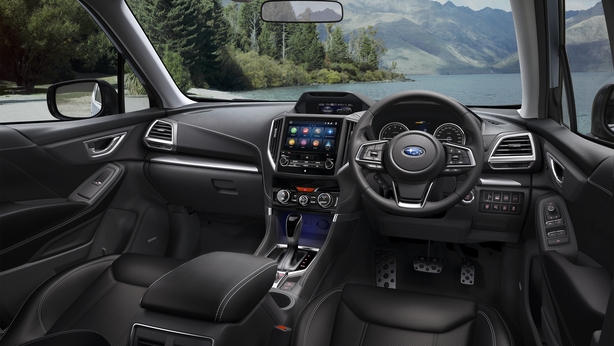 The interior features an 8" touchscreen.
It's equipped with technologies as standard such as EyeSight Driver Assist Technology, and a Driver Monitoring System, a new facial recognition technology that alerts the driver of fatigue or distraction while on the road, as well as automatically adjusting driver settings for seat position, door mirror angles, and air-conditioning.
The interior dimensions have also been improved to create more front seat space and to increase the distance between the front and rear seats.
The Forester is priced at €45,545 for the XE model and features LED Headlights, keyless entry and electrically adjustable driver's seat as standard. The XE Premium edition is priced at €49,245 and includes additional equipment such as 18" alloys, sunroof, leather seats, satellite navigation, powered tailgate, heated rear seats and heated steering wheel.